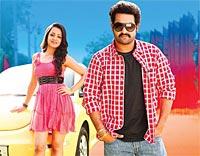 Radhika Rajamani feels that Telugu film Dammu is cliched and might only work for die-hard NTR Jr fans.
Director Boyapati Seenu's new film
Dammu
has an outdated and clichéd storyline, regressive content, and mindless and excessive violence.
NTR has lived up to his hero image by shouldering the burden of this primarily hero-centric film.
Films to do with warring families are old hat. Two villages whose landlords (played by Nasser and Suman) are at loggerheads means a bleak life for the villagers. Give film name Nasser practically wipes out everyone and orders no male child is to be born in the village.
Suman's character doesn't have a male heir; his fourth child after three daughters was a stilborn boy. Yet he promises the villagers that his child will come to their rescue.
Ramchandra (NTR Jr)'s character, an orphan, saves a businessman who gives him Rs 10 lakh. He is in love with Satya (Trisha). Kota Srinivasa Rao wants to adopt Ramachandra and use him to wipe out Nasser and his evil forces.
The battle begins. In the village, Ramachandra has to also contend with Nilaveni (Karthika Nair)
besides Satya who also land up there.
The tale is stereotypical and uninteresting and outdated by a couple of decades. It is regressive and the atrocities and the violence makes it difficult to sit through to the end. The whole senseless drama puts one off.
The two heroines Trisha and Karthika don't have strongly etched roles and flit in and out of the movie.
Dammu revolves around just NTR and his histrionics. The young star does everything --acts, dances, and fights with panache. He shows all his force (dammu) in his acting.
Nasser looks every bit the evil landlord. Bhanupriya, Suman, Kota Srinivasa Rao, Rahul Dev have small parts to play which they do well. Abhinaya made for a pleasant picture in a small role.
The film uses computer graphics, mainly to emphasise NTR's action sequences.
M M Keeravani's music is appropriate and the technical values of the film are pretty good on the whole for a big budget film.
Looks like Boyapati Seenu made
Dammu
exclusively for NTR Jr's fans. For others it's an ordeal not worth enduring.
Rediff Rating: