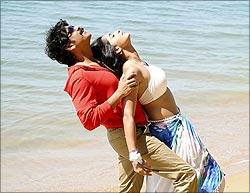 Radhika Rajamani feels Telugu film Damarukam is a one-of-its-kind socio-fantasy that can be watched once for its stunning visuals.

Debutant director Srinivas Reddy attempts to combine mythology with a contemporary touch in his Telugu socio-fantasy film, Damarukam, replete with visual effects, but children may get scared with some of the graphics.

The scale of the film is vast and grand given the mythological bit though the weaving of the ancient with the modern doesn't seem as seamless as it should be. The computer graphics leave one a tad disappointed though the film hinges largely on it.

The tale combines myth and fiction but comes with its share of loopholes in the script. These aspects pull down the film to a large extent but it is watchable as there are very few films in this genre.

Andhakasura (Ravi Shankar, Ganesh Venkatraman), the last of the surviving asuras from the battle between the Devas and Asuras, goes into a deep slumber. He gets up as he wants to control the five elements. For that, he has to marry the virgin girl Maheshwari (Anushka Shetty) on the day of the total solar eclipse and sacrifice her the same day. This spells doom for the earth. He begins to wreak vengeance in various ways.

Mallikarjuna (Nagarjuna), a worshipper of Lord Shiva in childhood, loses faith when his grandparents and parents die in a freak accident in Benaras caused by the asura. It also leaves his sister crippled. He falls in love with Maheshwari. Who will be vanquished, who will be the victor in this duel to marry Maheshwari?

The tale goes back and forth in time, the earlier asura episodes shown through computer graphics which was reminiscent of what one saw in Amar Chitra Katha -- particularly the battle sequences.

Andhakasura, particularly is shown larger than life with serpents streaming out of his huge head. There are also a set of Aghoras who are trying to prevent the marriage of Andhakasura to Maheshwari.

The film picks up in the second half where there is more of the conflict between the protagonist and antagonist shown. The director tries to infuse the element of comedy with Brahmanandam, Krishna Bhagavan and MS Narayana which seemed unwarranted.

There are some illogical episodes like when the Aghoras, who are supposed to be in Benaras, try to revive an injured Mallikarjuna elsewhere! In all this, Lord Shiva (Prakash Raj) appears in the human form more like a yogi.

It looked as though the director had a mammoth vision in his head but was not able to translate it fruitfully on screen. The special effects -- that were good at certain junctures -- could have been extraordinary.
Dialogues are understandable considering the partly mythical backdrop.
The music by Devisriprasad is good, certain songs like Nestama are tuneful on the ear. The item number Sakku Bai by Charmee doesn't even linger on in the mind after it's over.

Nagarjuna has certainly made a huge difference to the film. Not only does he look handsome and fit, but he has helped the director too as he's elevated it notches above what it is purely with his acting.

Ravi Shankar as Andhakasura shines well in his role. He leaves an indelible imprint as the asura (demon).

Ganesh Venkatraman looks devilishly handsome and delivers the goods. Anushka Shetty looks sweet. Nag and Anushka have good onscreen chemistry.

This socio-fantasy is one-of-its-kind in today's times and can be watched once for the stunning visuals.

Rediff Rating: