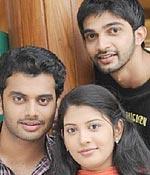 Paresh C Palicha reviews the Malayalam film, Living Together. Post YOUR reviews here!

The experience of watching some films is just shocking; it maybe because of your own high expectations, or the fact that the film is so bad. Sometimes you are just dumbstruck and your capacity to react seems to evaporate.

The same kind of feeling envelops you while watching Living Together directed by Fazil, considered the doyen in his own right, and eternally thanked for giving an actor like Mohanlal to the world. He has also introduced few other people in front and behind the camera, who went on to make careers for themselves in the industry.

In Living Together too, the director has introduced a few new promising faces. That is only good thing about this film, which to put it mildly is just a 'cut and paste' version of his older films put together in a haphazard manner. The two main films that come to mind are his cult hits Nokkathaa Dhoorathu Kannum Nattu and Manichithrathazhu. It is not that that recycling old stories do not work. But here it feels different; we can feel a kind of lethargy here, as if people are working on this just for the heck of it.

The plot goes like this: Shyama (Sreelekha), an orphaned girl who seems to be just out of her teens, returns to her grandfather's (Nedumudi Venu) place after completing her education in Bengaluru. She is cheerful and bubbly as expected of any Fazil's heroine. A horde of children from her grandfather's extended family is already waiting to join her in her mischief. Add to this, as typical of Fazil's films, there are three bachelors as her neighbours, who obviously get excited on seeing her. They try to befriend her and after a few games of one-upmanship, the leading pair falls in love.

For the conflict quotient in this love story, we have a bad horoscope that predicts Shyama's death or her becoming a widow within six months of her marriage. Shyama already knows this which is why she's been staying away from romantic love until now. It is also the reason for her paranoia. We have spooky rituals stage managed to wade off the bad omens from the girl's horoscope and cure her psychologically.
Our hearts go out to the three boys -- Hemanth, Sreejith Vijay and Jinoop -- who look convincing despite the restrictive plot. Sreelekha, who appeared in a cameo in Kerala Café, does hold the viewer's attention in some places by raising above the script. Of the supporting cast, Nedumudi Venu, Innocent and Anoop Chandran do their usual thing. Menaka, who makes her comeback on the big screen as Hemanth's mother, has nothing much to do.
If you are planning to venture into Living Together, just go with the intention of supporting the youngsters, otherwise avoid it.
Rediff Rating: