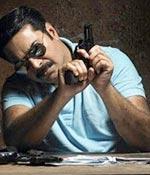 Paresh C Palicha reviews Malayalam film August 15. Post YOUR reviews here!
It would not be wrong to say that the Malayalam film industry survives on nostalgia these days. Every now and then older movies are being remade by a new team.
Mammootty tries to work on that formula in his new film
August 15: The D Day,
where he reprises his role as a no-nonsense cop Perumal with an assignment to foil a plot to assassinate an upright chief minister. Mammootty had played the same character in
August 1
(inspired by the best-selling novel
The Day of the Jackal),
released 23 years ago.
The plot of the new film is the same as the old one; the only difference is that that it has been made topical by integrating the politics of today. So the characters are created to resemble real people (the actors even take up their physical mannerisms as if they are mimicry artists).
It all begins with chief minister VG (Nedumudi Venu) seemingly on his deathbed in a private hospital, with his supporters and the media getting ready for the bad news. But the CM miraculously survives and it is learnt that he was poisoned. So our Perumal enters the scene to investigate the issue.
The previous instalment of this story was humane to a certain extent with the investigator and the CM (playing the late Sukumaran) being friends from their student days. Also, the cat and mouse game between the protector and the killer (Captain Raju) was quite intriguing.
Here, Perumal is machismo redefined riding a sturdy motorcycle, wearing slick sunglasses and denim pants. As if this was not enough to define his 'cool' quotient, he is even shown flirting with girls in a cyber cell to get the call-list of certain cell phone numbers.
He is a typical tech-savvy know-all, who taps away at the keyboard of his laptop, and reads up Poison on Wikipedia, as part of his research (no idea if this was meant to give comic relief to the already bored viewer).
The less said about the killer with psychopathic traits the better. We know that Siddique is a master of disguises but here he tries to proves how seriously he takes his job.
Lalu Alex is kept as the joker in the pack providing unnecessary comedy.
It feels like S N Swamy wrote this script with the purpose of proving that there is nothing wrong with the ruling coalition. It seems the problem is with us who read too much between the lines.
Thankfully director Shaji Kailas has returned to telling a story in simple manner and avoiding the slapdash style that he had adopted in the recent past.
On the whole, August 15 fails to provides the thrills and becomes a silly hero-worshipping political film. Pick up a DVD copy of August 1 instead.
Rediff Rating: