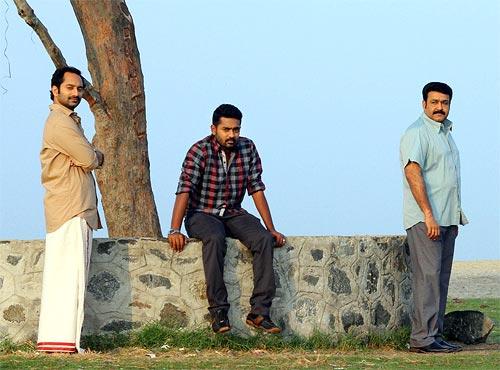 You an call it a casting coup: superstar Mohanlal teaming up with the sensational young star Fahadh Faasil and one of the poster boys of Malayalam cinema, Asif Ali, in Red Wine.
The film marks the debut of Salaam Bappu as a director. He has been an associate of Lal Jose for several years.
Mohanlal plays Ratheesh Vasudevan, the Assistant Commissioner of Police, Kozhikode. Fahadh is Anoop, a Wyanad based social activist and theatre artiste. Asif Ali plays Ramesh Kumar, an automobile executive based in Kozhikode.
"There is an unlikely link that connects Anoop and Ramesh. They live in two places and come from different backgrounds. While Anoop is concerned about the people around him, Ramesh is focused on his own personal achievements. Ratheesh finds a connection between the two," says Salaam.
The cast also includes Saiju Kurup, Roshan, Suraj Venjarammoodu, Sunil Sugatha, T G Ravi, Sudheer Karamana, Meghna Raj, Meera Nandan, Anusree, debutante Mariya John and Miya.
Red Wine has been produced by A S Gireesh Lal of Gowri Meenakshi Movies. The story is by Noufal Blathoor and the screenplay and dialogues are by Mammen K Rajan. Manoj Pillai wields the camera and Biji Bal is the music director.
Red Wine reaches the theatres today.