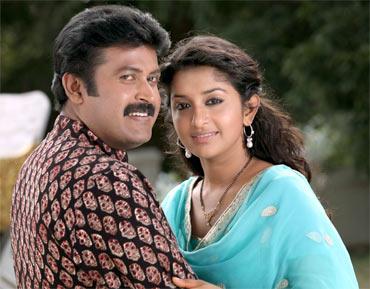 National Award winning actress Meera Jasmine makes a comeback to Malayalam films with Pattinte Palazhi. She has been away from Malayalam films for a while and has been focusing on Tamil, Telugu and Kannada films, of late.
Pattinte Palazhi is an ideal platform for her to be active again in her native language.
The shooting of the film is currently underway at Mysore. The film is being produced by US based pediatrician, Dr AK Pillai and directed by Rajeev Anchal.
Meera Jasmine plays Veena, for whom music is her life. The story is about her journey into the world of music and her efforts to become a playback singer.
The cast also includes Manoj K Jayan, Revathy, Jagathy Sreekumar, Nedumudi Venu among others.
Rajeev Anchal has earlier directed films like Guru, Butterflies, Kashmeeram, Beyond The Soul and Made in USA among others. He started off as an art director and later started directing movies. His film, Guru, was the official Indian entry to the Oscars in 1997.
Dr Pillai says that it is his love for music that prompted him to become a producer. ONV Kurup's lines have been set to the tunes by Dr Suresh Manimala.
The screenplay of Pattinte Palazhi is written by Dr.Rajendra Babu. The camera is being handled by Azhagappan. Costumes are by S B Satheesan while the makeup is by Pattanam Rasheed.