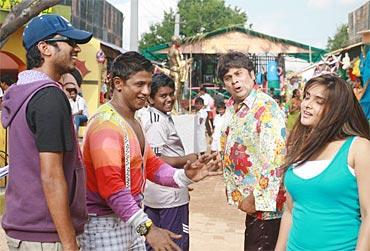 Kannada film Johnny Mera Naam Preethi Mera Kaam has created a lot of curiosity because of its title and lead pair.
Ramya will be seen acting opposite Vijay for the first time, and this combination of class and mass has been creating a buzz.
The addition to this list of attractions is the set in which a major portion of the film is being shot.
The film is about Johnny, a man residing in a middle class housing colony. He is everyone's favourite. He has enough love to shower on everyone, and even has a Johnny Social Service Center to address their woes. This service centre takes up a prime location in the colourful sets in Mysore.
Art director Mohan B Kere's sets include a hospital, a cinema hall, a mobile shop and an apparel store among others. The sets have become so popular that Mysoreans and people around the city have been making trips to get a first look into the film.
Even the Bulgarian Ambassador and his wife, who had visited Mysore, visited the sets. "They really liked the feel and look of the film and were also impressed with Ramya. They invited us to their country for shooting too," recalls Vijay.
The set has been erected at a cost of a whooping    80 lakh. It took nearly two months to complete the work. While the entire talkie portion and three songs will be shot here, the team will travel to a foreign destination to shoot some songs.
"We decided to put up a set rather than shoot at real locations as it would take a lot of time and energy to manage the crowd as big stars are involved. The same energy can be channelised on making the movie if we shoot in a set we thought. So we put up this huge set," explains director Preetham Gubi.
Vijay is known for his action sequences and this film will also see the actor performing three unique action sequences. "K D Venkatesh is making a comeback with this film and he has made me perform some daring stunts. In fact, it was such hard work that I fell sick while shooting the action scenes. But I know my fans will be thrilled after watching these scenes," says Vijay.
Going by Vijay's look in the film, it looks like he gets to do more than just fight the baddies. The film is expected to give this hero an image makeover.
"It is definitely a refreshing cast and crew. Preetham is a very sweet guy and is great fun to work with. We may be working together for the first time, but we were with each other during our struggle period. There have been days when five of us would share the same cigarette and tea," says Vijay.
Ramya plays an NRI who comes to Gandhi Colony, where Johnny resides, to meet her grandfather. Dattana, Achyutkumar, Sharan and Rangayana Raghu are also part of the main cast. V Harikrishna is the music director.
Shooting for this film has been great fun for Vijay. "In fact at one point, it felt like our film industry had shifted to Mysore as many teams were shooting in this city and this gave me an opportunity to catch up with friends from the industry. This film has many sweet memories attached to it," he signs off.