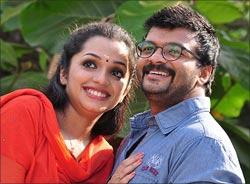 Vadhyar
, director Nidheesh Shakthi's first film, with Jayasurya playing the role of a school teacher, is ready for release and is expected to reach the theatres before the big releases of the month,
Spirit
,
Bachelor Party
and
Ustad Hotel
.
Shooting started almost a year back but had to be stopped midway after Jayasurya's knee injury.
Director Nidheesh says that the film handles issues pertaining to our education system.
"Education has become big money business, just like health. Here we are taking a look at government schools. In our country, the academic pattern tends to differ for various categories until the tenth standard. Why should there be a difference in the content? Also, we often tend to ignore our mother
tongue in schools, which is shocking," he says.
Jayasurya plays a cool bachelor named Anoop Krishnan, who joins Kottappuram Saraswathy Vilasam UP School as a teacher. He is not too keen on becoming a teacher and his casual style irks the headmistress of the school, Subhadra (Menaka). Hema (Ann Augustine) is a part time computer teacher in the same school.
"I am playing the role of a schoolteacher for the first time in my career," says Jayasurya. "My character is absolutely reluctant to come to terms with the fact that he has become a teacher, but things tend to change after a while."
The cast also includes Nedumudi Venu, Vijayaraghavan, Salim Kumar and Kalpana.
Vadhyar
is produced by N Sudheesh and Sreekala Nair. The cinematographer is Pradeep Nair and the music directors are R Gautham and Manoj George.