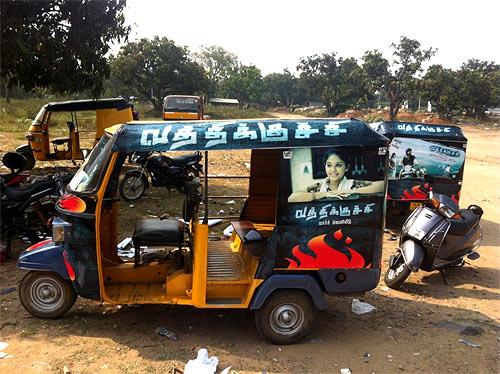 Engeyum Eppothum produced jointly by Murugadoss productions and Fox Star Studios was one of the best films made in 2012.
Now, the same people are coming out with their second production, Vathikuchi (Matchbox). This film, like the first one is also directed by a debutant as giving chance to first time directors was one of the aims of Murugadoss when he started his production house.
Vathikuchi, written and directed by Kinslin is a crime thriller that takes place in a city.
As the protagonist of the film is an auto driver, the production house has come up with a novel idea to market the film. After all, it is releasing on the day when the National award winner Bala's Paradesi also is releasing.
They have hired a few auto rickshaws with banners of the film prominently displayed and these autos would go to places like Madurai, Trichy and Coimbatore promoting the film. Some youngsters also will travel in the autos to these places and dance to the songs from the film at strategic positions.
The film has Dhileban and Anjali in the lead roles. Anjali, one of the finest actresses in Tamil was one of the leads in Engeyum Eppothum also.
Vathikuchi releases this friday