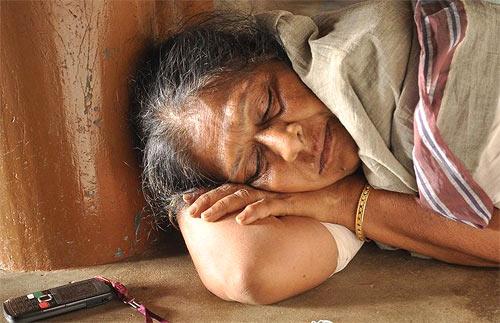 Thankar Bachan, well known Tamil cinematographer, made his debut as a director with the much acclaimed
Azhaki
starring Nandita Das and Parthepan. It was Nandita Das' first Tamil film, and the director had waited for two-and-a-half years to get her nod.
Some of his other notable directorial ventures are
Solla Marantha Kathai, Onbathu Roopa Nottu, Chidambarathil Oru Appaswamy,
and
Pallikoodam.
His new film
Ammavin Kaipesi
(Mother's mobile phone) is about an old lady living in a village who is connected to her nine children
only through a mobile phone. She is most attached to her youngest son (played by Shantanoo Bhagyaraj).
The film is based on a novel by Bachan of the same name, like
Azhagi
was based on a short story of his. Revathy, who had acted with the likes of MGR, plays the mother.
The audio launch of the film was unique. Thankar Bachan had requested invitees to come with their mothers!
Many celebrities such as Suhasini and A R Rahman were accompanied by their mothers.
Suhasini said it was the first time that her mother was attending a film function; in fact, she had not attended a single function of hers or Kamal Haasan's.