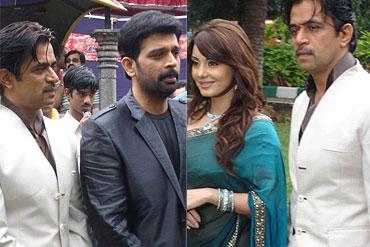 Arjun Sarja is returning to the Kannada industry after a gap of ten years with Kontract, a potpourri of action, romance and family sentiments. Sarja's last film was Sri Manjunatha.

While he had planned to make a comeback as a director, it was the script of Kontract that lured the actor in him. He says, "I play a very stylish business tycoon in this film. The star cast and the story were fresh and thus I decided to do the film."

The triangular love story also stars Telugu actor and director J D Chakravarthy of Satya fame. "This is my first Kannada film and I'm very glad that I'm working with Arjun whom I have both acted with and directed. Working with him is more a pressure than pleasure since his work is hard to match up to," says JD. The actor also adds that when not working he enjoys listening to Arjun playing the keyboard and playing cricket with him.

The film brings yet another artist, Minissha Lamba to Kannada for the first time. The actress, who has been roped in to play the female lead, hopes to set the screen on fire with her sari-clad avatar. "I feel that an Indian woman looks most glamorous in a sari. I'm looking forward to wearing saris in the film. In fact I've missed wearing them," she says.

Minissha plays Arjun's wife in the film. "I play a perfect loving wife and the role gives me a chance to perform. I couldn't have asked for a better debut in South Indian films. It's great to be working with Arjun and JD whose films I have admired," she says.

One of the highlights of the movie is Mallika Sherawat's item number. She had earlier performed an item song in Ee Preeti Yeke Bhoomi melide directed by Prem. 

Kontract is being directed by S S Sameer who has worked as an assistant to JD in over four films. He has also co-directed Sreemati, the yet to be released Upendra flick.
Johny Lal who has handled the camera in several Sai Prakash films is the cinematographer for Kontract. The film will be predominantly shot in Bangalore, Mysore, Hyderabad and Malaysia. While initially plans were to make the film in Telugu and Tamil, now it will be dubbed in Telugu.
Image: Arjun Sarja with J D Chakravarthy and Minissha Lamba.