For the first time, Sony BMG is entering the regional music industry in India, and the company has chosen Tamil as its launching pad. The film the company has signed is one of the most anticipated films of 2008, Kamal Haasan's Dasavatharam.
Himesh Reshammiya has composed the music whose audio is scheduled to be launched in the first week of March. The launch is touted to be a big affair with Jackie Chan expected to attend the function. It is said that the producers are going to have the audio release not in any hall but at the Nehru Stadium in Chennai.
Dasavatharam sees Kamal Haasan in ten different roles, and Asin, his heroine in a double role. Mallika Sherawat acts in the film as a CIA agent while Kamal's heroine of yesteryears, Jayapradha, now a Samajwadi Party MP plays a major role.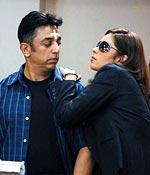 Excited about venturing into the Tamil market, Shridhar Subramaniam, Managing Director, Sony BMG India said, "It is a privilege for us to enter the Tamil music market with a project as grand and special as Dasavatharam. Being associated with Mr Kamal Haasan and Mr V Ravichandran in our very first Tamil project says a lot about the equity of Sony BMG, even in the markets where our presence has not been significant till recently. Dasavatharam is a very special beginning to the things to come and it shows our commitment to be a serious long term player in this market."
Confirming the release date of his film, Tamil film industry's leading producer and distributor, V Ravichandran of Oscar Films Pvt Ltd said, "Dasavatharam is getting ready for a worldwide release in April 2008. The release will be on a Thursday. It will release big in Tamil, Telugu and Hindi simultaneously, the number of prints and publicity campaign are being worked out."
Sony BMG's plans to conquer the unexplored Tamil pop and non-film music market with an album by Yuvan Shankar Raja.