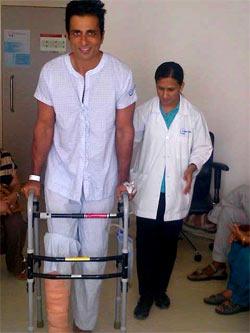 Actor Sonu Sood's leg injury and subsequent surgery at Mumbai's Kokaliben Dhirubhai Ambani hospital on February 25 will put him out of circulation for one-and-a-half months.

Immediately affected, is Apoorva Lakhia's Zanjeer, which Sood was supposed to start shooting for after his return from Dubai, where he played for the CCL (Celebrity Cricket League) match.

Lakhia is now shooting with Sanjay Dutt, Ramcharan Teja and Priyanka Chopra.

Incidentally, Sood's accident is a double-blow for Zanjeer. Earlier, the film was to be shot in Hyderabad, but the location was shifted to Mumbai after the horrific blasts in the city. Now because of Sonu Sood's accident, his schedule with Ramcharan Teja and Priyanka Chopra will have to be re-adjusted.

"We couldn't let our shoot be cancelled," says a source. "Apoorva has re-shuffled the schedule. Scenes requiring Sonu will be done later. Both Ram and Priyanka are extremely busy actors. To waste their dates would amount to big losses."

Prabhu Deva's Rambo Rajkumar will also proceed on schedule from May 1, but without Sonu Sood.
"We'll shoot with Shahid Kapoor and Sonakshi Sinha. Sonu Sood can join us later," says Prabhu Deva. "It isn't such an insurmountable problem. These things happen in this line of work all the time."
Photograph courtesy: Sonu Sood/ Twitter