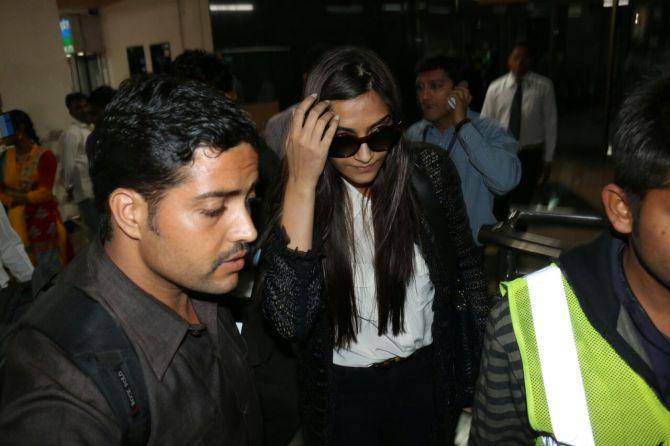 The Bollywood actress and her personal trainer have been infected with the H1N1 virus, reports Haresh Pandya from Rajkot.
Bollywood star Sonam Kapoor, who has been shooting for a Rajshri Productions' film, Prem Ratan Dhan Payo, along with Salman Khan and Anupam Kher in the erstwhile princely state of Gondal for the last few days, was admitted to Sterling Hospital in Rajkot on Saturday morning after she complained of "uneasiness" and showed "signs of viral infection".
The report of the medical tests conducted on her is positive and the doctor has confirmed that the actress has been afflicted with H1N1, or swine flu.
Sonam's physical trainer has also caught the dreaded virus, which is spreading dangerously in Gujarat and actors the country.
Sonam, who landed in Rajkot on Wednesday evening and drove straight to Gondal, was reportedly "unwell" since leaving Mumbai. Though she is learnt to have completed the shoot of a couple of song sequences in the Riverside Palace in Gondal, she did not appear to be in the best of health.
Two days ago news began to trickle in that she was suffering from fever and was even planning to return to Mumbai for medical treatment by her personal doctor. The film unit, including director Sooraj Barjatya, has preferred to remain tight-lipped about the nature of Sonam's illness.
Through Friday night she is learnt to have had a "severe spell of cough and fever" while staying at Hotel Fern in Rajkot.
On Saturday morning she was rushed to Sterling Hospital where she is under the care of Dr Chirag Matravadiya, who later confirmed to the media that Sonam and her personal trainer were afflicted with swine flu. The actress will be kept under observation for the next few days.
Though no unit member was available for comment, chances are that Sonam may prefer to fly back to Mumbai for treatment.
The state health department has now ordered a full check to be done of Hotel Fern and also Riverside Palace in Gondal, where Sonam had been shooting.
ALSO READ: 'Too many cases, hopefully numbers will fall soon'
Image: Actress Sonam Kapoor at Rajkot airport on Wednesday. Photograph: Haresh Pandya.