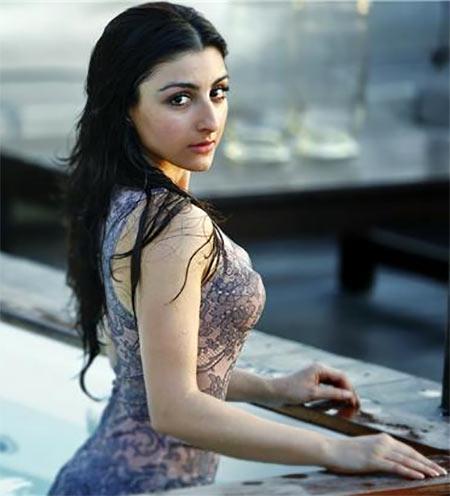 'Kunal has chosen the ring so well!'
Soha Ali Khan gushes about her engagement to Kunal Khemu.
Soha Ali Khan recently got engaged to actor Kunal Khemu while on holiday to Paris, and the young couple seem understandably excited.
In a candid conversation to Subhash K Jha, Soha tells us what this engagement really means to her, and the 'adjustments' she's going to have to make.
Read on:
So you are formally engaged to Kunal Khemu?
Yes (laughs). Neither of us is used to this.
My mother (Sharmila Tagore) is right when she says a formal engagement is not for the couple but for others. As far as Kunal and I are concerned, we're very happily committed to one another.
The announcement is for others to be assured that we are committed to one another. We've been together for five years. Now we've made a public commitment, and there was an implicit promise that I made to Kunal when he proposed to me.
What was that promise?
He did ask me if I'd marry him but I was so excited on seeing the ring that I went around showing it to our friends, who were with us in Paris and forgot to reply to his proposal!
I still haven't actually answered; Kunal has been joking about it.
You seem very happy.
When Kunal gave me the ring, I was quite giggly.
Kunal went to great lengths to keep his proposal in Paris a secret from me. As you know, we live together and spend a lot of time together. And we're such good friends. We talk to each other about everything, even the smallest of decisions. That he had to take such a big decision on his own must have been quite a task for him. And he has chosen the ring so well!
I don't wear jewellery at all. I've always found it to be an encumbrance. But now I am very happy to carry the ring around on my finger for the rest of my life! With some adjustments.
What adjustments?
I have to grow my nails. My fingers are too short. My brother (Saif Ali Khan) suggested that I get a manicure so that the ring doesn't look like it's in the finger of a 12-year old girl.
Are you two getting married?
We don't have an answer to that, we need to take a serious decision.
Of course, my mother has already started planning our venue and menu for the wedding. She had been planning my marriage for a long time. Now that there's a name for the groom on the invitation card, she's all set.
Kunal is a little disturbed because he thought he had bought himself four years of time with the engagement ring.
Four years?
Maybe we will surprise ourselves by going into the next level of social sanction faster than we had planned .Kunal has a lot of integrity and ambition. What I love the most about him is his consistency. In five years, he has never wavered in his beliefs.
You always said marriage was unimportant in your relationship with Kunal?
The only reason to get married is to have children.
Many marriages in showbiz are crumbling apart. Does that scare you?
I have always felt when you are committed in a relationship, you have to work through the difficult times. I have seen my parents in a successful marriage for 44 years. I am sure they had their problems -- they were completely different personalities -- but they must have worked on their marriage. And they made it work.
How, according to you, does a modern marriage work?
There is no perfect relationship.
One reason why marriages break faster now is because people live longer. Earlier, people died at 60. Now they live to be a 100, so all that more time to spend in a marriage. How many years can you live happily in one relationship?
Do you like the thought of having children?
I like other people's children.