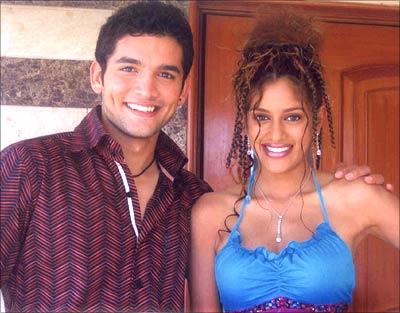 If you think SMS 6260 is just another number to text, you're wrong. It's the title of the first Kanglish (Kannada/English) film, scheduled to release on Valentine's Day. The filmmakers say SMS 6260 is made on the lines of Bend It Like Beckham, Hyderabad Blues, etc.
The film also features 11 other languages -- Tamil, Telugu, Malayalam, Coorgie, Konkani, Tulu, Marathi, Gujrathi, Bengali and Punjabi. The characters also speak different dialects in Kannada like Old Mysore Kannada, North Karnataka Kannada, Bangalore Kannada -- a mix of  Kannada and English -- and Mangalore Kannada, where Tulu and Konkani mix with Kannada.
The film is produced by actress Jahnu and her parents, NRIs based in the US. Jahnu, who had earlier acted in Kodlu Ramakrishna's Miss California, also plays an important role in the film. Journalist Sandip Malani has co-directed the film. 
Shot mainly in Bangalore, Mysore and Mangalore, the film has 7 songs with 3 composed by Michael Dayao and one by Miss California producer-composer Dr Ravi Dattatreya. There is also one 7-minute Kannada song by the composer duo, Lokesh-Prakash. In addition to this, Sandip Malani has also used the popular song  Nodamma Hudugi from the 80s blockbuster Prema Loka.
'The film has no background score. And this is the first time that such an attempt has been done by someone. But throughout the film, radio plays an important role, so you will get to hear songs from both past and present -- from all the languages the characters speak."
And finally, SMS 6260 is not just a number; it is code calling out to everyone, 'from six to sixty.'
Text: RG Vijayasarathy