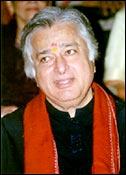 Shashi Kapoor did not work with Mehmood in too many films. But the actor admired him immensely for taking comedy to new heights. He pays a tribute to his co-star of Pyar Kiye Jaa, who died on July 23.
We did Pyar Kiye Jaa in 1965. Before that we worked on Biradari. It was a black and white film directed by Ram Kamlani.
Then he started playing small character roles. Meanwhile, I did Rakhi, where I was playing a hero.
Though I didn't do much work with him, I admired him. He raised the status of comedy to new heights after he came in [the film industry], like Salim-Javed did with script writing.
I met him for the first time in 1950. We both were doing very small parts as child-artists. It was a Bombay Talkies film starring Ashok Kumar and Nalini Jaywant. In this film, I played the young Ashok Kumar. It was called Sangram and directed by Gyan Mukerji.
Mehmood was in it too. We were both gambling [for a scene] or some such thing. Even in those days, he was very funny. He would keep fooling around. You just had to laugh. He was very friendly with Guru Duttsaab, who was an assistant director then

He was a tremendous talent. He made his own films. His first film, Kunwara Baap was distributed by our office in Delhi.

Pyar Kiye Jaa was our notable film [together]. He worked a lot with [others actors like] Shammi Kapoor, Rajendra Kumar and Dharmendra.

He had a very important place in the industry.