'You guys use the word "rebel", "ladaku".'
'I don't take offence to that.'
'But I will take what is my right, be it by fighting or any other means.'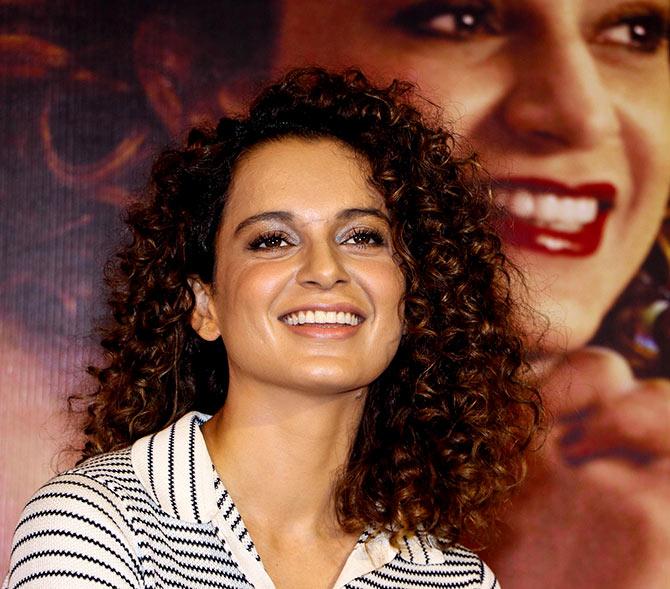 "Has my journey really been unusual or is it only me who thinks that way?" Kangana Ranaut wonders aloud at the trailer launch of her latest film Simran in Mumbai.
"I have to fight for everything in life, even the smallest of things," she continues. "Maybe my life and destiny is like this so I have made peace with it."
"It has become the norm of my life," the actress adds, "so I don't have a problem with that."
"Like, you guys use the word 'rebel', 'ladaku'. I don't take offence to that."
"But I will take what is my right, be it by fighting or any other means."
Kangana chooses not to dwell on the controversy sparked off by Karan Johar, Saif Ali Khan and Varun Dhawan mocking her at the IIFA awards.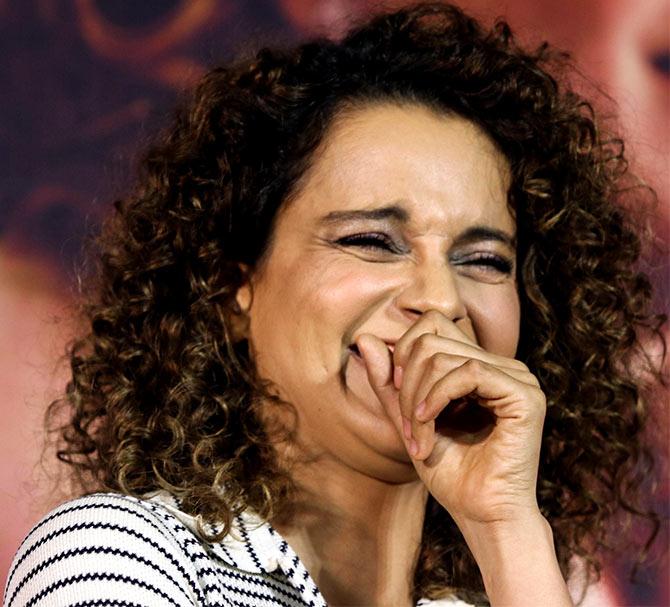 But she does clear the air about Apurva Asrani who accused Kangana of staking a claim to Simran's dialogues, which he said he had written.
"There are a lot of misconceptions," Kangana says. "I'd like to clarify that there are no dues pending. Somehow it has been made to look like Apurva hasn't been given his due, whereas we have done exactly what he has asked for."
"In fact, he is the one who suggested I take additional credit for the dialogue. All the documents and contracts have been signed," Kanagana clarified.
"We worked for a schedule together, he has come home as well. After many months, he decided to write the note when Rangoon flopped and two, three people were attacking me," Kangana points out.
"I thought it was in very bad taste. It was a deliberate attempt," she adds.
"If there is anything we can do in this matter, we would love to, but there is nothing we can do. He has got all the credit he wanted."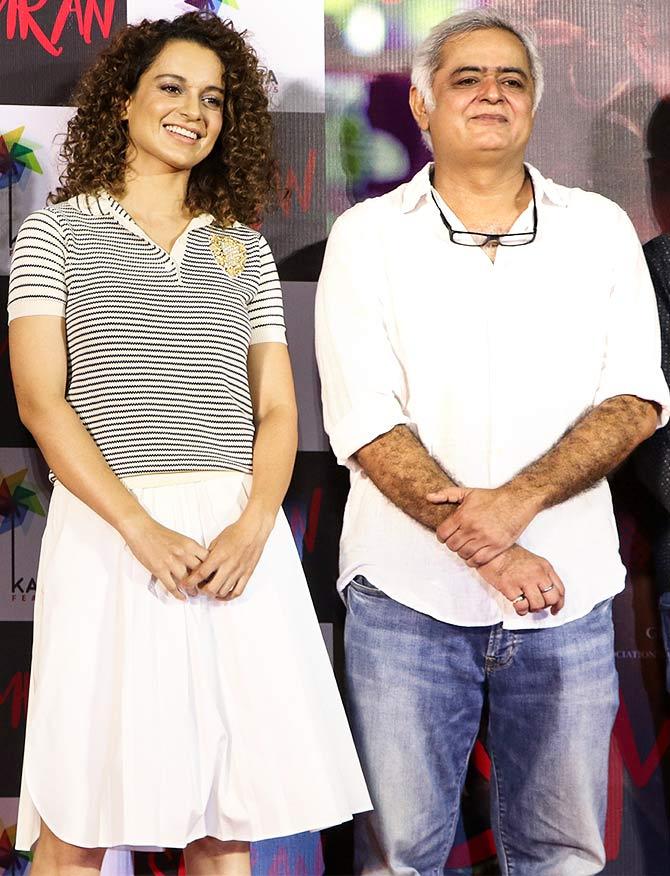 Simran, Kangana says, is a story of life, magic and mistakes.
Directed by Hansal Mehta, Simran is about a young woman who skids in life, and gets to her feet again.
"Simran is a very different and whacky character," says Hansal Mehta (Shahid, Aligarh). "She makes mistakes, but never gives up."
"The process of this film was very organic," the actress explains, lapsing into Kanganaese.
"Simran was supposed to be a Punjabi girl. I remember we were just discussing and Hansal sir told me he felt I have a lot more to understand that culture."
"I was like I have never been in a Gujarati family my entire life apart from casually meeting friends. I have zero understanding of their culture and language. That's how the journey started."
Kangana plays an Indian American woman of Gujarati origin in Hansal's movie.
"Hansal sir doesn't have an accent and neither do my friends from Gujarat," says Kangana. "My tutor Suraj would teach me. When I would go on set, Hansal sir would say, 'It (the accent) is too much, bring it down'."
"When I used to bring it down, Suraj would say, 'You can hardly hear it, bring it up'. I was confused."
"Hansal sir and Suraj were constantly fighting. Hansal sir didn't want to make it sound like a caricature."
Hansal, a Gujarati himself, says he has family in America. Gujaratis, he explains, are prominent in the Indian-American community, "so we thought we would show them in the film."
When Kangana hurt Hansal. Know the full story in the video below:
Does Kangana identify with her character in Simran?
"Yes, on many levels," she replies. "In every character, you have to identify with something and lend a part of your personality to the character. Praful (Praful Patel, her character in Simran) may belong anywhere, but she wants to make her own place."
"I call my life the pursuit of magic," she says in Kanganese, "the only difference is that I realised the magic, but Praful never did. She puts in an equal amount of effort; she has the same spirit and ambition."
For Kangana, Simran has been the easiest film she has shot for.
"This has been, by far, the easiest film I have shot for in terms of the costume and locations," she says. "Rarely do you get films where you don't have physical challenges."
Kangana's character in her Bollywood debut Gangster was called Simran.
"Not too many people remember that my name was Simran in Gangster. I have nostalgia attached to that name. I have almost completed 11 years in the industry."
"From Simran to Simran it has been a journey."
Video: Hitesh Harisinghani/Rediff.com
Photographs: Pradeep Bandekar