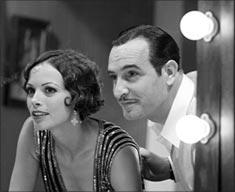 Even if The Artist wasn't 2011's best film, Raja Sen doesn't have too much to complain about the Oscars this year.

If George Valentin -- the silent-era matinee idol Jean Dujardin plays in Michel Hazanivicius' The Artist -- would sit down this morning to watch the 84th Annual Academy Awards play out, there wouldn't have been much for him to do.

Sure, he'd nod affably at Billy Crystal's overfamiliar hosting schtick, flash the obligatory smile for Meryl Streep, arch his eyebrow dubiously at The Girl With The Dragon Tattoo winning Best Editing, and then, with the cameras closing in to capture every nuance of his hyper-expressive face filmed in loving black and white, he'd open jaws wide and yawn, even as a clever French film went on to win the night's biggest awards, exactly as predicted.

(His heroine Peppy Miller, were she watching, would be too occupied caressing tuxedo jackets while looking at George Clooney to even care who won what.)

As if in deference to the fact that a black and white film won Best Picture (and Best Director and Best Actor for the aforementioned Hazanivicius and Dujardin), the Oscars were intent on keeping things colourless. There was no drama, with The Artist looking like 'a dead cert' all through the awards season, and while some (like me, who just watched Hugo a week ago) were rooting belatedly for Martin Scorsese's nostalgic ode to French cinematic pioneers to strike a final blow, to beat France's nostalgic ode to American cinematic pioneers, there was never a chance.
They had the dog, you see.

The best Oscar years have always been those when the awards -- and the nominations, and indeed the night itself -- belong to one film, the entire show taking place under the shadow of one celluloid image emblematic of the year's motion picture excellence.
The chariot race in Ben Hur, the horse's head in The Godfather, Jack and Rose on the bow of The Titanic, Javier Bardem's coin-tosses in No Country For Old Men.
This year's iconic visual? Uggie.
That's right, an adorable Jack Russell Terrier with a yappity bark we don't even get to hear, becomes the image the Academy decides to follow.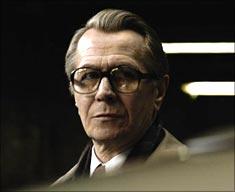 Not a bad choice at all, considering The Artist is a fine film, a clever homage to the silent era with a few masterful flourishes that make it very special indeed.
This French film is deftly crafted cinematic dessert, a joyful extravagance intended to amuse, to evoke and to distract, and it does all three with flamboyance.
Is it the year's best film? No.
In a year where the three best films were all soaked deliberately and fondly in nostalgia, it ranks third behind Scorsese's Hugo and Woody Allen's Midnight In Paris.

Yet there is no ire at its ascension because it truly is a worthy candidate, and one that enjoys an unquestioned, universal appeal, being a simplistic story told stylishly and wordlessly.
A spoof if may be, but it is beautifully made, and triumphed predictably at the Oscars -- imagine the Academy members realising they could watch a French film without subtitles.
I still maintain that Hugo, had it been a commercial success instead of a $200 million flop, would have deservedly beaten The Artist to the punch, but as things stand now, it's hard to be anything but ambivalent. Even if you don't like The Artist and have fervently worshipped, say, fellow nominee The Tree of Life, you'd be forced to concede that whatever its flaws, The Artist ain't no Crash.

So while it has been another night of underwhelming decisions -- Gary Oldman's magnificent performance in Tinker Tailor Soldier Spy being passed over for Dujardin's intentional hamming, for instance -- nothing really stings as much as the fact that everything went just as the papers predicted.

Crystal began with old-school vim, singing to Scorsese about how his Hugo miraculously contains none of his trademarks -- "No Pesci, no Bob, no killings, no mob", he sang -- but then, soon wearing the hosting duties as comfortably as a ratty bathrobe, pottered about the place being, at best, pleasant.
It was like watching a once-funny uncle compering a wedding reception, or Derek O'Brien asking quiz questions: there's only one way they know, and you might as well get used to it.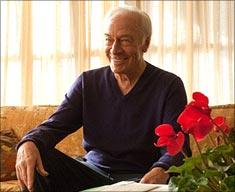 There was a bit of fake drama as the evening began with two awards for Hugo (Best Cinematography and Best Art Direction) and all our Twitter-feeds began to murmur about a possible upset, about how Scorsese's film might best The Artist after all.
We waited eagerly for Best Editing, an award which almost always foreshadows the Best Picture/Best Director awards, but this went perplexingly to Dragon Tattoo (which is why Valentin's eyebrow would have shot up).
And as the 'locks' of the night, the shoo-ins like Christopher Plummer (Best Supporting Actor, Beginners) picked up their little golden men unfailingly, the show plodded into dullsville.

Yet, it wasn't a total loss. The never-attending Woody Allen won Best Original Screenplay for his staggeringly imaginative Midnight In Paris, Emma Stone and Robert Downey Jr were genuinely funny as presenters, the Cirque Du Soleil paid striking tribute to Hitchcock's North By Northwest, and, above all, the Academy introduced us to this gobsmackingly stunning short film by giving it the Oscar for Best Animated Film (Short Subject.)


Watch it now, I implore you, comb the Internet and hunt it down. Because it is only with that film and with The Fantastically Flawless Leg of Angelina Jolie that we can look through the night's harmlessness and find something to treasure.