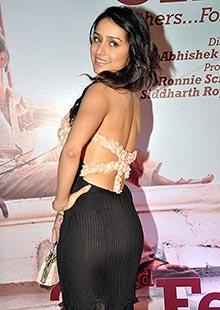 Shraddha Kapoor, who has starred in commercial hits like Aashiqui 2 and Ek Villain, is excited about her part in Vishal Bhardwaj's upcoming film Haider.
An adaptation of one of Shakespeare's greatest tragedies, Hamlet, Haider is set in Kashmir and is the last film in Bharadwaj's Shakespeare-inspired trilogy (Maqbool and Omkara being the first two).
It stars Shahid Kapur, Tabu, Kay Kay Menon and Irrfan Khan in pivotal roles and will release on October 2.
The young actress shares her experience of being surrounded by some of Bollywood's finest actors in a Vishal Bharadwaj film, her equation with her onscreen leading men and her first dance-based film ABCD 2.

Rediff.com's Rajul Hegde listens in.
What was it like working with an acclaimed producer-director-writer such as Vishal Bhardwaj?
The character I play in the film is my first intense role -- the most emotional, moving and challenging experience I've had.
I had to understand the way a Kashmiri girl behaves.
Listening to everything that Vishal told me to do was my reference point to prepare for the role.
I kept my mind open. I hope that comes across on screen.
Everything went smoothly because of the atmosphere on the sets and Vishal sir who makes you feel at ease.
I had to just surrender myself to the director and his interpretation of the script. I gave it my best shot.
You play Hamlet's tragic lover, Ophelia. Have you read the play?
The film is based on the original Hamlet. I play a press reporter, an amalgamation of Ophelia and Horatio (Hamlet's friend in the play).
I read Hamlet in school but I don't remember it well.
Vishal sir's script was enough to make me understand all these characters.
Were you nervous working with established actors like Tabu, Irfan Khan, KK Menon and Shahid Kapoor?
On the set, I was constantly awestruck. I had to pinch myself to believe that I was working with such great actors.
I kept telling myself I deserved to be there. Vishal sir had faith in me and it was a dream opportunity for me.
How did you get on with Tabu?
Once we were going for a shoot and Tabu's car, which was behind mine, broke down. I was so excited because that meant she would travel with me!
I had a lot of queries for her, I must have really pakoed her with my questions! But she was very sweet and answered them all.
I asked her about her experience of working on a film like Chandini Bar, Vishal's films, food...
She said that she loves fish. I was like, 'Can I send you some fish?' Because we eat a lot of fish at home.
She said, 'Ghar pe aakay khaungee (I will visit your place and eat).' It's still pending; I hope it happens soon.
Nobody but she can play her role in Haider. She is phenomenal and radiant. (Tabu plays Shahid's mother in the film).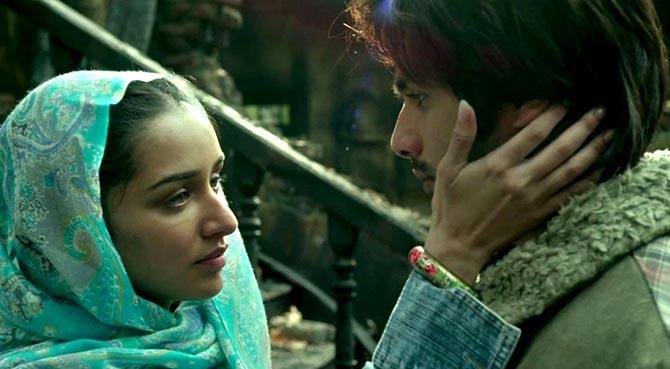 Image: Shraddha Kapoor and Shahid Kapoor in Haider
And Shahid Kapoor?
Shahid is one of the sweetest people I have met.
I love the fact that he loves me a lot!
Shahid has done some deadly scenes in a deadly way.
I'd get goose bumps watching him act. He is such a big star and he can also dance well.
Were you pampered on the sets since you were the youngest cast member?
I wasn't pampered but I felt I was taken care of nicely.
They (the other actors) knew that I was new compared to them. They were very sweet.
Vishal sir in particular is warm and loving as a person and that energy just spreads on the sets.
Vishal Bhardwaj's films are known for strong female characters. Haider, like Omkara, has a male protagonist. Which character in Haider, do you think, is going to stand out?
This film is similar to Omkara in the sense that both films had ensemble casts.
I would be happy if my work is noticed among everybody else's.

The length of my character may not be at par with my earlier roles, but this is the first time I've played such an intense character.
Vishal sir's films have proved to be career-altering for their actors.
I was actually just happy to know that he was taking me in his film, anything more than that would be a bonus.
It is a once-in-a-lifetime opportunity.

I think it will open a new chapter in my career too. He has made some really fine films -- Maqbool, Omkara, Kaminey etc.. -- that are remembered for performances by its actors.
I hope I do justice to that legacy.
Is there any similarity between you and Arshiya, the character you play in the film?
Not much, because my character is a journalist and focused and I am spaced out sometimes.
I am a day-dreamer and can't multitask to save my life.
Thankfully, I was not spaced out on the sets!
The one similarity is that both of us are passionate about our work.
Much of the film is shot in the Kashmir valley. What was it like shooting in extreme weather conditions?
It was very cold but when you are shooting and in front of the camera, you forget about the weather.
It was an enjoyable and beautiful experience.
I forgot to pack a jacket; luckily Shahid had packed enough and he gave me his socks and jackets.
Are you doing your bit for the flood-stricken people of Kashmir?
Yes. I have donated to a charity run by my friend's mother. I can't be present there physically because of work commitments.
Since we have shot in the Valley, I feel close to Kashmir; it's one of my favourite places in India.
I have donated once but I want to donate again. Whoever is reading this should also do their bit.
You have lent your voice to a Kashmiri folk song in the film.
I made lots of mistakes because I was singing a Kashmiri folk song for the first time.
Vishal sir would listen to the diction and correct it. Even the writer was present during my recording.
The album is gorgeous.
Bang Bang with Hrithik Roshan and Katrina Kaif releases on the same day as Haider.
The songs of Bang Bang are also very good. I am a die hard Hrithik fan.
I have been his fan ever since the release of his debut film, Kaho Na Pyar Hai, when I made a slam book for him.
I hope both the films do well.
There are rumours that Aditya Roy Kapur gifted you a diamond ring?
I've been very patient all this while, but this one has crossed all limits.
I want to observe maun rath in this mamla.(I will remain silent on this topic)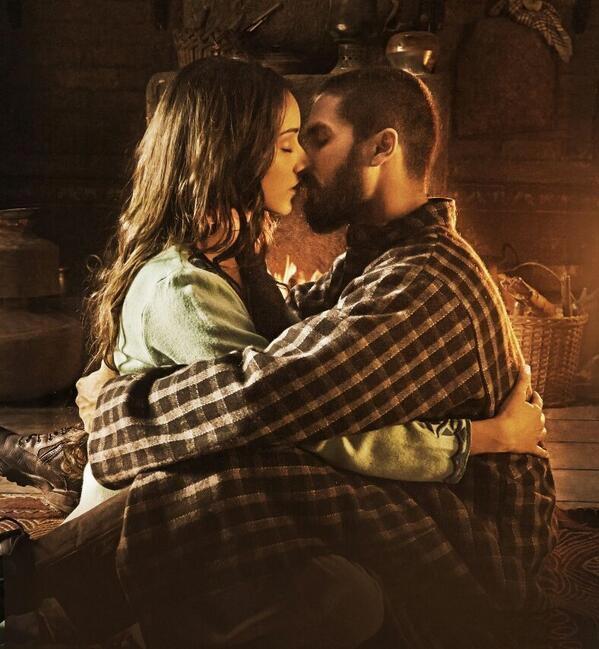 Image: Shraddha Kapoor and Shahid Kapoor in Haider
The kissing scene with Shahid in the film is a little intense and is being compared to your earlier films. Did it make you uncomfortable?
Did I look uncomfortable in the promos? I was comfortable and had fully surrendered to Vishal sir's instructions.
I have kissed in other films too. If I had any inhibitions, I'd have put my foot down.
You have acted with young actors like Aditya, Varun Dhawan, Siddharth Malhotra and Shahid Kapur. Have you made any good friends?
There is no time to party. We have all become good friends.
Varun and I are like chaddi buddies as our fathers have done many films together.
Mohit Suri (director) and Aditya have become good friends. Siddharth, I know through Ek Villain. I have known Shahid for some time.
Have you started shooting for ABCD 2?
Yes. I will start shooting again after promoting Haider.
I have a video of ABCD dance on my phone which I am safely guarding (smiles).
I was very excited and wanted to show it to Shahid for his verdict because he is a very good dancer.
He said 'it's good'. I love dancing, and nobody has seen me dance in any of my films.