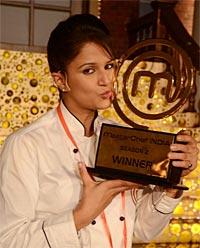 Shipra Khanna, 29, beat Joseph Rozario from Siliguri and Salma Shazia Fathima from Bengaluru to win the title of Master Chef in Star Plus's cookery reality show, Master Chef India.

With cookery challenges thrown at the finalists by the likes of experts Jehangir Mehta, Sanjeev Kapoor and Karen Anand, the survivor had to be the best cook in the country!

Akshay Kumar was back as a celebrity guest for the finale where the contestants had to reinvent the signature dishes of last year's contestants, using the same ingredients.

Shipra recreated a continental chicken dish with a new tandoori twist.

Shipra won a cash prize of Rs 1 crore, a chance to host her own show on Star Plus, and a holiday in London. The divorced mother of two speaks to Rajul Hegde.

What was your reaction when your name was announced?
I was numb. Winning the title is unbelievable, amazing, and the feeling of victory has still to sink in. I still haven't got over the routine of getting up early and preparing every day.
What is the first thing you did after you won the title?
I celebrated by watching the finale with my family and friends. We had a pizza party and it was good fun.
How important is this prize money for you and what will you do with it?
I want to give part of my winning money to the school for deaf, mute and blind children in Shimla so that they are better equipped with facilities and staff. When I went there for the first time, I was moved to tears. Though disabled and abandoned by their parents, the kids seemed so lively. I really got inspired by them.
I also want to brush up on my culinary skills and educate myself a little more. My priority is to save money so that I can get custody of my children.
How would you sum up your Master Chef journey?
It has been the most beautiful journey. All of us enjoyed ourselves thoroughly.
I particularly remember the Hong Kong trip where we really had a good time shopping for the ingredients and reaching late for the challenge. We've had a ball.
I have made so many good friends and I am in touch with them. Making a mark in every round was extremely challenging. It was shocking to see so many good cooks exit the competition, some of whom I used to look up to. That's when you get a sense of how intense this competition is.
The chefs were the best mentors and it was really amazing that they came up with so many different and surprising tasks.
Which was the biggest risk that you took during the show?
I think it was during the first part of the finale, when Akshay Kumar told us that the ingredients would arrive randomly on the conveyor belt. Making a desert was definitely a gamble. Imagine, instead of berries if I had got chicken! I would have been in trouble.
But everything worked for me and I was the first finalist to make it through.
What was your parents' reaction?
My parents were really sad after what I went through. Now I can see them smile. They are proud of me.
I have answered all those people who used to look down on me and thought I will never do anything in life. This title has given me a new life.
Did you speak to your children after you won the title?
No. I tried but I couldn't.
Do people recognise you now?
Yes. One Gujarati family came up to me and said that they knew that I would win. Another uncle said he was moved by my story. I won this title with all their blessings.
What next?
As per the contract, I will have a cookery show on Star Plus. I would like to take my culinary abilities forward with a show on both travel and cooking.
I will start with the cuisine and culture of Himachal Pradesh. Perhaps write a book too.
Are you planning to shift to Mumbai?
Yes, I might after I start shooting for the show.