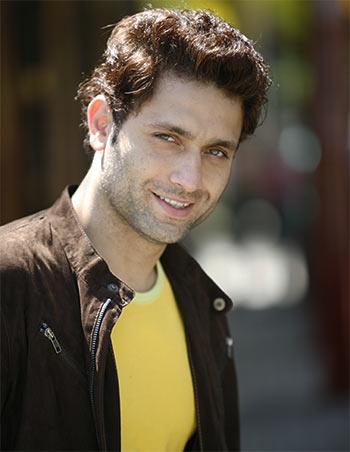 Shiney Ahuja, who has been embroiled in a rape controversy for a better part of his acting career, made his big screen comeback with Anees Bazmi's new hit Welcome Back.
The 40-year-old actor can't thank his director enough.
"Anees has a big heart. He gave me a chance in such a big film at a time when not too many filmmakers were willing to sign me. Aneesbhai made it very clear that my role was not a very lengthy one.
"But all my scenes were with the great Naseeruddin Shah and that was incentive enough for me to welcome the chance to get back into acting," he says.
Shiney also refutes all rumours of his costars in the film keeping him at arm's length.
"No such thing happened. Everyone was very welcoming and warm. I admit I was very apprehensive when I joined the team. I went on location after my prayers and meditation, ready to encounter any eventuality.

"I was going through a phase where I felt everything I said could and would be held against me. I would weigh every sentence before uttering it. Simply put, it wasn't easy for me."
Luckily, the cast and crew were supportive and Shiney enjoyed playing the role of a gangster's petulant son.

"I see my character Honey as a spoilt brat. He is not dangerous at all. He wouldn't hurt a fly. He is just a pampered man-child who gets everything he wants."
Shiney sees Welcome Back as a good way to make a comeback. "It's a successful film. And success at this point in my life is very important," he says.
The actor is now trying to find a footing in Bollywood again.

"I don't socialise much. What's there to say in parties when I am not doing any work? So far I've not really gone out and met directors and producers, to let them know I'm looking for work.

"I feel I'm a newcomer all over again. It feels exactly the way it did when I made my debut in Hazaron Khwaishein Aisi.

"The film was a massive critical success, and I went around recommending the film to everyone. But not enough people watched it. My journey with Welcome Back is just the opposite. The critics may not think highly of it but the audience loves it. There's applause from the audience after every dialogue. It's music to my ears."
With work, Shiney is also regaining his confidence.

"Old friends Sudhir Mishra, Anurag Basu and Pritish Nandy have been there for me. The other day I ran into Sajid Nadiadwala , and he was very nice to me.
"I feel life has given me a second chance. If it wasn't for my wife Anupam and my family, I wouldn't have been able to endure everything I went through. My wife has been a pillar of strength. As for my daughter, every time I look at her face I find hope and joy in my heart. I am ready for my second innings."