His unconventional film about a girls' hockey team and a disgraced coach was a hit with critics and audiences alike.
And this was evident from the outpour of compliments showered on Shimit Amin, the director of Chak De! India starring Shah Rukh Khan, during a chat with fans on August 27.
The filmmaker spills the beans on the film and more in this entertaining chat. For those who missed the chat, here's the transcript. 
Shimit Amin says, Hi everyone...
---
fasi asked, How was Experience wroking wid SRK??
Shimit Amin answers, Working with Shah Rukh Khan was a great experience, of course. He really stretched himself for this film. I am really thrilled about his performance in the movie.
---
jeetujose asked, Was Chak De truly orginal?
Shimit Amin answers, Yes, it was truly original. Jaideep Sahni read an article in 2002 about the women's hockey team winning the Commonwealth and was dismayed at the short coverage it received. He started researching the reasons behind it and came up with the script.
---
Arati asked, I am so glad that Ab Tak.. was not a fluke. Loved Chak De! But tell me, was SRK your first choice for Kabir Khan? Also, is it difficult to direct a movie that is written by someone else? Do the visions match?
Shimit Amin answers, Thanks, what a relief. Let's talk about that after I do the sequel to Bhagam Bhag.
---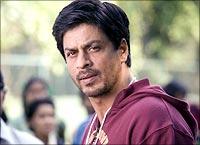 Pmmvarma asked, the Girls really played as if they are players. Was there any speacial practice given to them on Hockey
Shimit Amin answers, There was a three-month camp where they had to wake up at 4:30 in the morning, play hockey for five hours, then physical training, then acting workshops, then guest lecturers and so on. It was quite a lot of preparations.
---
shimitamin asked, are you going to direct Partner2?
Shimit Amin answers, I hope so!
---
zainabjabri asked, Hello Shimit, I liked Ab tak Chappan, but as Chak De India u have boomeranged into best directors category. Keep up the good work? Which is yr next movie?
Shimit Amin answers, Thanks. Don't know.
---
amu asked, hi shimit,now i think ur ab tak chhappan was more convincing than chak de,who do u think is best among aamir and shahrukh?
Shimit Amin answers, Both are great because I want to work with both.:)
---
vik asked, great work shimit...Chak de's very impressive, you kept in mind all the technicalities of field hockey and the matches looked real...tremendous job..hope it'll revive the national game..
Shimit Amin answers, Thank you. I had a terrific team -- AD's (Ashima, Karan, Vicky, Richa, Sherena, Anshai, Bhavna) and then of course the sports department led by Rob Miller who made it happen for us.
---
asked, I loved your previous one and this one is simply brilliant especially the editing and background scores are amazing...kudos to salim sulaiman...whats next from you,sir?
Shimit Amin answers, Amitabh and Salim Sulaiman did an awesome, awesome job. That's the thing…this film was a team effort.
---
shimitamin asked, hello, Shimit Sir.. i loved your movie... watched it 3 times... my question is that Are you going to direct Partner2?
Shimit Amin answers, Yeah, sure. But I might screw it up.
---
karmesh asked, why didn't u include girls from orissa since the state is a hotbed and a goldmine for hockey players.....?
Shimit Amin answers, We didn't include a lot of things. We had to "slick' up the movie for which I am truly sorry. I hope I get another shot at it now that people are open to such ideas in a commercial sense.
---
uk asked, If you plan to make a movie on Kabaddi, which hero you will like to take?
Shimit Amin answers, Govinda.
---
Raj Aryan asked, Do u plan any sequel to Chak dE India???
Shimit Amin answers, No, not yet.
---
rohitleo asked, I watched the movie, really wonderful, was there any kind of risk on makng this movie based on india's national game hockey.. in which no one is interested.. and that too womens hockey ??? was there a fear in ur heart that.. this could be a flop ???
Shimit Amin answers, Yeah, of course. The kind of feedback we got when we released the photo of the team made my heart sink. I heard a lot of terrible things about it.
---
shimitamin asked, Looks like Vidya Malvade's part is cut from the original script...is it?
Shimit Amin answers, There were lots of trimmings made. I'm really depressed about that. Mostly we had to cut out Gul's track. But guess what? You can see it on the DVD.
---
manzoor asked, Saw the movie from dubai. there were lots of applauses and cheering from the audience while watching CDI. how would u rate this success?
Shimit Amin answers, Thank you. See that's the thing, people are saying a title like Chak De! India wouldn't do well overseas. But people don't know it has been.
---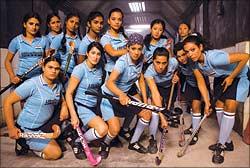 rajneet asked, why you , in ur movie posed a muslim as a traitor
Shimit Amin answers, Did it work? You tell me. Wasn't it dramatic?
---
ramsirisamp asked, one such neglected aspect in india is the north east. Mani ratnam tried to present the love tangle with terrorism in dilse perhaps the nativity is missing there. People like you can try to project the problems there with a love story or any other as you did in CDI
Shimit Amin answers, There are so many stories there One by one we should bring them to light because we have done enough around Bombay.
---
Shubhendu asked, Was Chak De inspired by the real life of ex-Indian Goal Keeper Mr. Meer Ranjan Negi?
Shimit Amin answers, No, it was a coincidence. It is inspired by the achievements of the Indian National hockey team led by M K Kaushik. Please divert all praises there.
---
javoooo asked, hey shimit...wot wud ur advise be for aspiring directors like me who like u belong from overseas and have no contact within the film industry.....(i currently have 5 scripts ready withe me ...but im in melbourne and dunno how what to do....)
Shimit Amin answers, Tough question. My advise is to get involved in a local production and establish contacts.
---
prasun asked, chak de............... who's idea is it ??????
Shimit Amin answers, Jaideep Sahni, (of Company, Khosla Ka Ghosla, Bunty Aur Babli fame) one of the best and successful writers we have.
---
Anshul-11 asked, CONGRATS N THANKS for such a fantastic film. Isnt even a single girl in ur movie really plays hockey?I used to play hockey, n i think few were good players.
Shimit Amin answers, They were atleast four and the three in the background.
---
ganesh123 asked, Which scene was tough to shoot?
Shimit Amin answers, Most of the hockey scenes because of the weather as well as the crowd and time restrictions.
---
uk asked, would you like to make Romantic films too?
Shimit Amin answers, Yes, depending on the script, of course.
---
abtak56 asked, hi, shimit.. i want to be a script writer.. how can i find a sample script of a bollywood movie? can you plz help?
Shimit Amin answers, There are many published scripts these days. Please see a book on Lagaan.
---
arvin asked, Hello sir, Both of your films have been genuine hits (i.e. masses & classes have liked it) which one do u think was better. (i liked Ab tak..)
Shimit Amin answers, Hard question. Please ask in 50 years time.
---
rbgg asked, would like to get your inputs on SRK...what is your judgement on him..should he do more roles like Chak De and Swades or he should stick to his USP - entertaining films with romance as the theme
Shimit Amin answers, He should do all kinds of roles. He is very talented and versatile. The audience has to support him when he experiments.
---
shoeb asked, Hi Shimit, I found 1 think missing in the movie though the movie is fantastic, it would have added more charm to it. I am referring to off-match strategies/planning.
Shimit Amin answers, We had it. It's on DVD. We had to cut it out due to pacing.
---
TimePass asked, Marlon says, SHIMIT, AS A WORKING PROFESSIONAL, IT BECOMES DIFFICULT TO GIVE UP EVERYTHING AND VENTURE OUT TO DO THAT I WOULD REALLY LIKE TO DO - MAKE A MOVIE. NOT EVERYONE IS RAY, AFTER ALL ! HOW DIFFICULT IS IT TO SURVIVE AND SUCCEED IN BOLLYWOOD ?
Shimit Amin answers, It is difficult and not all risks pay off. It is sad really. Wish there was a sure fire way to go about it.
---
santhu asked, SIR PLEASE TELL ME how did u got THE CENTRE FORWARD KOMAL .. she has done a great job
Shimit Amin answers, Again a cold audition in a Jabalpur junior camp.
---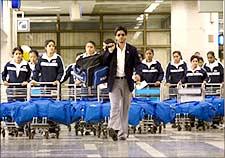 nimesh asked, as per you which is the best scene?
Shimit Amin answers, My favourite is the bathroom scene where Bindya blows her top.
---
cook asked, Mr Shimit your film theme and story are very good. But there is a technical problem. In all your scenes the girls practice on grounds but in world cup they directly play on synthetic surf. That is nearly impossible
Shimit Amin answers, Yeah it is. At one stage of the script we were going to show how that transition first happened. But hardly anyone cared or noticed.
---
cipsy asked, which are ur favourite hindi films
Shimit Amin answers, Deewar, Don and Muqaadar Ka Sikander.
---
vinaypadaki asked, do u thnik its gonna make any diff for th women's hockey team and gonna help promote hockey in th country????
Shimit Amin answers, I hope so but I'm not going to paint a rosy picture. I hope everyne supports them and prove all the pessimists wrong like we did with this film.
---
Dan asked, Shimit ppl are calling it a commercial movie and also comparing it with Lagaan ur views?
Shimit Amin answers, Flattering but they are two diffent films. Lagaan is more classical therefore more timeless.
---
sajjad asked, chak de is execellent movie, frankly speaking it was acting of shahrukh khan and use of arabic verses made it a hit,
Shimit Amin answers, Wish I could pinpoint it to one thing.When you make a film and it works you almost don't want to analyse it.
---
Atanu asked, All the best for ur future Projects. Please make a nice intellectual (as always) film with Juhi. She is a wonderful actress. If possible, SRK and Juhi both or Aamir and Juhi. Either way, it would be an awesome movie. what do u say?
Shimit Amin answers, I'd love to. I like Juhi too.
---
Pranesh asked, Hi Shimit, Are u planning next movie with SRK. Please direct DON II for him.
Shimit Amin answers, I wanted to make Don...not kidding. I even met Salim Khan but I then found out Farhan Akhtar was making it. Believe it or not I wanted to make a trilogy out of it.
---
fdsad asked, Great movie shimit, when are you going to release the DVD?
Shimit Amin answers, I hope so...in three months.
---
svijay_wen asked, Mr shimit vijay from Beijing-China cogratulations for new movie i hope it will sucess like lagaan really good i showed to 2 my chinese colegues also really they like it
Shimit Amin answers, Thank you. Really great to hear such comments.
---
zahid asked, why u give two or three vulgar scenes in this great movie. i am not able to take my kids for that only. otherwise wanted to show them the movie??????? was that required???
Shimit Amin answers, I am truly sorry for that. We have been so unaffected by all the vulgarity around us we stop noticing these things.
---
abtak56 asked, which are your next assignments? plz mention.. we cant wait..bye the way, komal chautala was gr8 with that hariyanvi language..
Shimit Amin answers, We had tremendous help. We had a Haryani coach and all the women went through workshops held by Sandeep Shrivastav (writer of Ab Tak Chappan and a close friend of mine).
---
mprasad asked, how was it working with SRK..did he get annoyed over you wnting so many retakes
Shimit Amin answers, Actually, we make the whole film in one take. 
---
karmesh asked, I just read that CDI is rip off from Miracle...how true is that or just rumours?
Shimit Amin answers, Not true. The film is inspired by the achievement of the Indian women's hockey team at the Commonwealth victory in 2002. Jaideep is the most original scriptwriter in India so I wish the person who made such a claim would have given it a thought before making such an accusation. We love to dwell on the negative. Why is it hard to believe that our country can come up with this kind of film on it own?
---
Atanu asked, How different was the YRF camp from the RGV camp since both are great camps?
Shimit Amin answers, Not much. Both are commited to making films. They live, breathe and eat films in their own way.
---
dynamic_gaurav04 asked, The only thing which i don't like in the movie was lack of songs any clarifications??
Shimit Amin answers, Umm...I missed them too. Maybe a chorus line with all 16 players.
---
arvin asked, what next, will u work with Salman Khan? he is my fav @actor
Shimit Amin answers, Would love to. He is another actor whom I'am really excited to work with.
---
abtak56 asked, had any of "chak de girls" got any new projects?
Shimit Amin answers, There are some. Anaita (Aliya) is in Nagesh Kukoonor's Ashayein while Vidya is in Sanjay Ghadvi's next. Preeti (Sagarika) is in talks with two to three people.
---
opel asked, why todays most of tne bollywood movie is female oriented
Shimit Amin answers, Are they? Isn't it great if they are? But are they? I wish they were.
---
alkatriv asked, hi, did you edit Company before making your first film?
Shimit Amin answers, No. Chandan Arora did that. I edited the one afer that...Bhoot.
---
SandeepInChina asked, Hello Shimit ji. Chak De was fine but the movie end was know as soon as the movie starts. Dont you think you should have added more fun & bit suspense to it. Even some scenes of the movie passed away silently where it could have spoken a lot.
Shimit Amin answers, That's the burden of the sports movie. I wish there was a trip to Mars that the team takes to throw everyone off.
---
rameez asked, How is SRk on Sets?/
Shimit Amin answers, Quite calm actually. He has a calming effect on everyone, and technically he knows so much. He's worked with everyone from Mani Kaul to Mani Ratnam to Karan Johar and knows many things. That made my job that much easier.
---
andy asked, What do you think about Ajay Devgan as an actor? Any plans of working him in future? I would like you to congratulate for the movie Chak De india. I watched it other day it was really nice I also like your Ab tak chappan
Shimit Amin answers, I love Ajay Devgan..Would love to work with him.
---
shaileshprabhu asked, Hey Shimit, I wouldnt say great film, but i would say, very good attempt, It made me watch it, despite it having SRK. Was just wondering, why do Indian films always have exaggerated n unreal depiction of emotions? something that is totally out of real life context? do the producers insist such style or is it innate to our creative guys?
Shimit Amin answers, It's just a style.Most people may not like it but it's developed as a style and when people abroad look at it they don't laugh. They think its quite a developed way of telling stories actually. I kid you not.
---
Mcube asked, I am hoping talented directed like you, venture into new areas like science fiction! What's you take on that?
Shimit Amin answers, Funny you should say that because I would love to make a sci-fi film. I have a script I want to bring back from the dead.
---
fgsg asked, I didn't like the dialogue where one angry fan says that muslims should be sent back to pakistan. I thougth of muslim audiences and felt how they will feel.. it was too harsh..
Shimit Amin answers, Maybe too realistic, I agree. I was nervous about it myself.
---
badri asked, nice movie. camera work was great, but could have added few more angles for the matches. similarly climax could have had them shooting instead of defending finally
Shimit Amin answers, Hmmm...I am not always happy with my work. I will give it a thought.
---
ali1 asked, Hello Sir...Congrats for Chak de!!!!Just one question is it a commercial hit or great movie failed at BO ?
Shimit Amin answers, I think it is a hit. People are going to see it more than twice as this chat room is full of them.
---
cipsy asked, so when do u plan to work with Mr Bachchan
Shimit Amin answers, If I have a script for him. I hope he will agree to it.
---
singh.akhi asked, sir.. how do u justify the maych b/w girls and guys... i mean wudn't it be better if the match wud have taken place b/w indian girls team and any other foreign girls team
Shimit Amin answers, Maybe It was a liberty we took. Quite filmy actually. But it worked somehow.
---
cipsy asked, You had India`s biggest star and still the movie took a slow start.Was it because of the lowkey promotion?
Shimit Amin answers, No, I don't think so. People didn't get the promotion at all because there were no song and dance sequences. When was the last time audience rushed to the movie when it didn't have such 'sellable' qualities? I do hope this changes things a bit.
---
Shimit Amin says, Thank you everyone for your compliments. I am really bowled over.