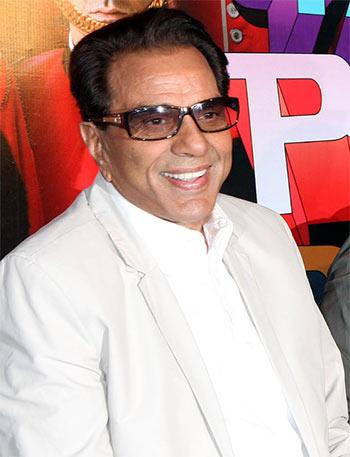 Dharmendra is celebrating his 79th birthday on December 8 in Jalandhar, where he has been stationed for the past month. He is currently shooting for a film called Second Hand Husband with Punjabi actor Gippy Garewal.
"Is it really 79 years?" he asks. "I never knew when so much time flew by. All I know is that I have earned a lot of love and affection from people throughout the years. That's my greatest gift. Beyond that, I never took stardom and success seriously."
Love, Dharamji continues to get in abundance.
People in Jalandhar keep flocking to the location for a dekko at their favourite star. They even touch the ground with their heads in a show of reverence.
"I have always craved to be in people's hearts, instead of their minds, because when you occupy the mind, you can be dislodged anytime. But when you're in the heart you're there forever," Dharmendra says, with a laugh.
Does it feel strange to be celebrating the birthday far away from home and his loved ones?
"This is also home. Jalandhar is very close to my heart," he says. "The people here love me so much. This is my second film with the popular star Gippy Garewal. I had earlier done the Punjabi film Double Di Trouble with Gippy," says Dharamji.
It marks the acting debut of Govinda's daughter Narmadda.
"Govinda's daughter has been paired with Gippy. She's a lovely girl, very talented. I am sure she will go places after this film releases," Dharmendra says.
Dharmendra plays a man with a roving eye in Second Hand Husband. "It's a mischievous role. I've always enjoyed doing comedy. I hope the audience enjoys watching me do comedy," he says.
The veteran actor shares his birthday with one of his favourite co-stars Sharmila Tagore.
He talks fondly of her: "We have done some lovely films together, and we have always cut our birthday cake together on the sets of our films. She is a lovely co-star. All my co-stars are lovely ladies."
Any birthday wish?
"I want my well-wishers to continue giving me the same love that they've always given me," he says.