The team of Pradeep Sarkar, Shantanu Moitra and Swanand Kirkire are back.
The trio, which brought the feel of the 1950s and 1960s with Parineeta, will be working their magic again in the upcoming Laaga Chunari Mein Daag, starring Rani Mukherji, Abhishek Bachchan, Konkana Sen Sharma, Jaya Bachchan and Kunal Kapoor.
Patcy N caught up with the trio, and talked to them at length about the film
In the first of the interviews, music director Shantanu Moitra talks about how he set the film to tune.
This is your second film with Pradeep Sarkar. How did you happen to work together again?
My relationship with him goes back 16 years when we were both in the advertising field. We worked in the music video of Ab Ke Sawaan.
Parineeta worked for us so I guess Yash Raj Films wanted the same team to score the music for Laaga Chunari Mein Daag.
Some music directors are apprehensive about how their songs will be picturised. But I blindly trust him because he is one of the few directors I know who can take the step forward. I don't know many directors who would do that.
For this film, the music was done first and the lyrics were written after. Do you think the lyrics did justice to the music?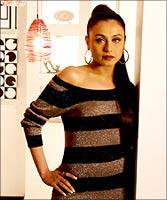 Swanand Kirkire, lyricist, and I worked together on the music. Most of the time the music and the lyrics were done simultaneously -- I would compose the music for the first four lines and he would start writing the lines. So the next four lines or the entire song would flow more easily. Then I would step backwards and let him write. This would continue -- it's really a mix and match.
Once you vibe creatively with somebody, the compositions just flow. Songs like Hum Toh Aise Hai Bhaiya is a case in point. There was a lot of information about Benaras and the nuances and the flavour of the place so the song was actually literature-based.
But yes, in our case, the reverse has worked better. For example, in Parineeta, the lyrics of the song Raat Hamari Toh was composed first and the tune later. Ditto with the song Bande Mein Tha Dum from Lage Raho Munnabhai.
What was the briefing for Laaga Chunari Mein Daag?
Young, perky and energetic on one hand and contemplative and dark on the other. Because it is the journey of a woman from a happy situation to a more complex one, the range had to reflect the gradual change. Therefore, we have a thumari by Rekha Bhardwaj then a lament by Subha Mudgal.
Which was the most difficult song?
The title track, Lagaa Chunari Mein Daag. Meeta Vashisht recites this song in the film. It is an awesome piece of work with superb lyrics. This song is a perfect example of multi-layered approach to one subject.
We have a trance sound track base with Meeta as well as Subha Mudgal's directive comments on what is happening to this woman and where is she coming from.
This was a tough one for me as I was dealing with a classic song which has been immortalised by Manna Dey. So I did not want to trivialise it. That is why I chose Subha Mudgal. I have given the song a slight classical edge.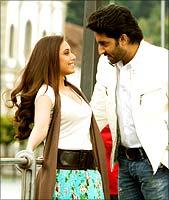 The song Ehi Thaiyaa Motiya is a typical Benarasi thumari, which was rewritten by Swanand. How did you know what music will go along with this?
I love thumaris and have done them in Ab Ke Sawaan (Seekhona).
I am from Benaras and know that world. I have heard that world cinematically and it is a fantastic thing to express a thumari. Rekha Bhardwaj's voice laments and expresses more than what is written. We often use these tools in cinema to give you an idea of the underlying nuances of a particular situation. We have used thumari because Hema Malini is a courtesan from Benaras and this song has been shot on her. This song is part of her life too. 
When you take songs like Ehi Thaiyaa Motiya or Lagaa Chunari Mein Daag, which have already been done, what challenges do you face?
The first to do is not think of it as competition, as the song has already been immortalised. We have to take into account the particular demand of the director. You need to concentrate on what is required of the film.
Is there any insecurity when you compose such songs?
The song by Manna Dey was set at a different time altogether. Swanand has given it a different treatment. The literature and the poetry are also different. There are huge changes. And as a composer, I did not want to trivialise it. You don't damage and that's about it. That's your responsibility.
It seems that Swanand took a lot of time to pen the Zara Gungunalein Chalo song…
That was because Pradeep (Sarkar) wanted a particular kind of feel and it took time for Swanand to get into the heart of the song.
Pradeep is a very demanding director and very particular about what he wants. This song was shot in Switzerland and speaks about the relationship between Abhishek Bachchan and Rani Mukerji.
The song Ik Teekhi Teekhi Si Ladki has a very Bambaiya language...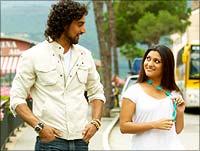 There are two couples in this film -- Rani and Abhishek, and Konkona Sen Sharma and Kunal Kapoor.
Konkana and Kunal are the younger couple, so the song had to be different. For them, life is just beginning. Plus, she is in Mumbai, so we had to keep the Bambaiya language.
However, her sensibilities are from Benaras so the song also had a slight touch of small town humour.
It does not have maturity of Zara Gungunalein Chalo, though.
What is the song Kachchi Kaliyaan all about?
It is a classic Yash Raj wedding song where everybody has a good time. This lyrics Kachchi Kaliyaan has the sensibilities of Benaras while the upbeat tempo gives it a certain oomph.
What sought of response did you get after the release of the music?
I got a fantastic response. From what I gather, people loved Hum Toh Aise Hai Bhaiya and the title track.
What next?
My next release is Sudhir Mishra's Khoya Khoya Chand, where I'm working with Swanand once again.