Home > Movies > Reviews

Laaga Chunari: a pleasant listen

Raja Sen | September 07, 2007 19:32 IST


| | |
| --- | --- |
| Rani Mukerji, Abhishek Bachchan in Laaga Chunari Mein Daag | |
| | |
| | |
| | |
| | |
| | |
| | |
Great albums work in totality. Not three good tracks out of eight, not a great music director towering over his singers -- or vice versa, prima donnas taking entire tracks to show off their tonsil-wagging abilities. Laaga Chunari Mein Daag is the season's next Yash Raj release, and a great album it's not, by that definition.
While music director Shantanu Moitra does a perfectly passable job, he's completely eclipsed by the lyricist here. Swanand Kirkire is the star of this show, often providing random words and distinctive rhymes. The music struggles to match.
The album starts with the catchy Hum to aise hain, by Sunidhi Chauhan [Images], Shreya Ghoshal, Pranab Biswas and Swanand Kirkire, the latter also penning the playful smalltown lyrics that make this number a perfectly pleasant conversational number. The two-sister song works, from moustache-and-cow similes to paan spits to a fantastic 3-2-1-2-7-2 count, the female vocalists doing the upbeat words justice.
Zara gungunalein chalo starts off most vaguely, with an operatic opening but then settles into a very 1980s feel. You know, the synth-heavy tracks that passed for 'disco' out here -- unending percussion, simplistic melodic lines and a could-be-by-anyone tune you'll forget in two seconds. Vocalist Babul Supriyo is significantly outclassed by Mahalaxmi Iyer on the track.
It's interesting how distinctive Meeta Vashisht's voice is. The underrated actress starts this moody title track off with a few intoxicating lines of urdu, and one's hooked. This is interspersed by Shubha Mudgal singing verses from the original Roshan song. Mudgal overdoes the vocals (originally by Manna De), burying the song in a mistimed attempt to prove vocal prowess, and while Vashisht's shayari makes this Sahir Ludhianvi cover interesting -- the style very similar to Kavita Krishnamoorthy breathily mouthing Gulzar [Images] in AR Rahman's superlative Satrangi Re -- Laaga chunari mein daag doesn't entirely impress on first listen.
Ik teekhi teekhi si ladki is the example of a frivolous boy-girl track marred by bizarre musical overkill. The track goes from casual to party, and while KK rocks Kirkire's lyrics -- vodka ke shot mein ek chhoti si mirchi hari, ek museebat hai jo sar pe hamaare padi -- Shreya Ghoshal sounds insufferable at most places. It's a happy song, and hopefully will be much improved by fun picturisation.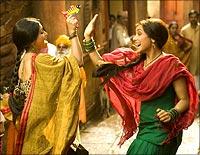 The masterful vocals of Rekha [Images] Bhardwaj take over for the semi-classical Ehi thaiyaa motiya. The sound is authentically period, evoking the choicest courtesan imagery as Bhardwaj's brilliant, nearly-slurred vocals complement the tablas very neatly. The track gets slower as it winds on, but emerges a well-crafted -- even if musically repetitive -- song overall.
The album ends with Kachchi Kaliyaan, by Sonu Nigam [Images], Sunidhi, KK and Shreya. Despite a bad remix background, the singers give this song the vim it requires. The lyrics are fresh and fun, and if this song wasn't trying hard to be the album's only club-friendly number, it would have been much improved.
Musically, it's a decent album, with not too much to complain about -- but then it's only 28 minutes long. Now, the words: it'd be really exciting to see a few other music directors get their hands on lyricist Swanand Kirkire and his unique phrase stylings. Good work, man.
Rediff Rating:

Want to see this movie? Check out Rediff Movie Tickets!