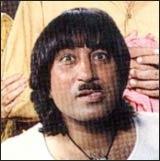 B
arely 48 hours after news channel India TV ran the story on Shakti Kapoor soliciting sex from a journalist posing as an aspiring starlet, an SMS joke on the scandal have started making rounds.
The joke: The meteorology department has clarified that the tremor felt in Mumbai on Monday afternoon was not an earthquake. It was Shakti Kapoor's wife beating him up!
While the story has opened up a Pandora's Box, with India TV Editor-in-chief Rajat Sharma promising more exposes on other Bollywood biggies, the after-effects of Kapoor's conduct on camera is being felt by his family.
Says a friend of the family, "For the channel, it was just a big story. But for Shakti Kapoor's family, it is a matter of shame. His wife Shivangi, sister-in-law Padmini Kolhapure and brother Pradeep Sharma come from very respectable families. The scandal has shaken them. Shakti Kapoor's son has stopped taking phone calls. He doesn't speak to his close friends since the story broke."
No one knows how Kapoor intends to get out of the mess he is in. The decision taken by Yash Chopra, Subhash Ghai and Amit Khanna on behalf of the Film & TV Producers Guild Of India to ban Kapoor from working in films further complicates the picture for the harried actor. It also raises questions about journalistic ethics and boundaries.
Says Amit Khanna, "Frankly, the larger issues about invasion of privacy and the casting couch don't really concern us at this point of time. What we are really concerned about is the way Shakti Kapoor cast aspersions on the morality of some of the most respected names in the industry. We can't allow that to happen. It is wrong and we have therefore asked members of our Guild not to work with him."
Does that include the whole film industry? Says Khanna, "You could say that. By damning such respected members of the industry, Shakti Kapoor has alienated himself from the industry. He will have to tender a far more sincere apology than he has done so far. But regardless of his conduct, Bollywood will survive. It can't buckle under one man's wrongdoing. The industry should learn to be more careful about its public conduct. The paparazzi is here to stay. You never know when and where a camera is watching you."
Should Kapoor have been 'trapped' into propositioning the correspondent? Says Khanna, "We cannot go into journalistic ethics at the moment. What we can say for sure is, nowadays the means seems to justify the end. And that goes for the media as well."
In his apparent eagerness to score points with the 'aspiring starlet', Shakti Kapoor made the error of rattling off the names of film bigwigs claiming they had used the casting couch to enter the industry.
Most of those he mentioned have chosen not to react to his remarks.
Karan Johar, who is currently in London, was upset, but reticent. "Let us not dignify the incoherent ramblings of a pathetic man with a reaction," he said.
Rani Mukerji, who was named by Shakti Kapoor, has also maintained a dignified silence.
Says a colleague, "Did he think even once about the damage he was doing to his family?"