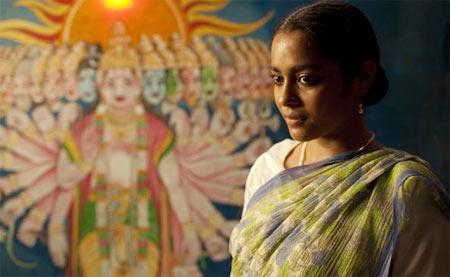 Acclaimed filmmaker Deepa Mehta, who's working on her latest project -- a film adaptation of author Salman Rushdie's
Midnight's Children --
shared a still of Shahana Goswami from the film.
"Breathtaking @ShahanaGoswami as Amina; the lover, wife and mother in #MidnightsChildren. She illuminates the film," the
Water
director wrote on the microblogging website Twitter.
A collaborative project with the author -- Rushdie has co-written the screenplay for the film with Mehta -- the film is set for a 2012
release and has an ensemble cast including Seema Biswas, Anupam Kher, Shabana Azmi, Rajat Kapoor, Soha Ali Khan, Rahul Bose, Siddharth, Shriya and Darsheel Safary.
The novel, celebrated around the world for its exemplary storytelling, is about children born on the day of India's independence.
Goswami's earthy look definitely generates interest about the film and makes us wonder if the film adaptation will do justice to the book.