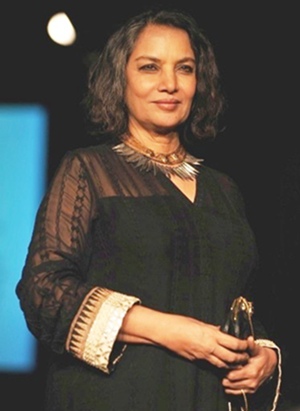 Veteran actress Shabana Azmi has been roped in to play Sonam Kapoor's mother in adman Ram Madhvani's second feature film Neerja.
While the 29-year-old actress is playing the titular character in the film, Azmi was recently signed on to play her mother.

Word is the mother-daughter scenes will be the highlight and the dramatic core of the film.
Incidentally, Azmi had given away the 2013 Neerja Bhanot Award to Rashmi Anand, a victim of domestic abuse.

"What would Neerja have been thinking of when she opened the door of the plane and, despite the bullets flying all round her and hand grenades exploding, she decided not to jump out and run away but do her duty and help the passengers escape?" she'd said.
Sonam's father Anil Kapoor, who has worked with Azmi in films like Paanch and Rakhwala, is elated to hear the news.

"I've always idolised her. I had played a small part in Ek Baar Kaho, where Shabana was the lead actress.

"It was a huge deal for me to work with her. Now my daughter gets to share screen space with Shabana so early in her career."

Image: Shabana Azmi. Photograph: Abhijit Mhamunkar