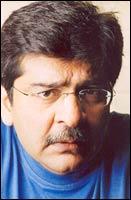 On the occasion of Mughal-e-Azam's grand re-release, Patcy N spoke to photographer Jayesh Seth, a man so smitten by the epic film that he made a documentary, Ek Aitihasik Karishma, commemorating it. Here are some excerpts:  

Why did you think of making a documentary on Mughal-e-Azam?

The subject was very inspiring. It is a historic, very prestigious story, and not just for me, but inspiring enough to the whole world. I've been very interested in this subject for quite some time, and I felt there was a lot of scope to research the subject. Because there are a lot of details we've always heard of, but not really known: Picturising a song in colour in those years. How was the premiere done? What were the invitation cards like? There is so much to learn.

How long did it take for the research?

It took me about two months. This included approaching many people, like the distributor of [the original] Mughal-e-Azam, who stays in Delhi. I invited him and got the logistical details from him.

What is this documentary about?

It's a one-hour documentary but we had material for a good three to four hours, including stars of bygone years. We also spoke to stars of today about the impact of Mughal-e-Azam on today's generation, and what really inspired them about the classic, including directors, actors, actresses. We interviewed cinematographer Ashok Mehta who said the 'Sheesh Mahal shot' till today remains a fantasy for any cameraman, and they marvel it being done in those days. In today's time, with all the facilities available to us, we still can't imagine making such an epic.

Ek Aitihasik Karishma has been telecast on the ETC channel and Zee Cinema.

Is it a concept similar to Chale Chalo, the making of Lagaan?

It is not like that because the making of Lagaan was shot during the shooting of the film. This film is about the myth and the impact. Basically, it is about the myth we used to hear about. More than 40 years ago, how K Asifsaab conceived such a grand project and kept the entire crew interested. The man kept the same zest and energy level in each and every unit member for ten years. Madhubala was suffering from heart ailments, and there were many financial hurdles. Artists had to get back into shape to fit their original looks. It's unbelievable.

Which

classic stars did you speak to?

I spoke to Shammi Kapoor. He used to attend the shoot of his father, Prithviraj Kapoor, and was mesmerised at his father's transformation into Emperor Akbar. The topic of my documentary is the impact and interest level of today's generation. When I talked to Kareena, the great grand-daughter of Prithviraj Kapoor, she was so 'enthu' about the whole thing! Even while shooting for a commercial she gave us an hour because she found it interesting to talk about. She added that seeing Madhubala's performance, she felt there is no comparison. We can't compare ourselves to her. It is such a beautiful tribute to the people who were in Mughal-e-Azam.

We also spoke to Naushadsaab about the music for the film, and he spoke in great detail about how they approached Ustad Bade Ghulam Ali Khan and he was not ready to sing as he never sang for any film. And how K Asif convinced him at any price, as price was secondary for them. At the time when Mohammad Rafi and Lata Mangeshkar were charging Rs 300 to Rs 400 for each song, but Khansaab was given Rs 25,000 for a song! In those days Rs 25,000 was amazing! But they didn't compromise on anything -- the script, the dialogues, songs, music, anything. Today we would make excuses and compromise, but they showed such patience!

We spoke to K Asif's wife -- who is also Dilip Kumar's sister -- and she gave us lot of information about her husband: how he used to get involved, how he would not be satisfied after the shooting. My documentary is a tribute to K Asif and the impact of his direction.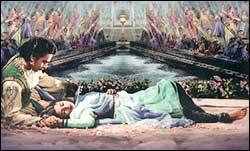 Do you think colourisation of the film was necessary, or did you prefer the charm of the old black and white?
Black and white was undoubtedly amazing: the way it was lit up, the way it was shot. The way moods captured in the black and white era was definitely phenomenal. The colour version is necessary for today's new generation. They can't relate with black and white films any more. If we want them to see this film, colourisation is necessary: then they can relate to it like they did with Devdas. At the same time, it is done so minutely that even jewellery looks so nice as though it was shot recently.
Did you see the coloured version? Did you like it?
I saw the coloured version, and it's amazing! Before I took on the documentary, I requested to see the colourised version. So they showed some footage. That was so inspiring, it really gave me kick to start the documentary.
What do you like best about Mughal-e-Azam?
I like everything about the film! There is nothing I feel is out of place, or dragging. Everything is so classy and poetic. There is nothing you can criticise about the film. Frame by frame, if you see the film, every expression, every mood, every song and bits of music: everything is too good!
Tell us some interesting facts you learnt while making this documentary.
When we went to Maratha Mandir, we found a doorman in the projection room, who told us there was major chaos during the booking. Police arrived on the scene and there was rioting to book tickets! We got pictures of some of the people in front of the theatre; they used to wait in the queue for four or five days, and somebody from home would bring them their tiffin!