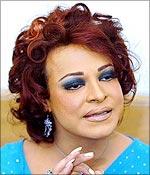 The Shiv Sena and MNS on Monday threatened to stall the run of the hit reality TV show Bigg Boss, protesting the inclusion of Pakistani artistes in the fourth season hosted by superstar Salman Khan.

The much-awaited show kicked off on Sunday with Salman unveiling the 14 contestants, including Veena Malik, Pakistani model and ex-girlfriend of cricketer Mohammed Asif and Begum Nawazish Ali, the cross-dressing host of a popular chat show in Pakistan.

Sena spokersperson Sanjay Raut said the party won't allow the show to run with the Pakistani participants.

"If Pakistanis are participating in the show, then allow Ajmal Kasab and Afzal Guru also (as contestants)... Sena will not permit to run the show," he said.

Raut said Indian artistes are not given importance in Pakistan and Indian channels are banned there. "Then why does the show want Pakistanis on Indian television," he asked.

Echoing the sentiment, MNS chief Raj Thackeray said, "Great singers like Lata Mangeshkar and Asha Bhosle were never allowed in Pakistan then why do we need Pakistani people on the show."

He also criticised the Colors show for giving unnecessary importance to the two Pakistani contestants and said they have no standing outside.

The other contestants on the show include Abbas Kazmi, convicted terrorist Ajmal Amir Kasab's former lawyer, veteran filmmaker Mahesh Bhatt's son Rahul, Davinder Singh alias Bunty Chor, a thief from Delhi on whose life the Hindi movie Oye Lucky, Lucky Oye was reportedly based and former dacoit Seema Parihar, who is facing several cases of murder.

The controversial show has earlier been hosted by megastar Amitabh Bachchan, Bollywood beauty Shilpa Shetty and Munnabhai star Arshad Warsi.
Bigg Boss revolves around celebrity contestants who are locked in a house under the surveillance of multiple cameras for three months without any contact with the outside world.