'It's not about falling or failing in life.'
'It's about falling and then getting up and carrying on.'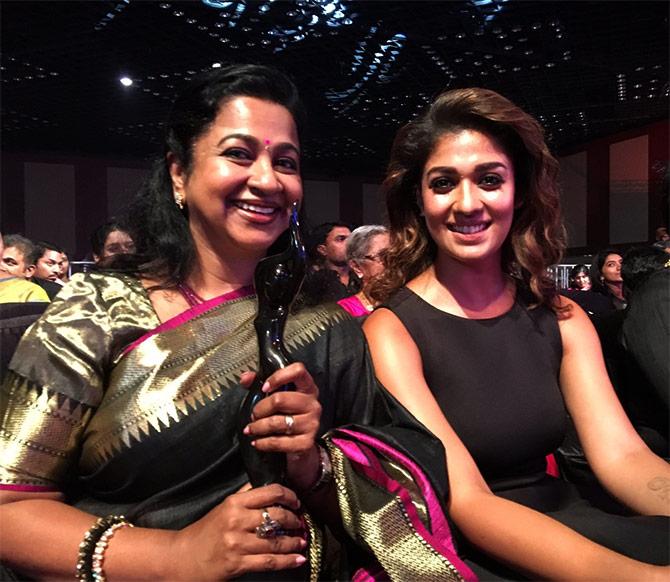 IMAGE: Radhika Sarathkumar, left, with Nayanthara at the Filmfare awards. All photographs: Kind courtesy Radhika Sarathkumar/Twitter
Radhika Sarathkumar, actress and producer, has been acting for close to 40 years and still has the same enthusiasm that she did all those years ago.
Rediff.com's A Ganesh Nadar visited the sets of her television serial Vaani Rani, where Radhika plays a double role to find out what keeps her going after all these years.
The sets are located in the by-lanes of Valsarvakkam, a far flung suburb of Chennai, and resemble a police station.
In one scene, a young girl is shown crying with Radhika comforting her.
But there's a technical problem.
A big white light (yes, that's needed even though the shoot is in broad daylight) has become very hot. An assistant starts fanning the light and it takes five minutes to cool down.
The shot is taken again and okayed.
Radhika then gets ready for a costume change, and starts taking off her jewelery.
"Why don't you start?" she asks me.
She answers quickly, trying to get ready before the next shot is called.
You are back to doing movies with Vijay, Surya and Dhanush after a long time. Where have you been?
I had stopped acting in movies because my son (Rahul) was small. I had to bring him up, that was my priority.
I was also busy with my company and television.
Now that he has grown up a little, I have been getting interesting offers.
My children encouraged me to take them up. They told me they don't need me 24 hours and that I should go back to the big screen. So I agreed to do these movies.
How does it compare to facing the camera for the first time in 1978?
Technology has changed a lot, but our work in front of the camera remains the same.
When I came in, I was raw. Now, I am more confident facing the camera.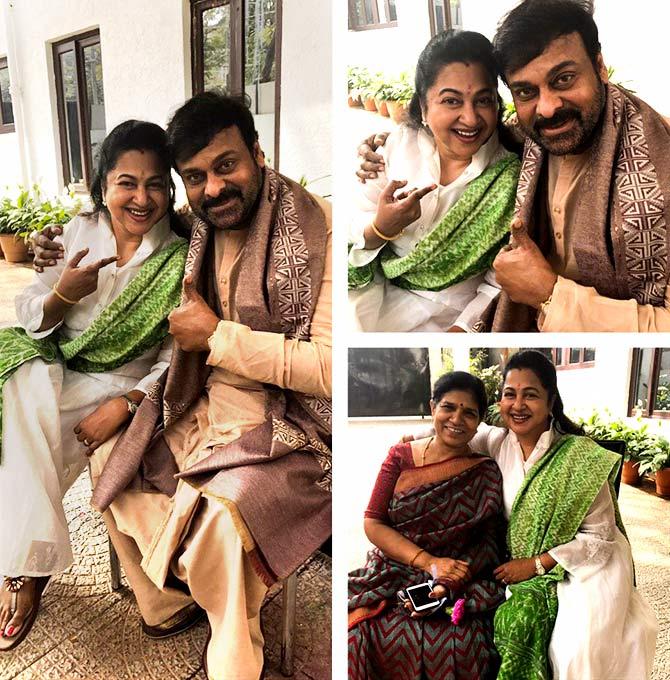 IMAGE: Radhika with Chiranjeevi and Mrs Chiranjeevi.
You have acted with Rajinikanth, Kamal Haasan, Sathiyaraj and now with Vijay and Dhanush. How different are the heroes today from the stars of yesteryear?
The stars then and now are hardworking and disciplined.
They come to the sets on time and work hard.
I know all of them personally, so they behave normally with me.
People tell me that Vijay is usually very quiet on the sets. But he talks a lot to me.
You are a veteran, how do you interact with your director who is not as experienced as you?
The director is the captain of the ship. I follow his lead.
If I feel something can be done differently, I suggest it. If they accept it, it is fine. If not, I listen to them.
Many Tamil television channels show Hindi serials dubbed in Tamil. Why is that?
They are cheaper.
How come there are no Tamil serials dubbed in Hindi?
Tamil Nadu is famous for inviting other people to come and live here. No other state asks Tamilians to come and live there.
Tamil culture is different, so they don't dub our series, but they have bought the rights of many and re-made it to suit their audience.
You produce serials as well. As an actress, you might feel a particular scene has to be expensive, but as a producer, you might feel spending so much money is not worth it. Who wins?
As far as my serials are concerned, I give my people a large scope to work in.
I spend a lot of money on the project. I am a seasoned artist who understands production.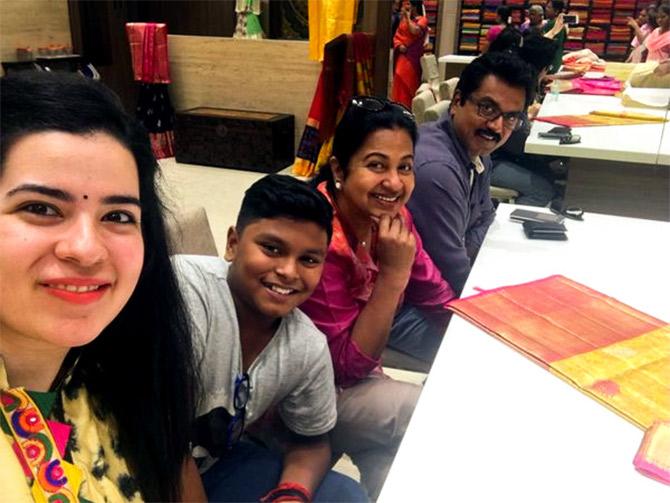 IMAGE: Radhika with her family: Daughter Rayanne, son Rahul and husband Sarathkumar.
Your brothers are actors, your husband is an actor, your daughter is an actress. How come we never see them in your serials or films?
My brother Ravi has acted in my serial Chellamay. I produced Kodeeswaran with (husband) Sharath.
People say you have the intuition to know what makes a TV serial a success. Can you do the same with a film?
Sometimes it works and sometimes it doesn't.
See, if you go wrong with a TV serial, you have time to correct it. You can change direction as you go along. In a movie, you don't have that chance.
Once you are done, it is finished.
While Hindi movies regularly making the Rs 100 crore club, we don't see many Tamil movies making it. Why not?
Hindi (films) has a larger market.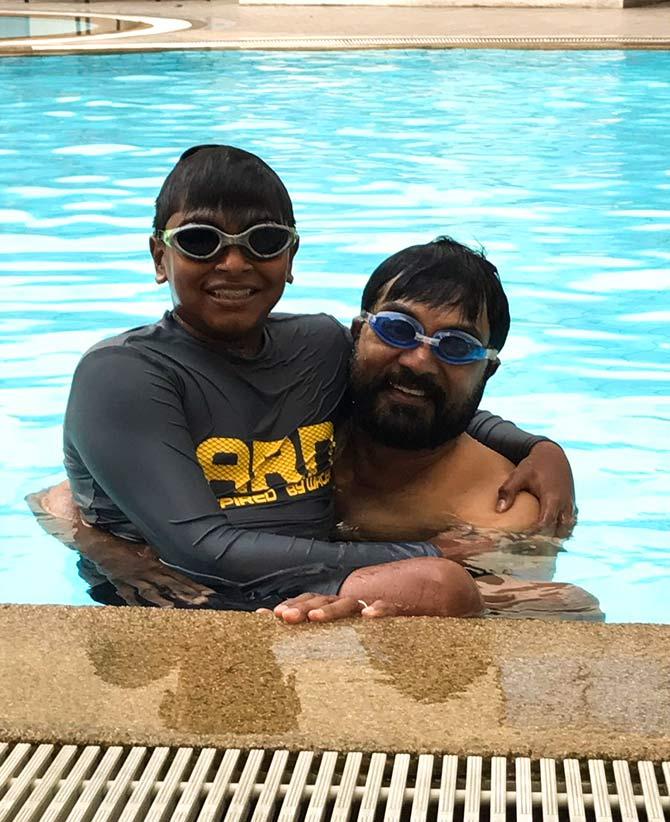 IMAGE: Sarathkumar with his son Rahul.
You are a busy star and producer. Your husband also has a political party to run. How much time do you give your family?
I give them quality time, as they are my priority. This work is like any other work.
We make sure we make time for family.
What would be your advice to the youth who want to work in showbiz?
Be focused, be dedicated. It is a lot of hard work.
If you accept that, you will be fine.
Have you ever sung a song for a movie?
No! I cannot sing to save my life.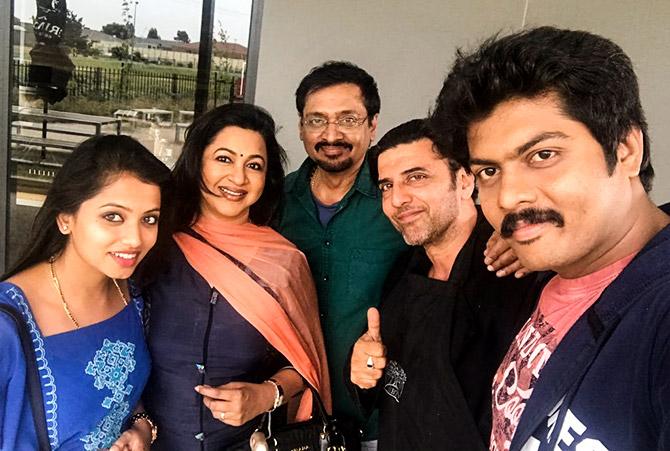 IMAGE: The Vaani Rani shoot in Melbourne, Australia.
When will we have songs in serials, like we do in the movies?
There is always a title song.
Recently, we shot Vaani Rani in Australia. We have a song there.
Can we expect an autobiography from you?
No. I speak the truth and a lot of people will not like it.
When you look back at your life, are you happy? Or do you think you could have done more?
I am happy with my life. It's not about falling or failing in life.
It's about falling and then getting up and carrying on.