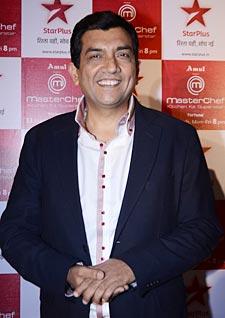 The celebrated chef, Sanjeev Kapoor, has replaced Chef Ajay Chopra as one of the judges for the third season of Master Chef India which premieres today on Star Plus at 8 pm.

Kapoor says he has never worked so hard as on this show. "This is the kind of work I used to do when I was a trainee. Working long hours is really tough. We start shooting at 8.30 in the morning and wind up by 10.30 at night. We are constantly talking, shouting, standing and running. It's a tough job but its fun."

Sanjeev Kapoor has been mentor to thousands of cooks and housewives who watched his cookery shows on TV for almost two decades. He can probably be credited as India's first celebrity chef.

He says of Master Chief India that it is the best food reality show across the globe. To celebrate food like this is always fun.

"Contestants are not professionals but with a few months of experience on the show they whip up dishes like any professional. It's good to see the transformation, and for them to exceed all expectations they have for themselves. It's a life changing experience for many and I feel lucky to witness it," he smiles.

There was nothing like this when he joined the hospitality industry, he admits, and in that sense potential chefs are lucky.

"When I joined this profession, I wasn't forced to do it; it was my choice. With the kind of calibre I had, I could have joined the best of engineering colleges but yet I joined this. That surprised me and my family as well."

His family supported him because, he says, they were "much ahead of the times. They believed in me because I was good academically and they knew my capabilities. They just asked me whether I was sure of the profession I chose."

His friends were equally surprised and shocked. "It was not like I couldn't
do anything else. Some of my friends from school and college thought I was mad and foolish. Some thought I was trying to be over smart by choosing this profession. But I was clear in my mind," says the master chef.
He gives due credit to those who have supported him and believed in him. "My wife and daughters have so much faith in me. That motivates me and keeps me going and trying out new things."
He's proud of being the first chef in the world to own a food channel, Food Food. "I am the first chef to own a food channel. These things are path breaking for me. The first and second seasons of Master Chef clashed with the launch of my TV channel. I agreed (to judge) this time because the channel is established, well appreciated and it's doing well."
And the inevitable question all professional cooks are asked: Does he cook for his family?
"Yes. I cook, but only on the weekends and only if there is some demand from my daughters (aged 15 and 18) for something special."
As to whether his daughters enjoy cooking, he replies, "Yes. They cannot run away from cooking when I am at home. They have recently started enjoying cooking.
"Both of them have good potential and they can take it as a profession anytime they want."
Whatever they cook, says their fond papa, "I will enjoy it. Food is not always about taste; it's an association with memories."
Kapoor is easy before the camera and reality shows are not new to him. He was in the film Monsoon Wedding and has participated in Jhalak Dikhhla Jaa and the TV soap Astitiva:Ek Prem Kahaani.
He will also be seen in Anurag Kashyap's Lunch Box and Inder Kumar's Super Naani.
"I don't want to get into the details of my role. I don't know why people are making such a big thing of it. It's a small but pivotal role, which directly affects the character of the protagonist in the film. I play myself in both the films."