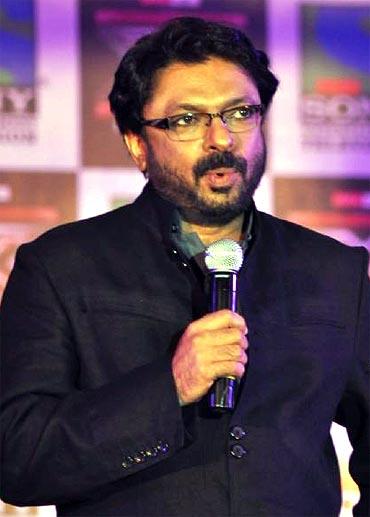 Marathi cinema has undergone a ravishing resurgence, thanks to films like Nishikant Kamat's Lai Bhaari, Mahesh Manjrekar's Natsamrat and Nagraj Manjule's Sairat.
Sanjay Leela Bhansali prides himself on his Maharashtrian upbringing. "I have always been extremely close to all things Maharashtrian, be it the food, music or cinema. I grew up listening to the Mangeshkar family's Marathi songs. And I speak fluent Marathi. It was always my wish to make a Marathi film."
But SLB waited until the right script knocked on his door. "When director Swapna Waghmare Joshi came to me with this idea, I was immediately hooked. I wanted to produce this film because I had never done a Marathi film. Also, it is a suspense drama. This is a genre I've never attempted as a producer or director."
The film's title, Laal Ishq, is inspired from the song in SLB's Goliyon Ki Raas Leela Ram Leela.
Says the filmmaker fondly, "I had registered Laal Ishq as a title for one of my future films. But when I heard the story of Swapna's film, I thought Laal Ishq would be a right title. I happily gave it to her."
SLB has kept away from the film's shooting. "I have always maintained that my productions are meant to be directed by other directors while I focus on my own films. Otherwise, there is no point in producing films. I might as well direct all of them."
The filmmaker, who is currently in the process of finalising his next directorial venture, loved the experience of working with the two principal actors of Laal Ishq. "This is a new genre for Swwapnil Joshi, who is a very big star in Marathi cinema. He has never done a suspense film before. And Anjana is such a sweet, charming and gifted girl. I enjoyed working with both Swwapnil and Anjana Sukhani. They are every bit as professional and as talented as actors in Bollywood."
SLB is thrilled to be part of the resurgence of Marathi cinema.
"Of late, there have been many notable Marathi films. This is the best time to do a Marathi film. When I did Bajirao Mastani last year, I felt so close to the Maratha soil that I wanted to make a film in Marathi as soon as I could. I am glad I got a chance to do Laal Ishq."