'I don't know why I haven't broken down.'
As Sanjay Dutt celebrates his 62nd birthday on July 29, Subhash K Jha sifts through his many interviews with the actor over the years, and brings back some amazing insights.
Tell me about your most memorable birthday.
They've all been memorable in their own way, even the ones that came in my worst days.
I don't like a big birthday bash.
I just want my near ones on my birthday.
It's tough to remember my past. I want to move on.
It's very difficult to imagine Sanju Baba being 60-plus.
At heart, I'm still Baba. But when I look into the mirror, it's a reality.
I do feel 60-plus but not old.
I've been in the film industry for so long. Yes, it's been a long innings.
During the last 18 years, I've been fighting for my freedom and I feel the burden of the struggle now.
I want to be free.
I want to walk into any consulate and get my visa.
I want my passport to be with me.
I want to visit any country I want. Most important of all, I want the court cases to end.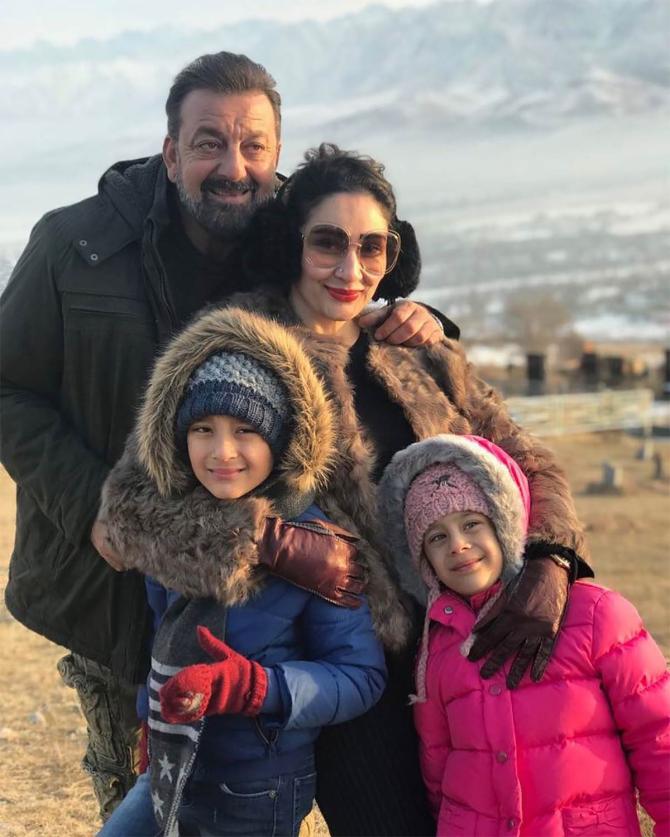 Your life has gone through tremendous upheavals. Do you think the worst is over?
The best thing I did was to get rid of the undesirable people in my life.
But I wish them well in life.
I've no animosity against them, though they seem to have a lot against me.
Even my enemies, I wish well. God bless them.
Are your wild days over?
Absolutely over. I'm so happy, Touch wood.
God has been kind to me.
Do you feel less stressed in life?
Yes. God has been great. There's good work coming my way.
I'm happy because I'm getting substantial roles.
I had to finish my backlog and start fresh. That was really important for me.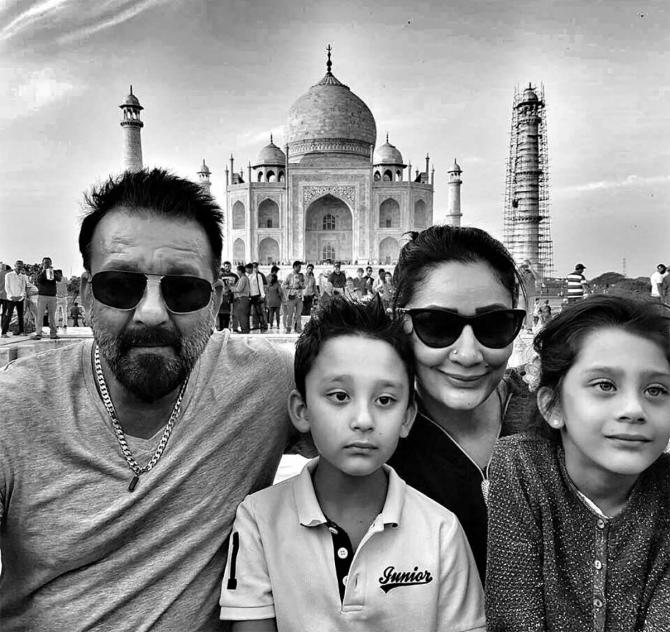 You have started life on a clean slate...
I'm so relieved, I can't tell you.
I'm finally able to sleep peacefully at night.
I want to thank the whole industry for standing by me. I feel I've entered a whole new world now.
I'm very happy in my marriage with Maanayata. Everything seems so right for the first time in my life.
I just want to do great work and be around friends who are like my brothers.
You really stood by Maanayata.
That's the least I could do.
She has proved herself over and over again, though I've told her repeatedly that she doesn't need to prove herself to me or to any member of my family.
But she's a very warm, giving and family-oriented person.
To her, winning over my family was very important.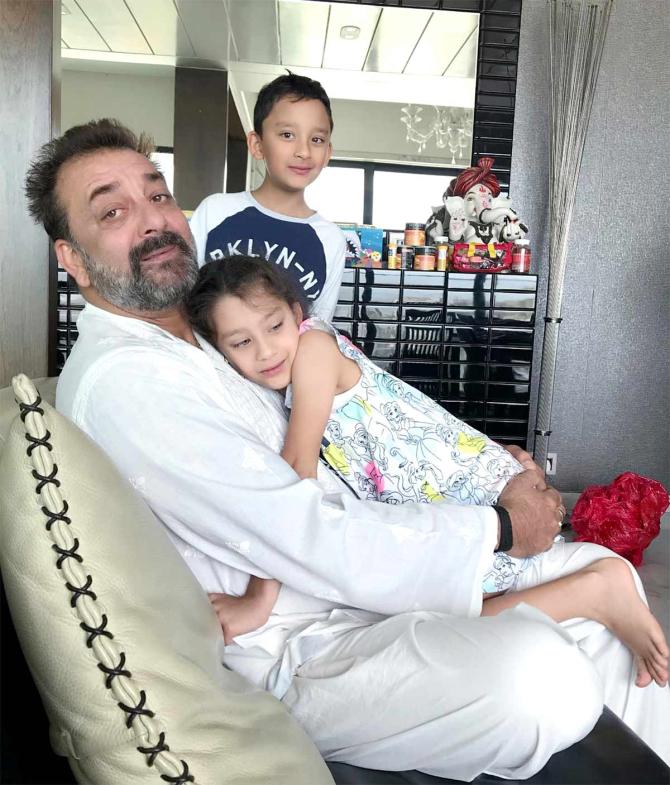 Why do you think Maanayata is the right partner for you?
Somewhere in my heart, I have always wanted a woman like Maanayata.
In our society, a woman has to make a lot of sacrifices for her man, and Maanayata has done that.
I'm not the easiest of persons to handle.
Maanayata is just right for me.
Nowadays, I just wait for the day to be over, so I can get back home to her.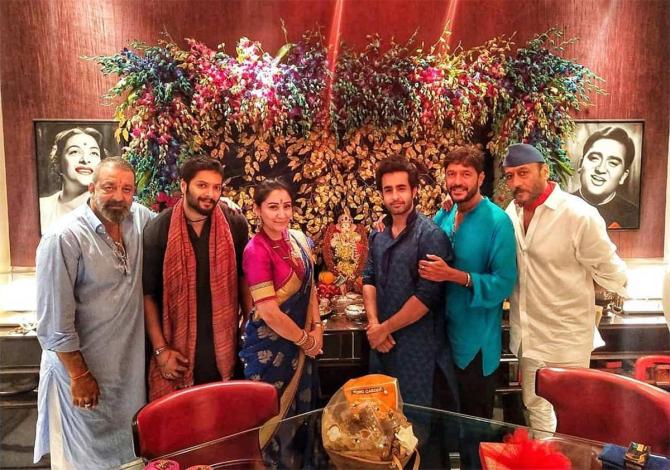 Were you disappointed when you were denied permission to contest elections?
I respect the honourable court's verdict, not just for their decision now but from the time I've been in and out of courts.
I really respect Justice Kode.
I remember Justice Kode telling in court what I most wanted to hear. That I wasn't a terrorist.
It was the happiest moment of my life.
That day I missed my father because he lived only to hear those words.
Although the honourable Supreme Court did not think it wise for me to contest the election because it would've opened up a Pandora's box, it did give me a character certificate where it said that I come from a good family and that I'm a good human being, a good actor and that I'm not a habitual offender.
That character certificate means more to me than winning an election.
I waited for 16 years for the honourable courts to give me that certificate.
Are you at peace with yourself?
I was out of control as a child, and I take responsibility for what happened to me.
I was in and out of jail.
Today, my tomorrows don't seem to be that insecure.
I sleep better.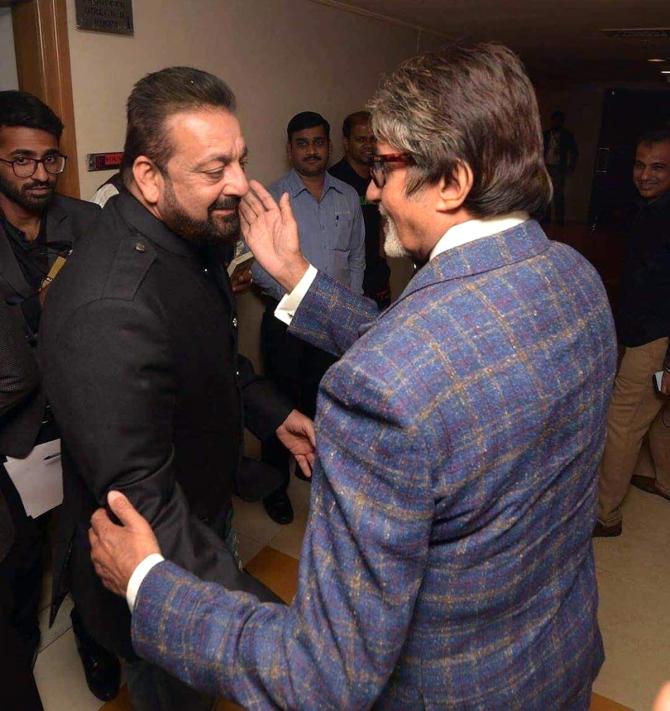 Why are you so hard to pin down?
Because I'm pinned down to a thousand problems.
Running between my court hearings and shootings is like trying to balance two big boulders on my shoulders.
Sometimes I just feel like giving up.
You hardly give your career the attention it deserves.
I know. But what do I do?
I've been running in and out of courtrooms for so long, I've forgotten what a normal life is like.
Someday I'd like to write a book on what I've gone through.
It will be far more interesting than any film I've done.
I've been damaged so much, I don't know why I haven't broken down.
Now I just want the ordeal to end.
I can't bear to see the agony in my father's eyes.
Sunil Dutt and you came together as father and son in Munnabhai MBBS.
Well, technically we were together in my dad's Reshma Aur Shera where I participated in a qawwalli sequence as a child.
Then, in my launch film Rocky, he played my father though his role ended before I came on.
Initially, when I had to face the camera with him for Munnabhai I felt a certain awkwardness -- you know how it is. But Dad is so cool.
Before we shot together, he called me to his makeup van and helped me chill out. That did it.
Right from J P Dutta's Hathyar in 1989, why have you been typecast as a gangster?
I've no clue. Maybe my personality suits such roles.
But now, I'm being offered roles of the comic gangster.
If you ask me, my favourite performances are Naam, Vaastav, Munnabhai.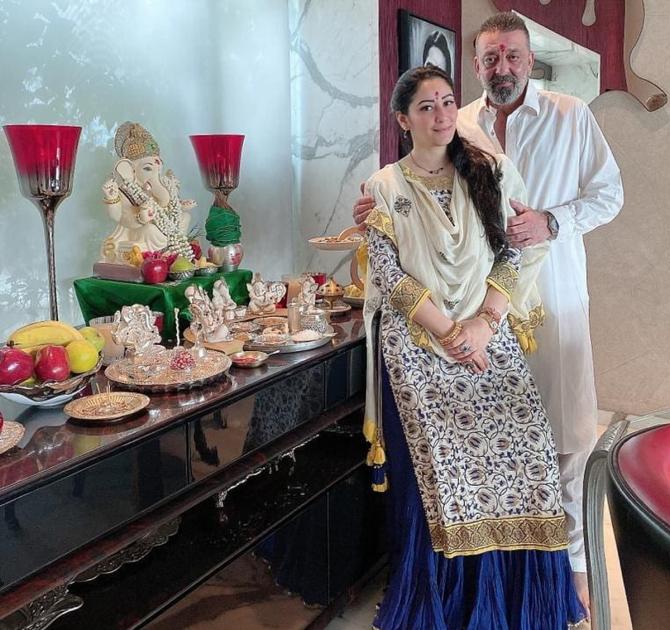 How do you explain the fact that you've re-built your career so strongly?
I don't know. It's perhaps my parents' blessing.
But it's amazing that film-makers have so much faith in me, in spite of everything.
Yeah, to an extent my Dad's goodwill in the industry counts.
But let's not forget, I've been part of this industry for 20 years.
Constant interaction over so many years has helped keep up the faith.
The determination to play characters your own age seems to be part of your character.
Yeah, that's the way I am. One has to accept that one isn't 21 any longer.
Audiences certainly don't want to see me as a college kid on motorcycles and all that stuff.
Your fans say you look like a Hollywood star.
But no one has come up with an offer in Hollywood yet.
I can't start from scratch in a strange country.
If I get a good offer, I'd certainly do it. Right now, I'm excited about roles in Hindi films.
Interestingly though female fans see you as a centrespread attraction, you never take your shirt off for the camera.
I can't just fling off my clothes for no reason just because I have a good body. I admit I'm shy.
I'm pleased with the place that I've made in my profession.
Does your audience think your roles can only be played by you?
I'm flattered, and grateful.
I don't take my so-called stardom seriously.
I just like to be who I am regardless of ups or downs.
People love me the way I am.
I can't change myself to behave like a star.
I'm a guy who goes completely with the flow.
I am Sanjay Dutt and I want to remain who I am.
I have an audience and I'm thankful to them. I'm happy to be where I am.
Would you like to be in politics like your dad and sister?
Never. I don't understand politics.
I'll always work in films and make people happy.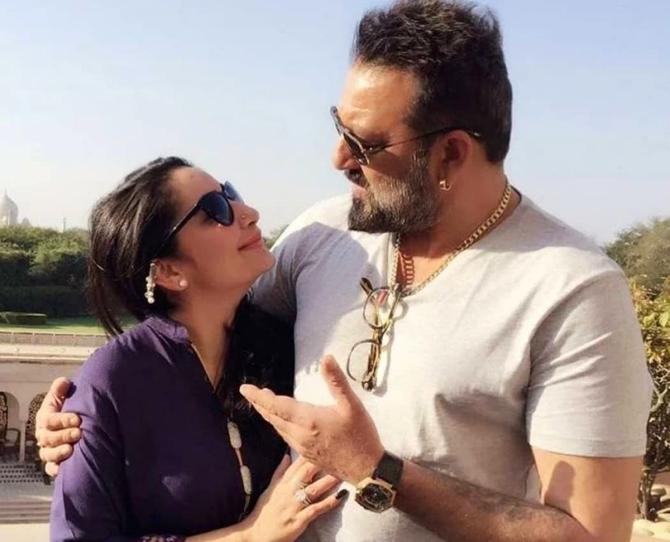 Why don't you do a full-on action film?
I think the action film is going through a crisis in this country.
We've to reach the level of the action seen in Iron Man and Avatar.
Sadly, our cinema doesn't have an international market. I wonder why.
If Chinese and Korean cinema can have a global market, why can't we?
I think we need to change the way we make our films for global marketing.
Are you happy?
Very happy. It has been a 30-year inning. Things have changed so much in the industry.
I'm lucky to have survived.
Feature Presentation: Rajesh Alva/Rediff.com