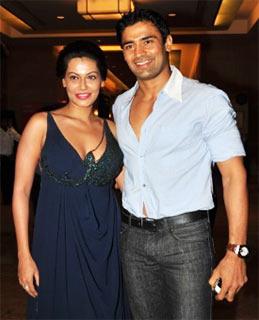 Wrestler and former Bigg Boss contestant Sangram Singh got engaged to girlfriend Payal Rohatgi on February 27 in Ahmedabad, Gujarat.

"Payal and I have been together for three years," he says. "The kind of simple conventional background that I come from doesn't allow me to be with a woman without giving her and the relationship the sanctity that they deserve. Payal's family was also asking about us. February 27 was the auspicious day of Mahashivratri, so we got engaged in Ahmedabad where Payal's family stays. We exchanged rings in a temple with a simple ceremony. Only the immediate family was present."

The wedding, says Sangram,
is planned for the winter.
"I am very lucky to have Payal in my life," he adds. "People said she is not the right soul mate for me but tell me, why do we look for Sita when none of is Ram?"
Payal and Sangram met on the sets of a reality show called
Survivors
.
Recalls Sangram, "We were different souls but we hit it off immediately. Others contestants from affluent backgrounds were talking about Bentleys and Armanis. She spoke to me about her family. She took charge of me, taught me how to talk and dress among the so-called elite. Though she is very glamorous and urbanized, I found out about her family problems and that she was a bread-earner for her family. She touched my heart."
Sangram says his family in Haryana has accepted his choice of a life partner. "They say they are happy with whatever I am happy with."