K Balachander, legendary Tamil filmmaker, has described 17-year-old actress Sandhya as the Saritha (well-known Tamil actress, seen most recently in Balumahendra's Julie Ganapathy) of 2006. That says it all. Yes, she is the most talented actress in Tamil cinema at the moment. There may be many glamorous girls on the scene right now, but they simply serve the purpose of decorating films starring superheroes. This teenager, however, is talented enough to give other actors the jitters.
She may be just one film old (the hugely successful Kathal), but Sandhya is hot property. Her second film Dishyum, in which she plays the role of a sculptor, is ready to hit theatres on February 3. She also has a Telugu film called Annavaram in her kitty, along with a Malayalam film, the Tamil Vallavan with Silambarasan and another one by acclaimed director Cheran.
Sandhya spoke to Shobha Warrier late in the evening after rehearsing for the Mani Ratnam musical show, Netru Indru Naale.
Jeeva: I risked my life for Dishyum
You were in class 10 when your first film Kathal happened. Were you always interested in acting? How did the role reach you?
It was actually during my ninth standard vacations. I was a normal school-going girl who had never given acting a thought. Manoj Krishnan, the co-coordinator for Kathal, had come to our house to invite us for a personal function. He asked for some of my photographs. After a long discussion at home, my parents decided to give them to him. They were passed on to the director, who called me for a test shoot. I had three days of test shooting, after which he informed us that I had been selected.
How did you feel when the news about you being a heroine reached you?
I felt very happy. It was Shankar's first production, so it was a prestigious one. The first time I met director Balaji Shakthivel, he talked and joked with me for a long time. So, I was quite comfortable with him.
What was the first day of shooting like?
A week after I was selected, we went to Madurai where the shooting took place. The night before the shoot, the director told me the story and what I was to do the next day. My first shot had me running out and colliding with Bharath. We were to fall down and argue. I was a bit nervous because I didn't know anything about filmmaking. I didn't know how they shoot a film!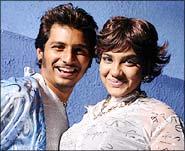 Did you know who Bharath was? Had you seen Boys?
I have seen Boys. As I am a Malayali, I have seen Four the People (Jayaraj's film) as well. Bharath became a very famous figure in Kerala after the film and the song Lajjavathiye.
What do you remember about your first film?
Every moment of Kathal was memorable for me. I enjoyed every bit of shooting. One thing I cannot forget is the amount of scolding I got from the director over the first few days. It irritated him to see me being playful and not serious. I would chat with the girl who acted as my friend in the film all the time, just like in school. We were not concentrating on acting. I was only 15 then! I never memorised my dialogues either. As I was new to acting, I couldn't open up. But after a week, I was more comfortable, and the amount of scolding also reduced (laughs).
What was your feeling when you saw the film on screen?
I cried. I am told a lot of people cried watching certain scenes. My parents are my best critics. They pointed out a lot of mistakes in my acting. What I expected was zero per cent, but I thought I wasn't that bad! (laughs)
Did you expect this kind of appreciation from people?
No. I was very surprised when people appreciated my acting. When the film became such a huge hit, I felt I had made a very good decision to act. I had intended to just try acting in Kathal before deciding. I have now decided that acting is to be my profession.
You won a Filmfare award for your role …
Yes, I won the award for Best Actress! I was happy and proud about winning for my first film. And, of course, surprised too.
Have you completed schooling?
No, but I will. I sometimes miss school, when I am really bored on the sets. Once I start acting, however, I enjoy it.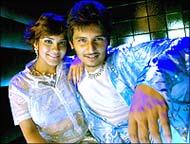 Your second Tamil film Dishyum is to be released soon. What made you accept the role of a sculptor?
First of all, Sasi is a very good director. And my character in the film is very nice. I have a lot to do. Another factor is, it is completely different from Kathal. I played a silly schoolgirl there, and now I have to play a mature sculptor. That is the main reason I accepted.
You are only 17. Was acting as a mature woman difficult?
No. Of course, the director helped me a lot. There were sculptors on the set to help me. I just followed what they told me. I didn't have any difficulty sculpting clay either.
What is the biggest compliment you have received so far?
K Balachander comparing me to a great actress like Saritha!