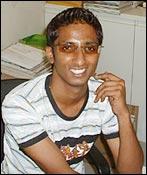 I
n the
first part
of
Amit Sana
's chat with
rediff.com
readers, the young singer said that he was not comfortable with showbiz yet, and that he hoped he wouldn't get lost in the galaxy of 'stars.'
He needn't worry. He has a nationwide audience who can't seem to get enough of him.
In the second and concluding part of the chat transcript, Amit talks about his music career.
jiteshlk :
Hey R u practicing for nagpur concert....We aspect U to rock Us as u did in Indian Idol!!!
Amit Sana :
Hi Jitesh:Yes I am practicing for the concert!
---
santanu :
hi amit,heard that you have given up your studies and have joined the industry. Dont u think that was a foolishness from your part
Amit Sana :
I was doing engineering only for the sake of my livelihood. I think that every year, tens of thousands of engineers are passed out. How many out of them do you know and recognise? But people recognise me!
---
raksha :
Hey Amit..how do u plan ur future now..u r already a STAR..bahar jaatae hai to log pehchaan lete hongae..KAISA LAGTA HAI AAPKO
Amit Sana :
Hi Raksha:Achcha lagta hai jab log pehchante hain. Aur main chahta hoon ke yeh pehchaan aisi hi bani rahe!
---
samrat :
hi amit, your voice is more suitable for songs which need lot of energy.. u sound ravishing in those songs. But romantic songs do not sound so good.. please don't mind. It is for us to acknowledge our strong and weak points and go ahead...
Amit Sana :
Hi Samrat:THank you for your analysis! I am happy you spared your time! But I want to be equally good with all sorts of songs.
---
mridula :
Hey..Amit..I was rooting for u from the time u sang that song from Kachche Dhaage..that was lovely..and of course..the songs u sang in the gala rounds were also great..so when can I get to hear u next?
Amit Sana :
Hi Mridula: Thank you for supporting me. You will hear me in my new album very shortly!
---
sab_kuch_bhula_de :
lucky raksha..aakhir amit sana ne aapko answer de diya.....humara number kab aayega?????/
Amit Sana :
Hi:Aakhir aapka number aa hi gaya! Joking!
---
sanjeevani :
r u planning to settle down in Bombay
Amit Sana :
Hi Sanjeevani, Yes I am already half-settled down here!
---
Miteshr :
Man, you're more of a composer stuff than singer ... try you skills at composing/mixing as well, am sure you'll do gr8! btw I just loved your performance of RABBA and Dholna(Nusrat Fateh Ali)
Amit Sana :
Hi Mithesh: I am not a composer yaar! But thanks for finding out the hidden talent in me. I will definitely look forward to it!
---
Bugatron :
You must have been feeling great Amit Sana, but plz, don't do any wrong in excitement. Try to digest ur success. You have a good voice and you can give complex to many big stars today, just be as you are today. Plz never be arrogant. Would you?
Amit Sana :
Hi:Thank you for such a nice advice. Now after knowing the industry, I am taking more precautions for keeping the right attitude.
---
Nishigandh :
hey amit is your love is aditi banerjee or DEBRATTI BHATTACHARJEEtell us who's she?
Amit Sana :
Hi Nishigandh: I am not in love with anyone at present. But in future, it can be any one of you!
---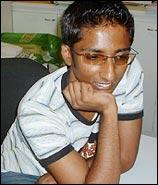 Tripti Sharma :
HI DEAR WHEN IS YOUR BIRTHDAY?
Amit Sana :
Hi Tripti: My birthday is on March 1.
---
basit :
AMIT APNI NAZRE KARAM HUM PER BHI DALO
Amit Sana :
Hi Basit, how are you?!
---
raksha :
Hi Amit,Your voice always stood out from the other contenders, you have got variations in your voice which I believe abhijeet didn't have, nyways, leaving that apart, why don't you start an Indian tour and promote your voice( I know people already know what a g8 voice u have got), but a tour would probably bring you back on the same platform as abhijeets.Think about it, and best of luck for ur future
Amit Sana :
Thanks, I am planning for it!
---
I LOVE AMIT :
REPLYIN RAKSHA ONLY
Amit Sana :
I love you also!
---
neeru :
Amit, R U N LOVE? If yes whose the lucky girl?
Amit Sana :
No, I am not in love!
---
cdotdelhi :
India down fall is due to CRICKET and BOLLYWOOD ,virtual stars like you as created by hype of media. they never do any constructive work for country .Real contributors are Engineers ,Scientists, Doctors ,Economists, laks of workers who are responsible of greater productivity.are you satisfied with my point,have a courage to prove me wrong
Amit Sana :
Hi, very nice question. I really admire all these people. Because where I am standing now is because of them also. But this is a known fact that everybody likes entertainment. And whatever the industry is like today, is because of people only.
---
I LOVE AMIT :
YEAAAAAAAAAAH YIPPPEEEEEEEEEEE HE REPLIED ME.. HA HA HA HU HU HU... HIYYYYYYYYYAAAAAAAAAAA IM SO HAPPY
Amit Sana :
So sweet!
---
sili_78 :
5o sms s but no no ans!!!!!!!!but still we luv u
Amit Sana :
Thank you for your great patience. I love you too!
---
TARZAN :
HI KHAJOOR
Amit Sana :
Hi Jhinge! Aur samandar mein sab theek?
---
aatekas :
how many ppl do u love?
Amit Sana :
Everybody!
---
mrsdevraj :
Amit, a line for my SON - SHUBHOD?
Amit Sana :
Hi MrsDevraj:Hi Shubhod! How are you? Hope you're doing fine! God bless you!
---
Amit Sana :
Ok guys, it was great talking to you. Sorry about the questions I didn't answer! I loved spending time with you. Wish me luck for my future! Yours, Amit.
Photographs: Anthony D'Costa