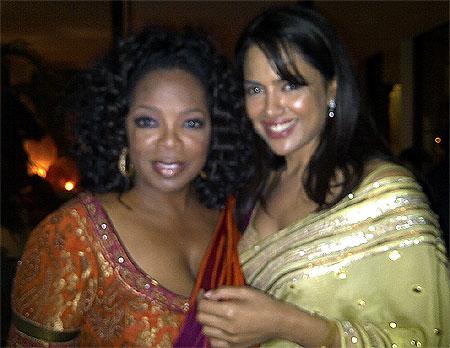 Sameera Reddy is on a high. Her Pongal release Vettai is a hit and her village belle act in the film was widely appreciated.

But that's not all. The actress, an Oprah Winfrey fan, got to meet the celebrity talk show host at Parmeshwar Godrej's party.

The actress recounts her Oprah experience from Singapore, where she is currently holidaying.
Parameshwar Godrej had organised a fantastic party to welcome Oprah Winfrey in India. She had called lots of people from Mumbai and I was among the invited guests.
I was promoting
Vettai
in
Chennai and was scheduled to leave for Singapore after that. But when the party invitation arrived, I made sure that I was present in Mumbai to attend as I'm a big fan of Oprah.
Oprah was humble and very down to earth. She mingled with everyone at the party. She was surrounded by many people at the party and I waited for my turn to meet her. When we finally met, the beautiful lime green Shantanu-Nikhil sari that I was wearing caught her attention. She exclaimed, 'oh my god! What a beautiful sari! I love the colour. It's my favourite'.
I offered to get a similar sari for her but she hesitated, 'no… no, that is not necessary' but I insisted.
I immediately told Shantanu-Nikhil to design a similar sari. It will be sent to Oprah when she is in Agra.
I also told her that I was very plump earlier and she inspired me to lose weight. She couldn't believe it and said that I looked gorgeous! My day was made. I'd say she's one of the most humble celebrities I've ever met.