4,000 songs. 500 Hindi films. One creator.
If there's a popular tune running through your mind at some point this week, chances are the lyrics spring from a quiet man called Sameer. Considering the decades he has spent in the industry, there are few who could claim as comprehensive a bird's eye view of Bollywood as he.
Which is what makes his biography A Way With Words, written by Derek Bose, more than just an interesting read. To whet your appetite, we present an excerpt.
By now, Sameer had stabilised himself in the industry and it was time to consolidate his position. He had already been through the euphoria of 'firsts' -- the first recording, the first photo session, the first news interview, the first radio broadcast, the first public felicitation, the first major award. He was being recognised as a lyricist of no small merit. He had worked with all top notch music composers, from Usha Khanna to Anand-Milind to Jatin-Lalit and Anu Malik to Dilip Sen-Sameer Sen, and of course, Nadeem-Shravan.
The desperation in seeking work was gradually diminishing but he knew he could not afford to be complacent. He had become a fairly good judge of people, if only as a 'survival trick' in his line of calling. He realised that be it with a music composer or a director or producer, unless one is on the same wave-length and understands each other perfectly, it is impossible to function as a song writer. With subjectivity being the yardstick for judging the quality of work, in any dispute, determing right from wrong would always become a tough call. Fortunately for him, he was fast reaching a position from where he could pick and choose whom to work with.
Nevertheless, there were occasions when he tripped and fell. It could happen for reasons as diverse as Bollywood's anarchic style of functioning, unethical behaviour or plain misunderstanding. A typical situation with a producer or director would be that a song, however well written, does not meet the requirement of a film and everybody gets back to the storyboard to chip and add little bits till the lyrics fall into shape. This is a common practice in all creative processes and there can be no grudging the collective effort. But what can be said of directors or producers who are not only confused about their requirement, but in order to hide their inadequacy, accuse others of incompetence?
In one of his rare expressions of anger, Sameer had to put an uncouth director in his place (and eventually walked out of the project) for dumbing down his lyrics for reasons completely unconnected with the film or merit. It so happened that the director had kept everybody waiting for almost two hours and because Sameer was the only one to make a comment about the delay, he retaliated by rejecting the lyrics. It was nothing but sheer revenge that prompted the action.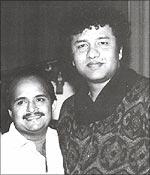 There was another interesting case of indecision: "I remember during the making of Dil (1990), Indra Kumar and Ashok Thakeria had a big problem with the lyrics. For the song, O Priyaa Priyaa, they initially wanted me to write a sad number. Then something happened and they changed their mind. They wanted it to be a romantic song. I rewrote the lyrics and presented them with a romantic song. But by then, they had gone through another change of thought. They wanted the song to be neither romantic nor sad, but something in between. In effect, three versions of the same song had to be written before one was recorded. This is what I mean by confusion. If there is clarity of thinking and the filmmaker knows what is required, we would not only save time, energy and money, but also be spared of needless disputes."
Sameer's problems with Dil did not end there. Anand-Milind were the composers and they gave Sameer the tune for the song Mujhe Neend Na Aaye, Mujhe Chain Na Aaye. When Thakeria heard the lines, his reaction was far from complimentary. He felt the lyrics sounded too tired and overused. Sameer reasoned that for the tune and situation in the film as explained, nothing could be more apt. Thakeria held his ground, insisting on something "fresh" and "different". The argument went on for days on end. Then, in order to illustrate his point, Thakeria played a song from Boney Kapoor's Prem (censored in 1995) -- Hum Ne Jee Liyaa, Mar Liyaa, Prem Kar Liyaa.
"See how fresh, how different in thought this song is," Thakeria pointed out. By then, Sameer was getting irritated. "I agree," he said. "But for this tune and the given situation. I cannot think of anything better. The tune and lyrics are made for each other. Now, if you still do not agree, better remove me and get some other lyric written."
It is not in Sameer's nature to issue such ultimatums. But seeing how insistent he had become, Thakeria underwent a change of heart. He felt that there could be some merit in the lyrics for the writer to become so adamant. He agreed, albeit reluctantly, to its recording -- the idea being that if it turned out well, the song would be retained; or else, it would be discarded. With Udit Narayan and Alka Yagik lending their voice, the song sounded good. Then, when it was picturised on Aamir Khan and Madhuri Dixit, it looked better. And when the music was released, the song became a phenomenon. It took the nation by storm and became the biggest draw of the movie. For Thakeria to later go on record and admit how wrong he was to not listening to his lyric writer initially speaks of the magnanimity of the man.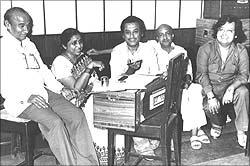 Then there are instances when a scene is explained in detail, the lyrics are written, the director and producer approves every word, the music composer finalises the score, the musicians and singes rehearse their parts. and suddenly at the recording sage, the director or producer gets a brainwave. The lines have to be changed. This keeps happening all the time. For example in the Salman Khan-Nagma starrer Baagi (1990), for which Anand-Milind wee the composers, both antras of the song Chandni Raat Hai, Too Mere Saath Hai, had to be changed at the recording stage.
The singes were on mike when the director, Deepak Shivdasani decided that the song, which was to be set against a moonlit night, must now become a transitional number ending with daybreak. So there had to be suggestions of the onset of dawn, the night recording, moon fading away and so on. On the sport, in five minutes flat (lest the studio bills mount), Sameer had to revise the two antras and ensure that the recording continued.
This is still tolerable. What can be said of a director who gives him one brief and shoots something quite unrelated? Majrooh Sultanpuri had warned him of this possibility after he was woken up in the middle of the night to change the lyrics of a song -- all because it occurred to the director as an afterthought that they better shoot the number in Kashmir.
"Simply capture the idea of being on the lap of nature amidst undulating slopes and valleys, beautiful orchards and flower beds," said the director in a hurry. Clearly, it was an emergency. Majrooh sat up through the night, painstakingly revising every line to suit the changed situation and by early next morning, he had the lyrics ready -- to be recorded in time for the unit leaving for Kashmir. Despite the physical strain, he felt satisfied that he could infuse a refreshing charm to the song, in keeping with the romantic aura of Kashmir. After the film was shot, when Majrooh went for the trail show, he was to receive a major shock of his life. The song that kept him awake all night was playing on the soundtrack and on the screen, to his horror and utter dismay, a pack of donkeys were shown crossing a bridge!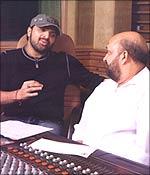 For Sameer, the experience was no less catastrophic. It happened for the film, Jeet (1996) when director Raj Kanwar asked him to write a "sexy song" to go with a scene where Salman Khan and Karisma Kapoor would be in the throes of passion on their first night together. For added effect, the director described the love making scene in graphic detail, replete with elements like the décor of the room, diffused lighting and the camera closing up on the fireplace to establish the sexually surcharged lovers being consumed by the "flames of passion".
Accordingly, Sameer wrote the following lines to celebrate their first night of togetherness: Abhee Saans Lene Kee Fursat Naheen Hai, Ki Tum Meree Baahon Mein Ho, Ki Kuchh Dekhne Kee Zaroorat naheen Hai Ki Tum Hee Tum Nigaahon Mein ho. In his reckoning, it was the most sensuous number he had written till then.
"In time, the film was completed and I went to see it," narrates Sameer. "Guess, what I saw? I still cannot get over that scene. The most passionate song I had ever written was being played on Salman standing on top of a hill far away, and on another hill top, there was Karisma standing! Can you believe this? I could not. I was sure something was wrong -- either I was not seeing right, or else my ears wee failing me. So I asked the director how this could happen and he told me that it was the final shot. The unit was in Switzerland and they wanted to capture the natural beauty of the location. Since they did not have any other song ready on hand, they decided to go outdoors with the one!"
Now how can anybody argue with such reasoning?
Excerpts from the book Sameer: A Way With Words by Derek Bose, are used with permission from publisher Gayatri Publication. The book is priced at Rs 1,500.