The opening collection of Prem Ratan Dhan Payo has set a new record. No wonder Salman Khan is a happy man, says Jahnavi Patel.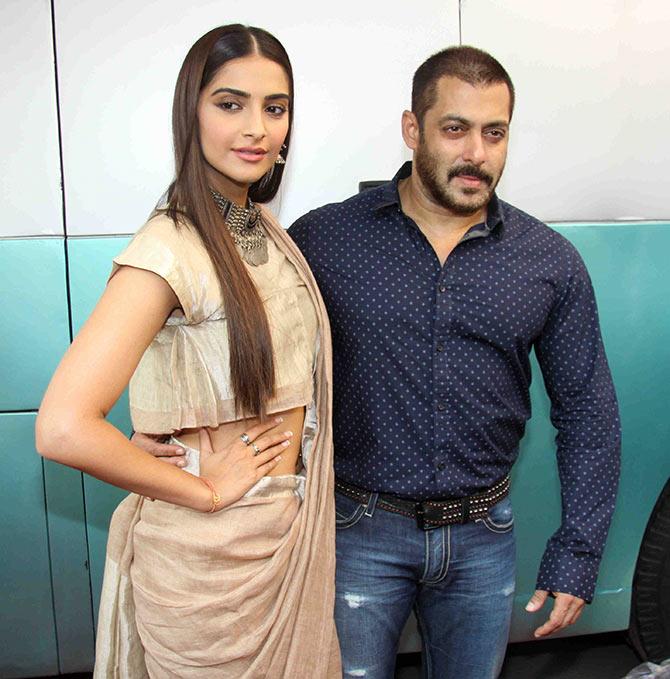 Image: Sonam Kapoor and Salman Khan at the press conference for Prem Ratan Dhan Payo. Photograph: Pradeep Bandekar.
Prem is back, bringing with him Sooraj Barjatya and Salman Khan.
Their latest box office outing together, Prem Ratan Dhan Payo, which has come after a gap of 16 years (Hum Saath-Saath Hain released on November 5, 1999), may have opened to mixed reviews, but the film-makers are happy.
Salman says, "It isn't necessary that every film will appeal to every person. Everyone has their own opinion and we respect that. For people who haven't liked the film much, I'll say something else for them on camera and off the camera."
According to Vijay Singh, CEO, Fox Star Studio, "PRDP's collection is Rs 250 crores worldwide. It has opened bigger than the Brad Pitt-Angelina Jolie starrer By The Sea in the US."
Salman is happy to have broken his own box office record. "Breaking my record is better breaking somebody else's record. It means that, with the fans and the population, you're also growing. No matter who has set the record, it should be broken. If I am selfish, I will hope that my record is not broken. But if my record is broken, it is better for the entire industry. So I hope, for myself as well as the industry, that I break the other person's record," he laughs.
His family too has loved the film. "My mother, Alvira and Alize (Alivra and Atul Kulkarni's daughter) saw the film with about 15 people in London. They said they absolutely loved it. The people with whom they were watching the film loved it too. People were laughing and crying; the energy in the theatre was really good. For the first time, Alvira complimented me saying I did a great job."

Salman's favourite character in the film is Prem. "Both the characters are nice. But it is Prem Dilwala's film."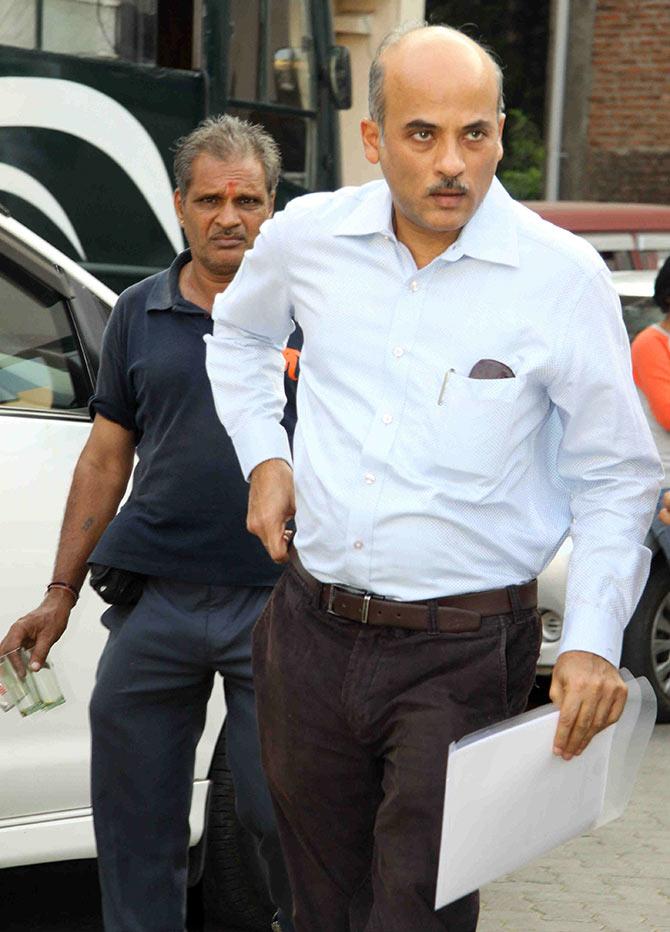 Image: Sooraj Barjatya at the press conference of Prem Ratan Dhan Payo. Photograph: Pradeep Bandekar.

Director Sooraj Barjayta adds, "I had gone to Gaiety Cinema (located in Bandra, Mumbai) and there were many Muslim ladies watching the movie. At the end of the film, a lady came up to me, lifted her hijab, shook hands with me and said the film is good. I can never forget her face. It was a very touching moment and worth any amount of dollars."
Salman, who is essaying a double role after 18 years, seems to have quite enjoyed it. "It's a huge improvement after Judwaa na? Even I noticed that. I'd done Sooraj's film (Hum Aapke Hain Koun..!, 1994) before Judwaa (1997) and doing a film like this soon after coming out of Sooraj's film was not easy. There was one step the dance director wanted me to do. He was not happy with the way I was doing it and called for cut after cut. Finally, I told them I've just come out of Hum Aapke Hain Koun..! I'm Sooraj Barjatya's hero; it takes time (to adapt to this kind of film)."
Someone needs to make such family-oriented movies, feels Barjatya. "I know it is difficult as we don't get such writers, directors and people wanting to experiment, but please encourage everyone to make such films. Whether it's a hit or flop, such films need to be made."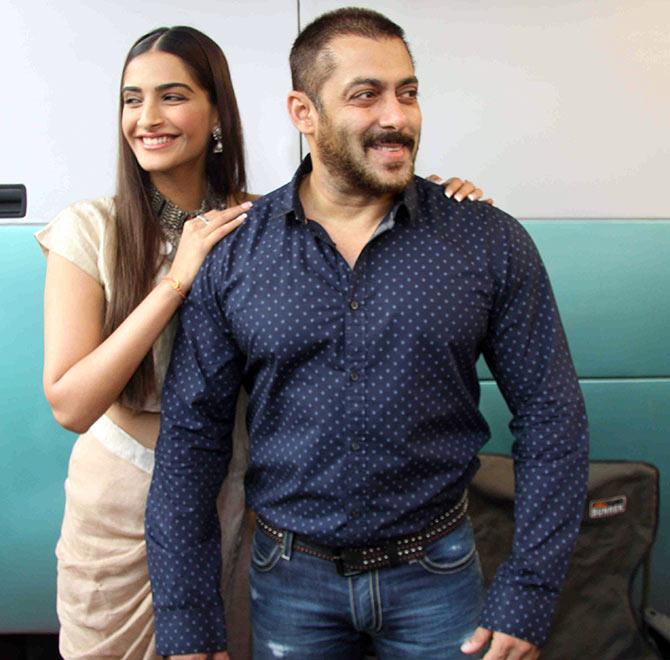 Image: Sonam Kapoor and Salman Khan at the press conference of Prem Ratan Dhan Payo. Photograph: Pradeep Bandekar.

Sonam, who is uncharacteristically quiet, admits she did not understand box office numbers. "What I love is that I'm getting messages and calls from people who have never done so before. It is from people who aren't in the industry. I'm getting calls from Indians staying aboard who have seen the film and are missing home so much. That, for me, is the best thing."
She adds, "On social media, predominantly, I get only negativity but this time I've got only positivity. That's overwhelming. I'm really happy."
But her best compliment, she says, came soon after she finished the film. "Soorajji said I had done my job well," she smiles.
In spite of having Salman, who is very good with action, Barjatya has avoided showing too much action in PRDP. "I had done Salman's first fight (in Maine Pyar Kiya). I don't know how to make such films (action films), so what do I do?" he smiles gently. "There was a pump gun in this film and I lifted it. The owner of the gun said, 'Sir, don't lift it that way. It looks like you're flying a kite.'"
Barjatya says he took the maximum time to can the action sequences. "An action film with Salman Khan will earn big numbers but I cannot do it."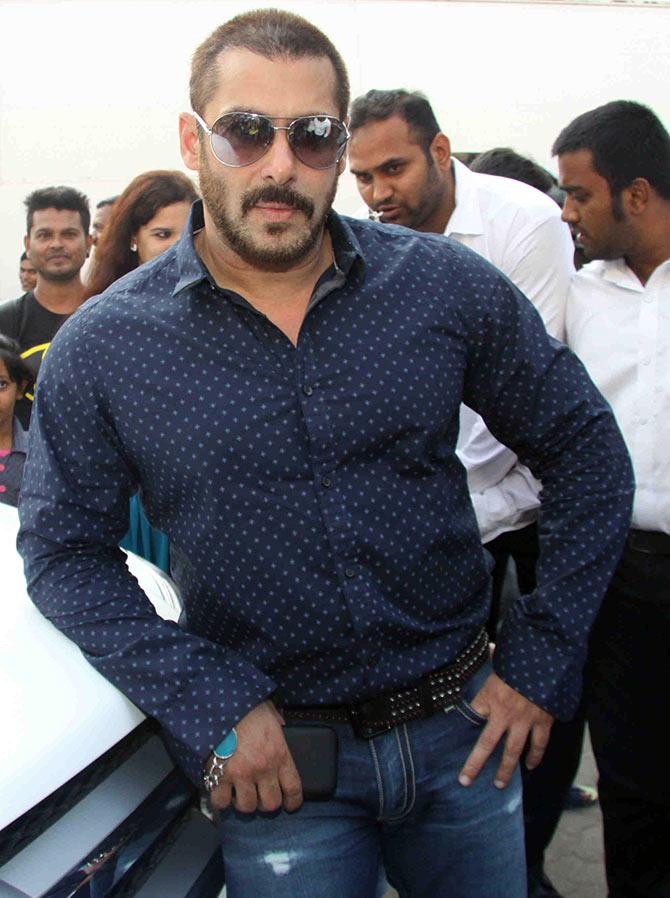 Image: Salman Khan at the press conference of Prem Ratan Dhan Payo. Photograph: Pradeep Bandekar.

Salman isn't keen on Hollywood projects. "It is very good here. The timing and all will not be suitable there. I love working in India and saying my dialogues in Hindi. After saying dialogues in Hindi for so long, if I suddenly speaking dialogues in English it will look a little weird."
More importantly, says Salman, "They work a lot there and we don't have to work much here. I will have to go there and gain respect. When I'm getting so much respect here, why should I not be content with it? We have worked hard here for so many years to earn respect so I don't see any point of going there. If it is a film related to us, I'll do it but I'm not too enthusiastic about it."

He adds, "I think our Hindi film industry should grow so much that there should be no comparison between the two."
Since the Deepika Padukone-Ranbir Kapoor starrer Tamasha is the next big release, are the PRDP makers worried? "If people like Prem Ratan Dhan Payo," says Barjatya, "then there will be no competition. All good films work."
But Barjatya, says Salman, is still nervous about the fact that the film has gone over-budget. "Till the end business of the film isn't out, he will be nervous," he laughs.