The top posts on social media from your favourite Bollywood celebrities: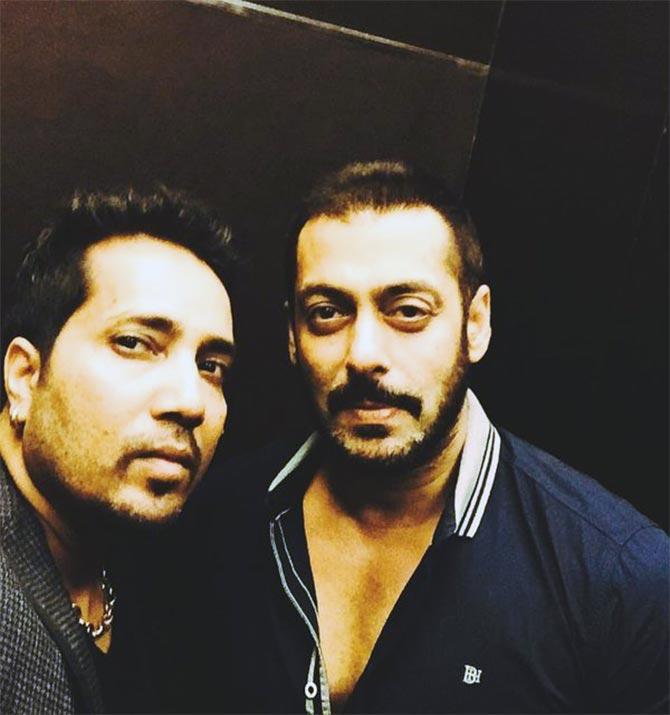 The Bombay High Court has ruled that Salman Khan has been acquitted of all charges in the 2002 hit-and-run case.
Bollywood cheered on Twitter:
Mika Singh tweeted a picture, above, and wrote: Congrats big bro @BeingSalmanKhan :) God bless you :)
Subhash Ghai: God is always kind to good human beings, @BeingSalmanKhan with gods blessings is freed today from a hanging sword for thirteen years.cheers.
Milap Zaveri: Congrats @BeingSalmanKhan on being acquitted! Justice prevails!
Kamaal R Khan: Congratulations to @BeingSalmanKhan for getting acquitted from all the charges in hit n run case. Jai Ho.
Shaad Randhawa: Law is above the land & God is above everybody #justiceprevails @BeingSalmanKhan is innocent !! Great things happen to good people !
***
Dilip Kumar enjoys Twitter, promises to be regular
Dilip Kumar, who will turn 93 on December 11, is enjoying interacting with his fans on Twitter.
'Every time I share with you on this screen, it makes me feel so close to millions of you. I will be more regular here,' the veteran actor tweeted.
He shared a picture, above, and added: 'Hello. Hello, from the garden.'
'Aaj ka din khushi se bhara raha -- aap sab ke paigham aur Dua se bhara hua. Khuda Hafiz. God bless,' he signed off.
***
Amitabh Bachchan visits Shantiniketan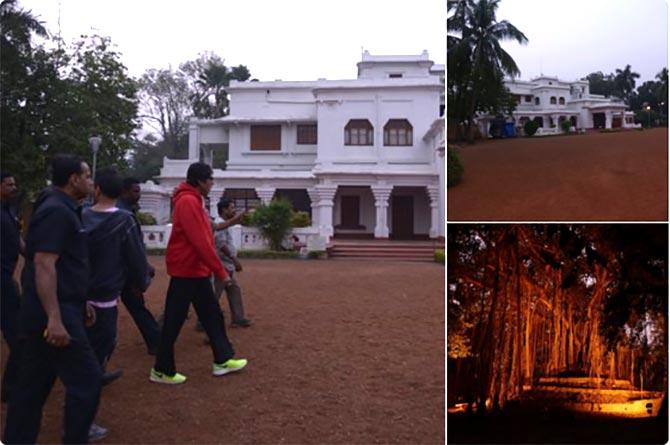 Amitabh Bachchan, who is shooting in Kolkata for Sujoy Ghosh's TE3N, visited Nobel laureate Rabindranath Tagore's hometown Shantiniketan.
He posted some pictures, above, and wrote: 'SHANTINIKETAN ...!! The abode of peace tranquility learning and Tagore .. my honour to be in its precincts !'
TE3N will also star Vidya Balan and Nawazuddin Siddiqui.
***
Shah Rukh, Kajol, Kriti, Varun shoot for Jamai Raja
The cast of Rohit Shetty's Dilwale recently visited the sets of daily soap Jamai Raja to promote their film.
Producer Ashvini Yardi shared a picture, above, and wrote: 'The awesome foursome of #dilwale Rocking the sets of #JamaiRaja.'
Dilwale will release on December 18.
***
Ranveer Singh gets chatty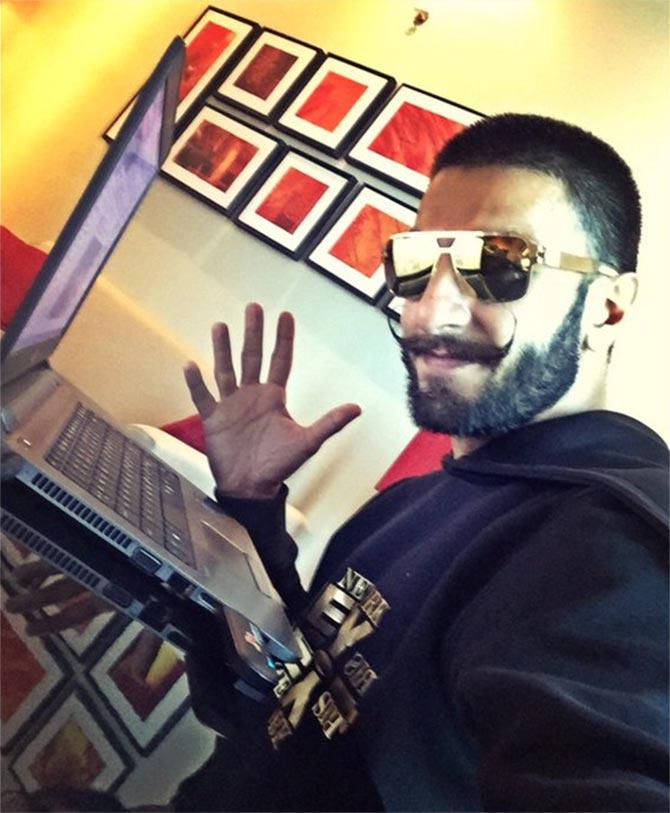 Ranveer Singh has completed five years in the film industry, and he celebrated the occasion on Twitter:
'Hey hey hey!! Allllrighty then .... Talk to me !!!' he posted with a picture, above.
Talking about his experience in the industry, he tweeted: 'its been great ! but TBH im never satisfied ! always scope to do more and do better!'
When a fan asked him if he is planning to keep his moustache, he replied: 'im reallly gonna miss the mooch ! its days are numbered ! hahaha.'
'i dont read ! really...the last book i read was ...umm...noddy !!!' he tweeted to another fan.
***
On the sets Baaghi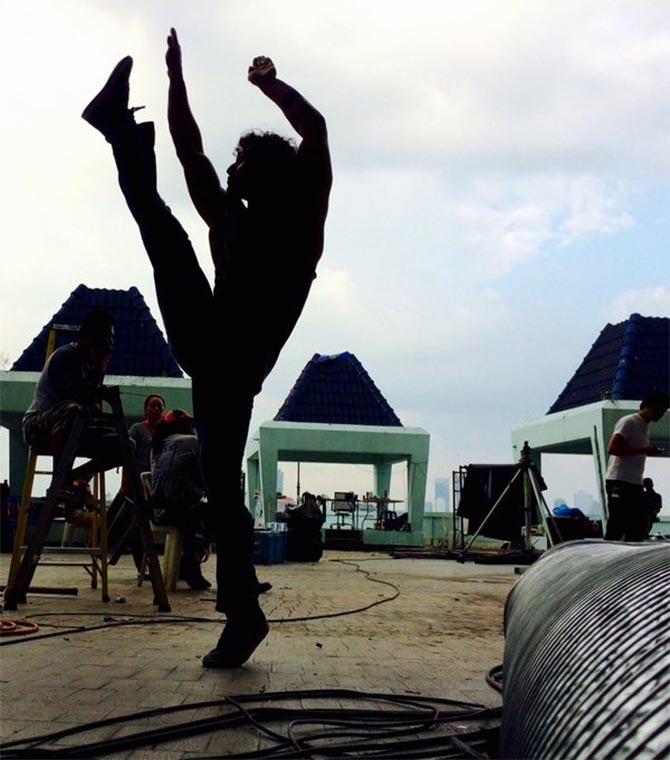 Heropanti actor Tiger Shroff is busy shooting for his next film Baaghi: A Rebel For Love.
He shared a picture from the sets, above, and wrote: 'Still reaching for the stars...but for now the clouds will do..one day at a time.'
Also starring Shraddha Kapoor and Paras Arora, the film is being directed by Sabbir Khan.
***
Anoushka Shankar gears up for Indian tour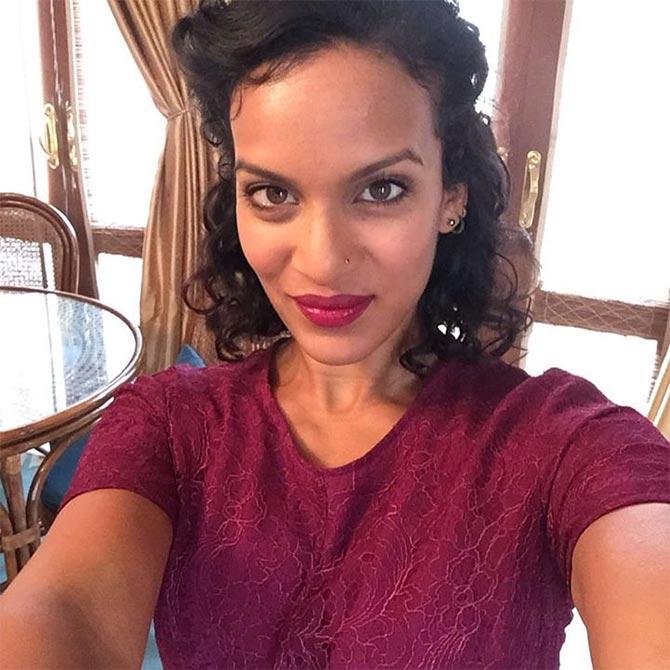 Grammy-nominated sitarist Anoushka Shankar is all set to tour India to promote her latest album Home.
She posted a picture on Facebook, above, and wrote: 'Here in India now and its great to be back after so long. Excited about the classical shows coming up, first stop Mumbai, followed by Delhi and Bangalore. Hope to see you there.'
Anoushka will be performing in cities like Mumbai, Delhi and Bangalore.
***
Mallika Sherawat shoots in Goa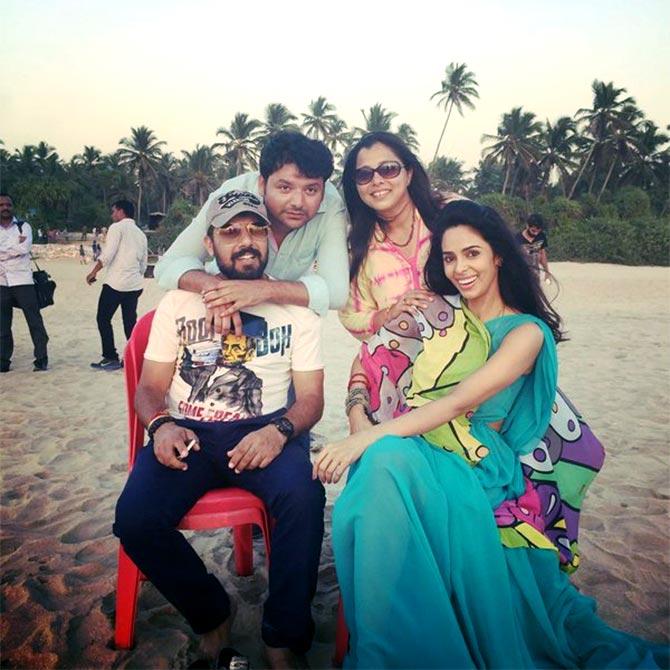 After completing the shoot for director Daniel Lee's The Lost Tomb in Beijing, Mallika Sherawat is now back in India.
Mallika Sherawat posted a picture from her latest shoot in Goa, above, and wrote: 'Love my gang,love shooting with #nameeta#kapil#harsh. Thank u all for a fun shoot:)! #goaisparadise #shootingingoa'
***
Shazahn Padamsee's day out with her dad!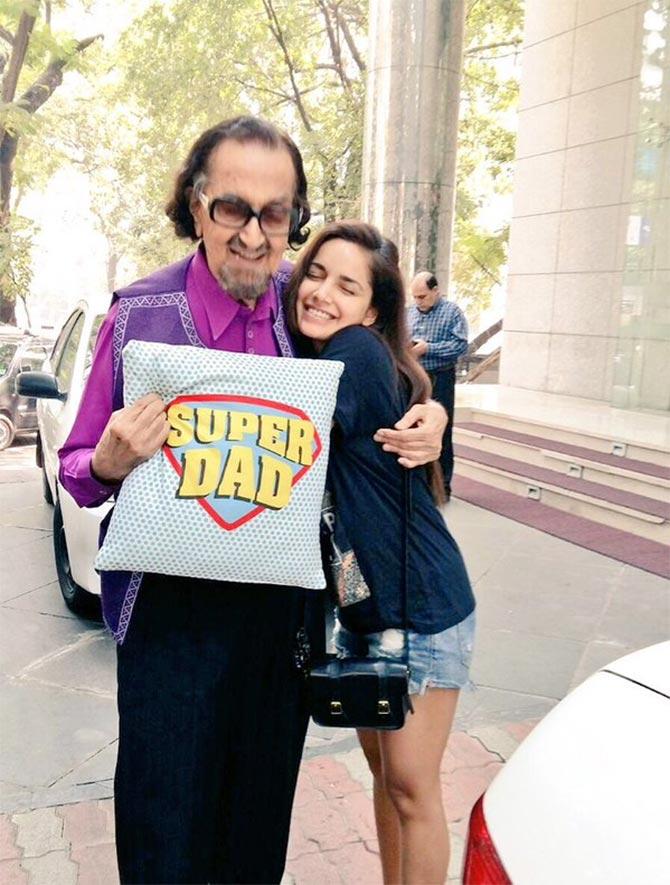 Veteran stage personality Alyque Padamsee received the Tanveer Sanman award, presented by Shriram Lagoo's theatre trust Roopwedh in Pune.
His daughter Shazahn Padamsee wrote: 'My amazing dad Alyque Padamsee gets Theatre Lifetime Achievement Award from Shreeram Lagoo, Marathi actor, Roopwedh Prathisthan Pune!'
She posted a picture of them, above, and added: 'Me & My #SuperDad uber cute cushion.'
***
Meet Sushant Singh Rajput's nephew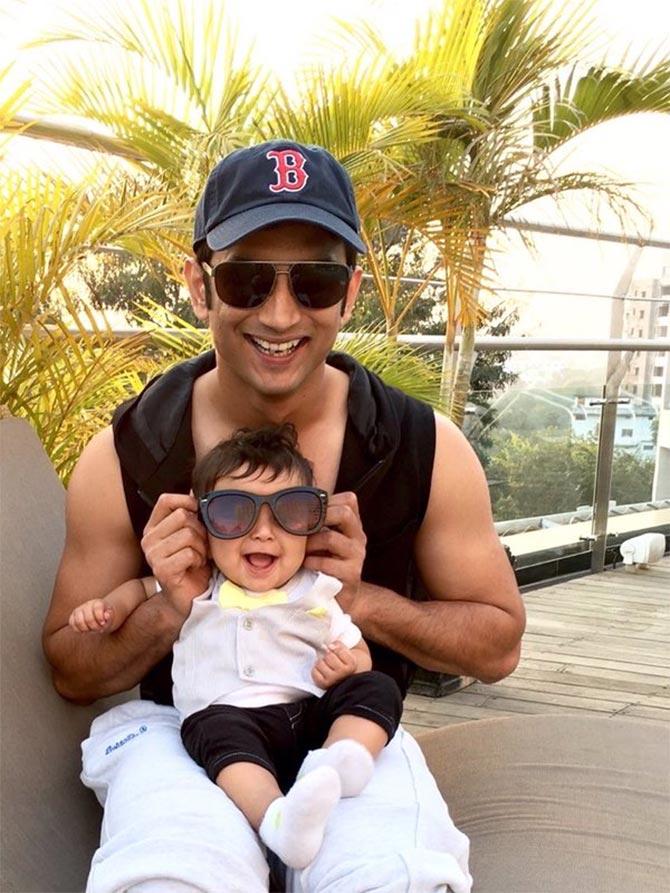 Actor Sushant Singh Rajput took to Twitter to share a picture of himself with his nephew, above, and tweeted: 'My darling nephew #nirvanh teaching me how to pose like a Rockstar..!!'
Sushant will be next seen in biopic M S Dhoni: The Untold Story.
***
Randeep Hooda visits his village in Haryana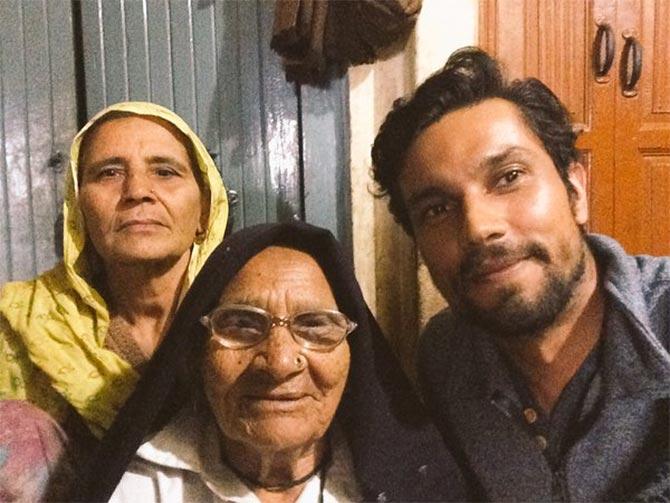 Randeep Hooda, who hails from Rohtak, got nostalgic when he visited his native village in Jassia in Haryana.
He posted a picture, above, and wrote: 'With my #dadi and #kaki in my village home in Jassia. Lovely being their after so long. Dadi is in pink of health.'