'I have always considered Salman, Shah Rukh (Khan) and Amitji (Amitabh Bachchan) to be bigger stars (than me).'
'Kiran likes the look in the poster because when I hold her lovingly now, she says my body has become very hard. It was soft like a pillow before.'
Aamir Khan gets candid at the poster launch of Dangal.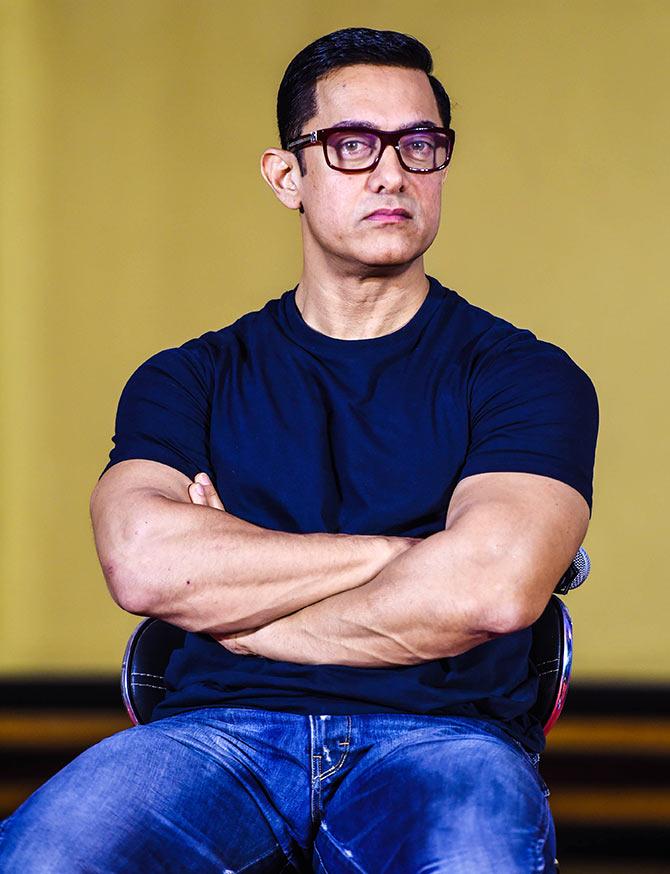 IMAGE: Aamir Khan at the Dangal poster launch. Photograph: Pradeep Bandekar
Aamir Khan feels Salman Khan's comparison to a raped woman was "insensitive."
At the poster launch of his new film Dangal in Mumbai, Aamir said, "According to whatever I have read, what he (Salman) said was rather unfortunate and insensitive."
Yet, Aamir wishes Salman's upcoming release Sultan breaks all records at the box office.
"From the trailer and the songs that I've seen, I really loved the look of the film. It looks exciting. I hope it's a huge success," Aamir said.
In fact, Aamir is banking on Sultan's success to help the success of his own film, Dangal. "I want all the millions of people, who come to see Sultan, to see the (Dangal) posters in the theatres, that our film is going to come out after some months," he explained. "We are using Sultan's huge potential to propel our film."
"Salman has always been a bigger star than me. What's new in that?" Aamir added with a laugh. "I have always considered Salman, Shah Rukh (Khan) and Amitji (Amitabh Bachchan) to be bigger stars (than me). There are many stars who are huge in India: Hrithik (Roshan), Ajay Devgn, Ranbir (Kapoor), Ranveer (Singh)..."
In fact, Aamir claims he got the Dangal title because of Salman. "The (title) rights of Dangal were with Puneet Issar and I knew Salman was close to him," Aamir explained. "I called Salman and told that I wanted the title and requested him to arrange a meeting with Puneetji. Salman called him and asked him for the title. Contrary to reports that Salman and I were having issues because both of us are making films on wrestling, he helped us get the title. Puneet was very sweet and said we could have it."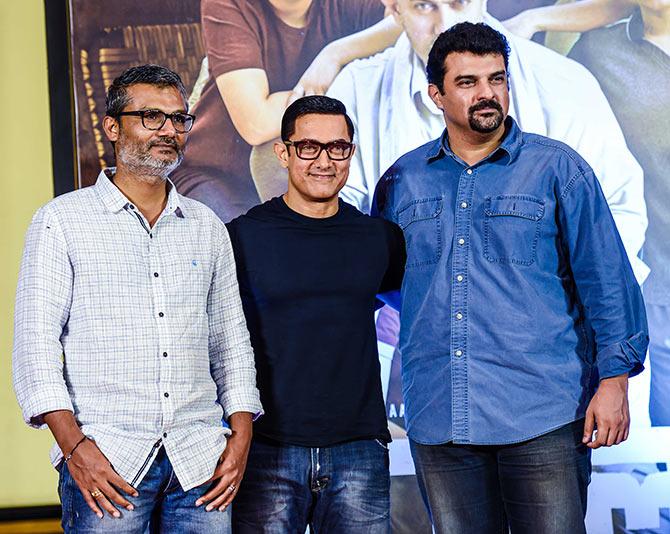 IMAGE: Nitish Tiwari, Aamir Khan and Siddharth Roy Kapur at the Dangal poster launch. Photograph: Pradeep Bandekar
Director Nitish Tiwari stated that it was easy working with Aamir.
"Aamir is the most easygoing star to work with," he said. "He listens to your point of view. The kind of respect he gives the director is immense. Once he has put his faith in you, nothing stops him from going all the way to make sure he lives up to the vision."
"Nitishji and Sid (Siddharth Roy Kapur, producer) came to narrate the story to me," Aamir recalled. "I was expecting it to be a serious, dramatic and emotional story. It is all that, but the humour that Nitishji has put in his writing surprised me. The amount I laughed in the narration was equal to the amount I was moved by the story.
"I wanted to do the film but I was worried because I had just come out of Dhoom 3 and PK, and in Dangal, Nitishji wanted to show me in a role of a 55-year-old man, which is very close to my actual age!" Aamir exclaimed with a laugh. "I was afraid about that. I was doing young roles, why should I play the role of a 50-60-year-old? My hair will be grey, I'll have to put on weight, my walk will be weird... the few fans that I have will run away. I was concerned about my future," Aamir continued.
"In my mind, I decided I would take up the role when I turn 60. But my heart was saying I should do the film now. So after a few months, I called Nitishji and told him that I wanted to listen to the story again. I heard it again and decided to do it," Aamir said.
Aamir had made just one request to the director: "I was fit at that time, so we could have gone in order and shot the young portions first. But I told him that I wanted to go in reverse order. I wanted him to shoot the portions where I was fat first and shoot the young portions later. I wanted that pressure on me. If we had shot the fat portions later, I wouldn't be in a hurry to lose weight."
Dangal will not glorify anyone, Nitish promises.
"We have tried to keep it as real as possible," he said. "The character of Mahavir Singh is not perfect. There was a time in his life when he wanted a son. To fulfill that, he had four daughters."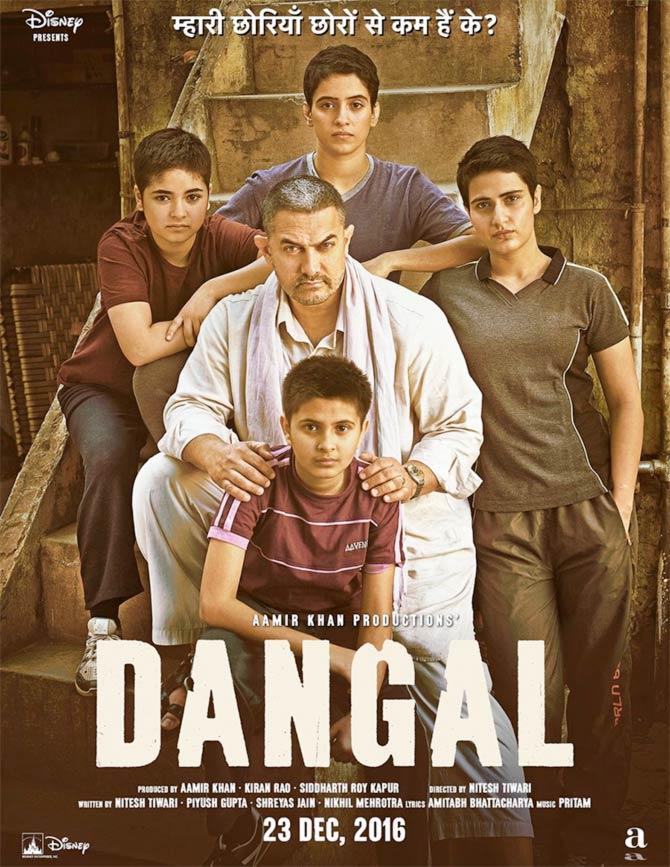 Aamir loved working with the four girls -- Fatima Sana Shaikh, Sanya Malhotra, Zaira Wasim and Suhani Bhatnagar -- who play his daughters on screen.
"It was outstanding working with them," he said. "They are doing their first film. I have been around for years but the way they gave the shots, I was stunned. It was effortless."
The actor picks Sanya as his favourite. "She's someone I could emotionally connect with," he said.
Sakshi Tanwar plays Aamir's wife in the film.
"I told Nitishji about Sakshi, and he took the test and liked her. That's why she was cast. She is a fantastic actress. I was struggling and taking seven-eight takes but she was fantastic," Aamir gushed about his co-star.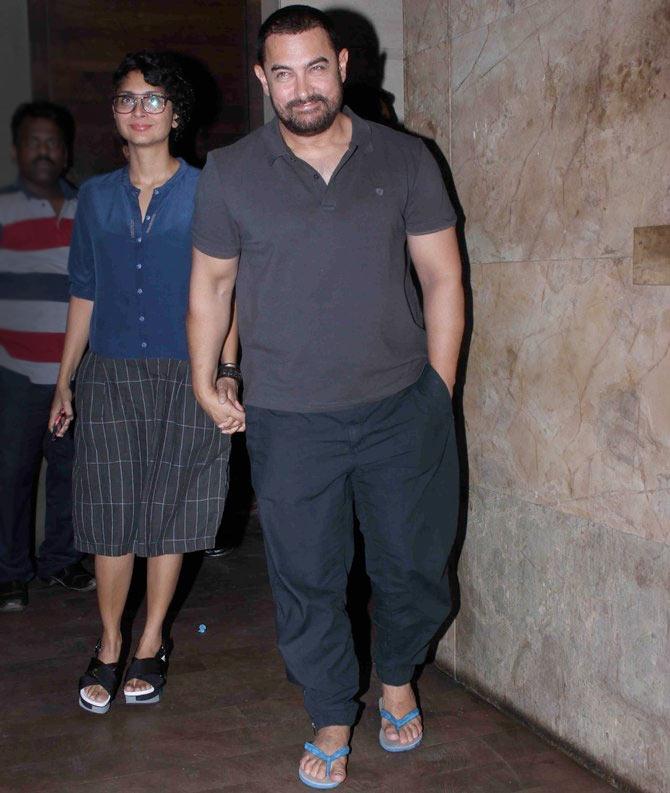 IMAGE: Kiran Rao and Aamir Khan. Photograph: Pradeep Bandekar.
Aamir's looks have changed a lot in the past few years, and his wife Kiran Rao often jokes about it.
"Kiran jokes that she doesn't remember the person she married 10 years back -- there have been so many different looks that she has forgotten the original look!" Aamir laughed.
But the couple picks his salt 'n' pepper, overweight look as their favourite.
"Kiran likes the look in the poster because when I hold her lovingly now, she says my body has become very hard. It was soft like a pillow before!" he exclaimed.
The film shooting is complete, except for a song. The song, which may not be a part of the film but would be a promotional video, will be shot by the end of July.