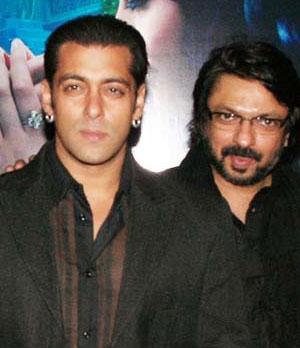 Salman and Sanjay Bhansali have made up and will work together soon.
Subhash K Jha tells us more...
Bollywood's most distinguished war of creative differences has ended.
Sanjay Leela Bhansali and Salman Khan were locked in a cold war for the last five years -- so intense was the animosity that when SLB's sister Bela Sehgal invited Salman to see her directorial debut he had replied, 'Anything for you. But not for that so-and-so'.
Now star and filmmaker have hugged, made peace and agreed to work together.
The peace-making process began a year ago when Bhansali and Khan met at the star's home.
Sources close to them say Salman and SLB have been in touch since then.
When SLB's shooting of Padmavati was disrupted in Rajasthan, Salman was one of the first to call and inquire about his former friend's well being.
Salman and Bhansali have agreed to work together in a film that promises to be "the Devdas of the new millennium."
An intense love story with dark undertones, it will be the ultimate olive branch from the director who fell out with the superstar when he offered Devdas to Shah Rukh Khan.
Salman, who propped up Bhansali's talent from the time of the director's debut in Khamoshi: The Musical, felt betrayed when Devdas went to SRK.
The love story, which will be shot immediately after Padmavati is completed, will mark the renewal of a Bollywood combo that gave us Khamoshi: The Musical, Hum Dil De Chuke Sanam and Saawariya.
It also signals the end for now of Bhansali's Ranveer Singh-Deepika Padukone phase that yielded the trilogy, Goliyon Ki Raas Leela Ram Leela, Bajirao Mastani and the forthcoming Padmavati.
The SLB-Salman collaboration of 2018 will feature a fresh face opposite the superstar. Deepika, who has yet to star opposite Salman, remains a very strong contender.