He has been making films for more than two decades now. In fact, last year was a landmark as he balanced a mainstream blockbuster, Kick, with a critically acclaimed Highway.
He also took the popular route with 2 States and Heropanti. In the latter, he launched a couple of promising youngsters -- Kirti Sanon and Tiger Shroff.
For someone who started his career making hardcore masala films (Zulm Ki Hukumat, Waqt Hamara Hai, Andolan), Sajid Nadiadwala has come a long way. His cinema today ranges from a romantic Jaan-e-Mann to a funny Heyy Babyy to a gritty Phantom.
Here's looking at his five most popular films over the years and the five biggies he's planning to release next year.
His most popular movies
Kick (2014)
Box Office Collection: Rs 232 crore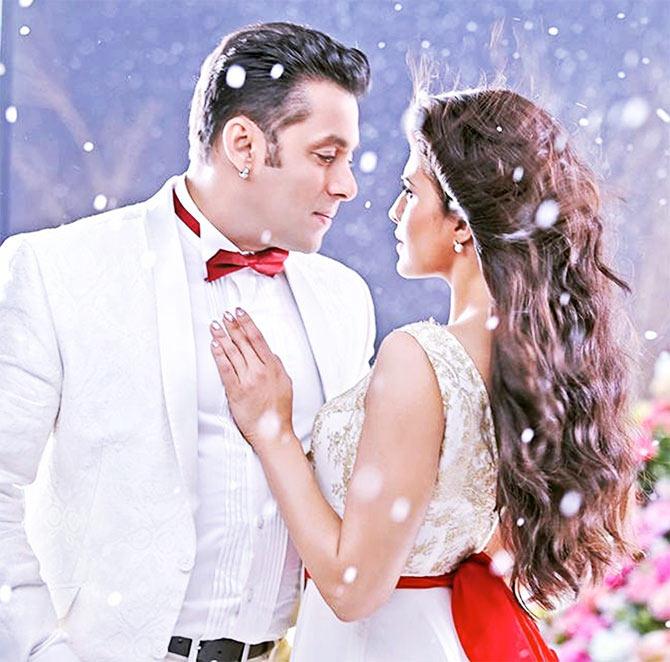 Image: Salman Khan and Jacqueline Fernandez in Kick.
It was due to a 'luck by chance' moment that Sajid Nadiadwala found himself sitting in the director's chair.
And Kick is the biggest success his banner, Nadiadwala Grandson, has seen since its inception.
Making a super confident debut as a director, Sajid shattered many records with his Salman Khan starrer. Kick is a huge success on the satellite and online circuit as well.
Read the reviews here: Raja Sen/Sukanya Verma
Housefull (2010) and Housefull 2 (2012)
Box office collection: Rs 78 crore and Rs 106 crore respectively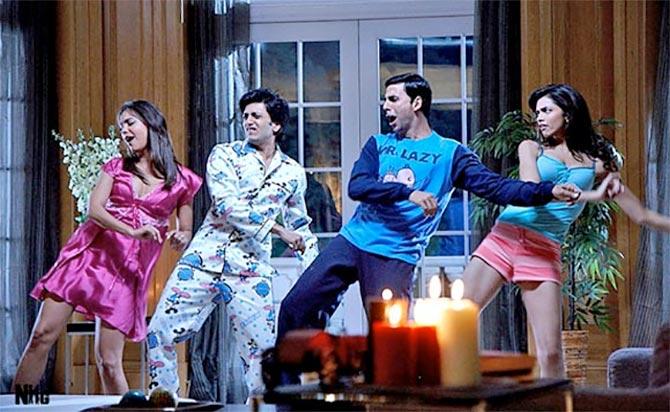 Image: Lara Dutta, Riteish Deshmukh, Askhay Kumar and Deepika Padukone in Housefull.
Along with buddy Sajid Khan, he put his resources to good use with the Housefull franchise.
Akshay Kumar and Riteish Deshmukh are constant partners in the franchise.
Sajid Nadiadwala also contributed to the storyline of the film.
With the Housefull series, Sajid has delivered two of Bollywood's most lavish comedies and is now planning a third.
Read the reviews here: Housefull and Housefull 2
Mujhse Shaadi Karogi (2004)
Box Office Collection: Rs 28 crore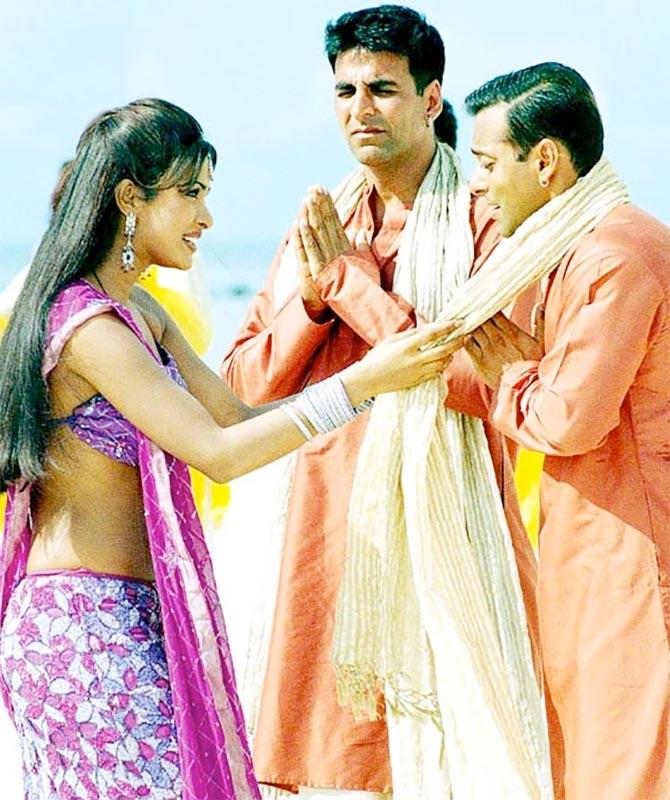 Image: Priyanka Chopra, Akshay Kumar and Salman Khan in Mujhse Shaadi Karogi.
His professional partnership with close friend Akshay Kumar began at the start of his career. And he has been making films with Salman Khan for many years now.
When he brought the two stars together for the comic flick Mujhse Shaadi Karogi and added Priyanka Chopra to mix, the audience knew they were in for more than a few laughs.
The film was a big hit.
Jeet (1996)
Box Office Collection: Rs 16 crore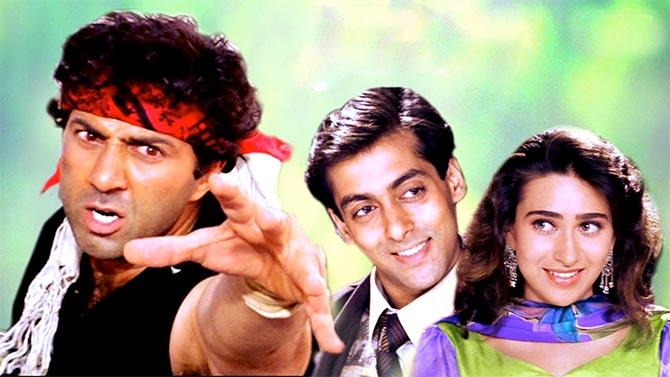 Image: Sunny Deol, Salman Khan and Karisma Kapoor in Jeet
Think Jeet and you remember Sunny Deol, his anger, his fights and of course his dance moves with Karisma Kapoor.
While the histrionics were taken care of by director Raj Kanwar, the producer in Sajid made sure the film was technically advanced. He brought a new sound to the background score as well.
The overall look of Jeet was much better than other action entertainers of the time.
Judwaa (1997)
Box Office collection: Rs 13 crore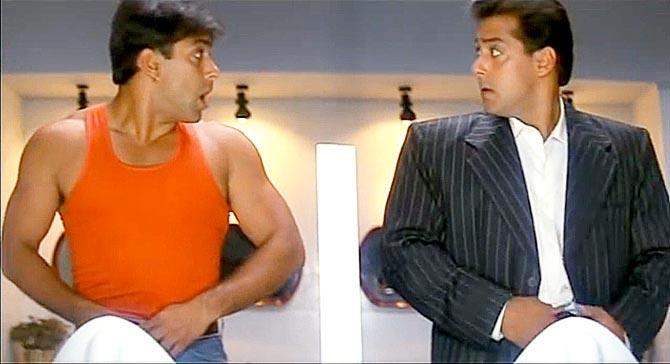 Image: Salman Khan in Judwaa
Do mein zyaada maza hai (Two is better than one).' This could well be true for Sajid Nadiadwala who, along with director David Dhawan, made sure the audience got to see two Salman Khans in a single film.
Judwaa was a complete masala entertainer that had several fall-off-your-chair moments.
Sajid's extraordinary feel for what the audience wanted meant that families trooped in to watch the film in large numbers.
In his latest interview, Salman talks about Judwaa. Read it here.
His upcoming biggies
Tamasha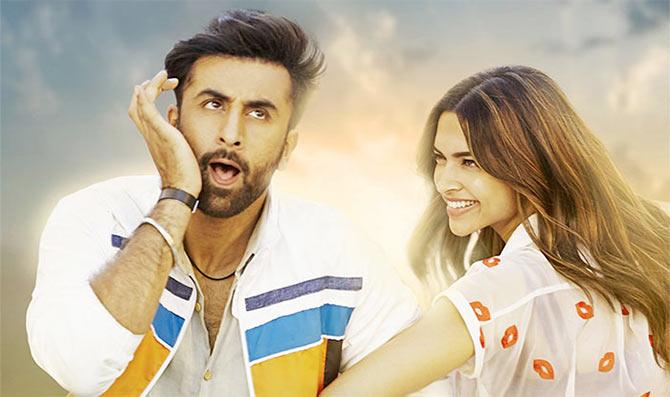 Image: Ranbir Kapoor and Deepika Padukone in Tamasha.
Sajid Nadiadwala has worked with Ranbir Kapoor (Anjaana Anjaani), Deepika Padukone (Housefull) and Imtiaz Ali (Highway) individually.
Now, he brings this powerful trio together in Tamasha and has spared no expense to ensure it will be one of his biggest films ever.
Tamasha is in the news for the right reasons and, going by the promos, it looks like there is an interesting love story in the offing.
Dishoom (2016)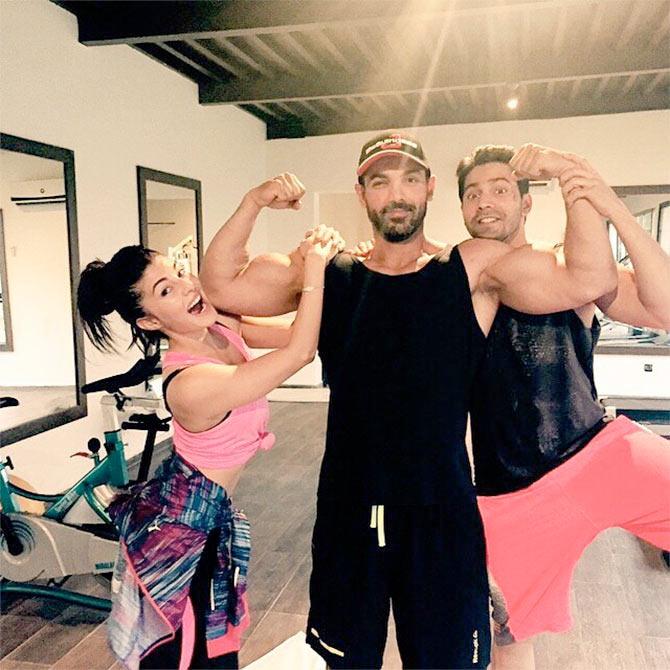 Image: Jacqueline Fernandez, John Abraham and Varun Dhawan. Photograph: Varun Dhawan/Instagram
The filmmaker has a number of films on floors and working with a variety of actors, both experienced as well as youngsters.
One of the big ones on Sajid's plate is Dishoom, which stars Varun Dhawan and John Abraham. It will be helmed by Varun's brother, Rohit Dhawan (Desi Boyz).
Going by the title, the lighthearted entertainer promises some excellent action as well.
Baaghi (April 29, 2016)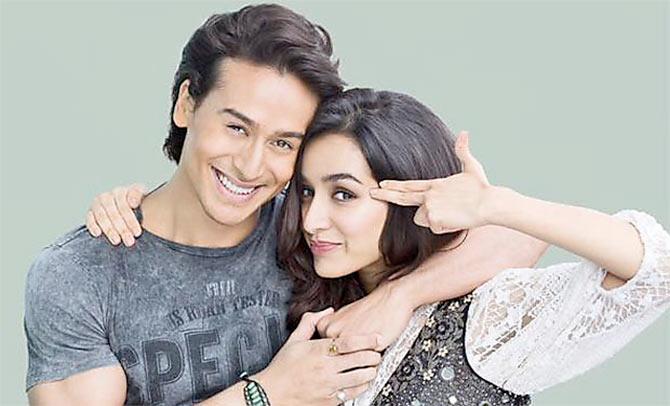 Image: Tiger Shroff and Shraddha Kapoor in Baaghi.
Sajid Nadiadwala has complete faith in the people he works with. When Sabbir Khan made Kambakkht Ishq (2009), it created a permanent bond between the director and the producer.
They worked together again in Heropanti (2014), which was a hit. Now, they are busy with Baaghi, which promises to be yet another massy entertainer.
After Alia Bhatt (2 States, Highway), Sajid has now roped in Shraddha Kapoor to star opposite Tiger Shroff.
Housefull 3 (June 3, 2016)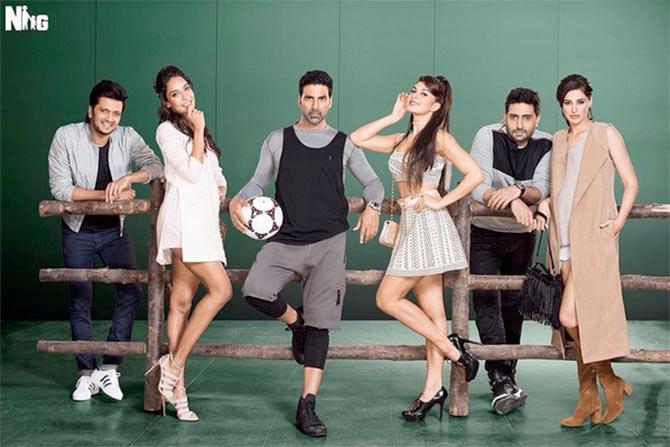 Image: Riteish Deshmukh, Lisa Haydon, Akshay Kumar, Jacqueline Fernandez, Abhishek Bachchan and Nargis Fakhri in Housefull 3
This one is as big as it gets. Akshay Kumar and Riteish Deshmukh were already part of the Housefull mix; now, Sajid Nadiadwala has roped in Abhishek Bachchan as well.
As for the leading ladies, he has made sure the screen will sizzle with the antics of Jacqueline Fernandez, Nargis Fakhri and Lisa Haydon.
Incidentally, the film will be directed by Sajid-Farhad, the writers-turned-directors duo who scripted Housefull 2.
Rangoon (October 2, 2015)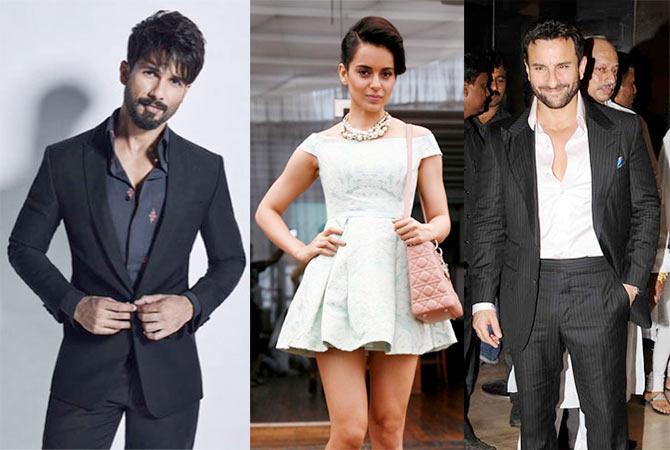 Image: Shahid Kapoor, Kangana Ranaut and Saif Ali Khan. Photographs: Pradeep Bandekar
Easily one of Sajid Nadiadwala's most ambitious films, he has roped in Vishal Bhardwaj for Rangoon.
The two have been waiting to work with each other for a long time and this period film, set in a time of love and war, is the realisation of that dream.
The biggie -- which stars Saif Ali Khan, Shahid Kapoor and Kangna Ranaut -- is all set to go on floors.