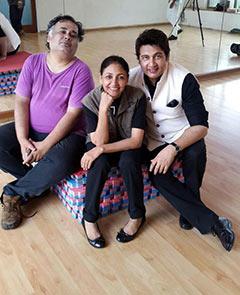 Ek Mulaqt is a beautiful romance, writes Rinki Roy Bhattacharya.
The play Ek Mulaqat, staged recently in Mumbai, is an intimate conversation between Amrita and Sahir. Through their memories, their humorous banter, the emotional ups and downs and deceptive tranquillity, the play offers a keyhole view of the enchanted world of the lovers who were India's greatest poets.
The narrative opens one night when Amrita receives a mysterious trunk call from Mumbai. She makes a little joke wondering who could have called. The play concludes with a trunk call -- bringing the ominous news of Sahir's death.
Within this cycle of love and death is trapped their untold love story, in their own voices.
There can be no greater or more inspiring love story than that of Amrita Pritam and Sahir Ludhianvi.
The lovers continued their tryst, defying borders. They went beyond lust or possession, beyond cultural demands or class differences.
Amrita, who was once married and a mother of two children, left her husband to live with her illustrator partner Imroz, in a Hauz Khas (Delhi) home built specially for her.
She lived life on her own terms. Sahir on his. The two never married. But they lived for one another.
In Amrita's Hauz Khas home, the graffiti on the glass panels were her poems in the Urdu script.
In this love affair between Amrita and Sahir, Imroz was a silent accessory, an observer.
When she bought a flat in Juhu, in Mumbai, Imroz teased her, saying she wanted to move closer to where Sahir resides. She did not protest.
It was a unique case where three was not a crowd but a complete universe.
Amrita remained Sahir's muse. She inspired his most romantic lyrics. His songs of separation were anguish for her. The most memorable is from B R Chopra's film Gumrah - Chalo Ek Bar Phir Se Ajnabi Ban Jaye Hhum Dono.
The poignant words of yet another song of separation, from Devdas, the Talaat Mehmood solo Mitwa, reach the depths of despair, expressing yearning for the absent beloved. The words Mitwa Lagi Re Yeh Kaise as Devdas loiters aimlessly leaves no doubt that the poet was a real life Devdas himself.
Deepti Naval plays the diva while Shekhar Suman is Sahir. His flawless Urdu diction was music to the ears. It was a pleasure to watch the actor turn an evening melodiously lyrical with words.
The remixed iconic songs like Chalo Ek Baar or Kabhie Kabhie Dil Mein Khayal Ata Hai failed to liven or add significantly to the narration. I wish the director had retained the original score which runs in our veins.
I doubt there can be a greater love story than that of Amrita Pritam and Sahir Ludhianvi, with Imroz keeping the score in the background.
Watching their untold love story on stage restored our faith in the revolutionary act of falling in love. In love's power to humanise.
"Mana ki is jahan ko gulzar na kar sakey
Kaney kuch kam hi kar gaye,guzrey jidhar se hum"
(I know I could not change this world entirely,
But, hopefully, I made it a better place to live)
- Sahir Ludhianvi
In the picture: Director Saif Hyder Hasan, Deepti Naval, Shekhar Suman. Photograph: Shekhar Suman/Twitter