He was one of the favourites to win Bigg Boss. Unfortunately for Debojit Saha, the singer was evicted from the house. Upset about this new development, the singer got to vent out his feelings during a chat with his fans on Monday.
For those who missed the chat, here's what transpired: 
Debojit Saha says, Hi this is Debojit Saha. A happy Diwali to all
---
amogh asked, whu will win big boss according to you?
Debojit Saha answers,  According to me, there is no one worthy enough to win. According to the concept of Bigg Boss, the winner is someone who is good at heart. But there is no such person in the house. There is lot of backbiting and games. I think I was the only one so far who has not any of these things.
---
ARMAN ACHARYA asked, How are you? how are feeling you?
Debojit Saha answers, I'm fine thank you. It was a nice experience in the house. I'm happy that I stuck out till the end with honesty and dignity. I was more concerned about my singing, so I spent time on singing.
---
gurpreet sra asked, hi debo..how r u?? nd howz ur wife vandana??
Debojit Saha answers, She is absolutely fine and in Assam now.
---
gurpreet sra asked, aur phir aap hamein khushkhabri kab de raho ho..papa banne ki??hehhe
Debojit Saha answers, Bahut jald. Jab kush kabri aayega/aayegi tab sabko pata chal jaega.
---
SAN asked, how was the environment in Bigg Boss..?? Can you just share experience with us??
Debojit Saha answers, In the beginning I enjoyed. I met new people, which I liked. Later as people got evicted I became lonely. I didn't know that games were played right from the beginning. A lot of thing happened behind my back. I was offered to join a team that they had made. But I wasn't interested. I had gone there just to be a part of the house and not to play games. My reputation was important. I didn't want my fans to dislike me. I hope my fan following increases because of this.
---
lagan asked, Hi debooo, you really sings very well...........i really love your voice ...
Debojit Saha answers, Thank you so much. My effort will continue to please you.
---
adiiiiii asked, Debojit.. aapka gaana bhi rasgulla ki tarah meetha hai.. aap koi new movies mein gaa rahe ho kya??
Debojit Saha answers, Thank you. I've sung for few films. You will know when they are out. I also sang Desi Girl in Dostana but later because I got into Bigg Boss house, the final dubbing didn't happpen.
---
poonam_rana87 asked, hi debojit hum aapki gaayki ke pehle se hi fan the ab aapki saadgi ke bhi ho gaye hain. you are most simple and honest person in the house. You are very soft hearted person. Diana is also honest girl aapne us par doubt kara ki usne apko nominate kiya hai jabki aisa nahin tha. kya kehna hai is baare mein
Debojit Saha answers, Zulfi created the doubt about Diana. Later I realised that my dear friend Rahul had back stabbed me. So I'm sorry about doubting Diana. And thanks for the compliment. I am this way and prefer to continue to be this way.
---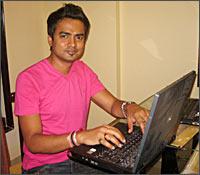 noninder asked, hey debojit congrats ur goin to become daddy in feb , i heard when u told to mona singh n ur singing is great i really didt likede when ehsaan said so many things abt ur singing..he was playing game there very sensibly...
Debojit Saha answers, Thank you. I didn't know that everybody knows about it. About Ehsaanji, I didn't have to say something about my singing because that is my profession. I didn't comment on anyone's profession. I always respected his profession. but he nominated me and that too for a wrong reason. He might have realised his fault but i never taunted him. I always respected him.
---
ashisharyan asked, good u have evicted form big boss, now its a dirty game day to day, best wish for ur future
Debojit Saha answers, I think my fans wanted me to get out of this dirty game so I thank them. I respect their feelings but the game gets dirty day by day. If I stayed in I would have gone mad. I am happy that I am out of the house.
---
MILND asked, hi debojit why u always opposite of rahul
Debojit Saha answers, I don't oppose him. He is a very bubbly character and I like such people. I remember saying this on tv; that if I could adapt someone's character then it would be Rahul's. But I don't like his other side, like flirting with girls. I think this is something very private and he shouldn't be doing all this on national channel. He called me his best friend but nominated me to save Monica.
---
vanitha asked, Why did you enter Bigg Boss? Now that you are out of it concentrate on your singing career.How many playback singing chances have you got? Best wishesto you.
Debojit Saha answers, I entered Bigg Boss because I belong to a very middle class family. And till date I still am the same. There are no changes in my character. There have been few misunderstandings with my relatives because of my sucess. I wanted to tell people that I am still the same old Debojit. I'm getting a lot of offers because of Bigg Boss. The show makes you popular. But my concentration is on singing. Thank you for your wishes.
---
atta asked, I love you too, three , for, five and infinite... I will sue you if you do not go by our contract...
Debojit Saha answers, What contract are you talking about? Did I sign any contract with you? Love or show??? I love you too.
---
rakhi sawant asked, debo your wife is not so sweet than also u love her so much...............
Debojit Saha answers, According to me she is sweet. I love her. I think you need to think about your wife/husband.
---
i rock asked, who was your best friend in the house?
Debojit Saha answers, Its difficult. But I think I will say Zulfi, Diana and Rahul.
---
bhardwaj asked, hai deboo say some thing about payal
Debojit Saha answers, Why are people talking ill about Payal? She is not all that bad. She has been good to me and spoken good of me. So I am the only one who is in touch with Payal. Whatever she has done, it was for rahul. They were seeing each other outside the house. She was loyal to him. They were living in together. Why should anyone interfere?
---
achal asked, you seem to be most cunning to link Raja to Alina when he said that she is like her daughter
Debojit Saha answers, Do you know what Raja is outside the house? Raja had spread rumours about Aushutosh, Daina and me -- a love triangle. There is not truth in that. I just played a prank with Alina but even there he showed his true colours.(apni aukaat dikaya). He abused me and that is when I told him to that he should learn to take things in his stride if he can makes jokes about others.
---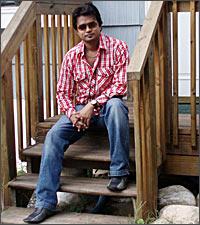 lllllllllll asked, what do u think who will be win big boss home zulfi or rahul
Debojit Saha answers, Ask Colors. They will tell you.
---
santoshu12 asked, what is your date of birth
Debojit Saha answers, November 17. I hope to get lots of wishes. Thank you.
---
yogendra asked, is this a plaaned reality show...??
Debojit Saha answers, Inside the house, there is no scripting or planning. Outside, there may be a lot of planning about who will get evicted. And who will be brought back through wild card is planned.
---
mahuyasaha asked, debo ekta to reply koro ami ar amar parents tomake khub bhalobashi we love ur work
Debojit Saha answers, Ami amar fans ko bhalo bhasi. And thanks a lot.
---
bobs asked, Hi debo, With your sincere efforts & honesty in singing, you have done well for urself. Let me tell u that I knew from day one that u wud make it big, REMAIN SO.. come wat may. With lots of success in the future I hv seen lots of people changing attitude & become very high headed. With big boss people hv come to know u as a person.. keep the gud work going. All the gud wishes for future & gud luck for the new arrival. Take care
Debojit Saha answers, Thank you so much.
---
Ghajini asked, this type of show is not for good person like u ..who cannot do dirty politics..u should have denied the offer of Big Boss for participation..u are sweet guy
Debojit Saha answers, I went there for a paid vacation, not for playing games. After Bigg Boss, I realised that it is very important to play games. Everyone loves a good person but when it comes TRP, masala is important. So far I've never did anything unnatural for TRP's sake. But I do it henceforth.
---
Rupa asked, how is monica according to you??
Debojit Saha answers, She has been good to me but after coming out, I've realised that she has returned with some planning. Because what she is doing with Rahul is just for footage and publicity.
---
NIL asked, What you say about payal & shambhavna ?
Debojit Saha answers, What can I say about Sambhavana? I haven't understood her. All I could figure out about her is that she is very daring and loud. She doesn't think twice about swearing. 
---
Dabbajit asked, hi debojit. I think u won Sa Re Ga Ma Pa because of pressure from ULFA (Assam's terrorist group) to Zee TV. Don't u ever feel VINIT was more deserving than u ?
Debojit Saha answers, If it was so, I wouldn't get in the competition. I would have directly got into acting and singing. I needn't have to struggle to much. I've got many mails from my fans who say that I was better than Vinit after Jo Jeeta Wohi Superstar. Aise hazaaron fans hai mere abhi who pehle Vinit ke fans the.
---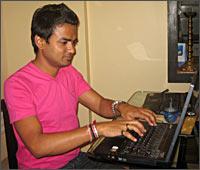 Dabbajit asked, u r just answering praised questions. what abt criticised once ???
Debojit Saha answers, There are no criticised questions. I'm so black and white that I don't give anyone any oppurtunity to criticise me.
---
swapnil3930 asked, Its is the game DEBO...u shud respect it....the game has helped u to get some popularity amongst ur fans.... So dont curse Big boss as a dirty game..... And u knew what exactly are terms and conditions of BB...so please dont curse Big Boss ..CLARIFY IT DEBO....
Debojit Saha answers, I didn't curse Bigg Boss or its concept. I just commented on the inmates.I know its a game but I didn't know back-stabbing was essenstial. I hadn't watched the first season.
---
vishall kohli asked, I read ur shilpa shetty column in rediff...in every answers of hers you praised yourself..it shows ur full of ego and self centered..such people will be evicted in BB.
Debojit Saha answers, I've never said anything high about myself. People talk high about me. People outside have loved me. Is it important for a simple person to win or be an entertaining character? I've never said anything keeping my ego in mind. I just wanted to know who they like most.
---
sumit82 asked, hi debo what is ur views towards ashutosh
Debojit Saha answers, He is someone who has come from the MTV Roadies where back-stabbing is common. He was doing his duty.
---
Shreyansh09 asked, hii ... what was your idea abt Raja ... and did u feel like thrashing him at any moment of time during ur presence at BB?
Debojit Saha answers, Yes. I felt like thrashing him. It was Bigg Boss rules and so I couldn't or else I would have. There were many who would have taken revenge before me like Zulfi and Rahul.
---
Shreyansh09 asked, hii ... what was your idea abt Raja ... and did u feel like thrashing him at any moment of time during ur presence at BB?
Debojit Saha answers, I have never said anything against Raja inside the house. I always felt he was good at heart. But at last he back-stabbed me and abused me.
---
debika asked, Hi debojit kamon acho?
Debojit Saha answers, Bhalo achi tumi kamon acho?
---
rupam asked, debojit apni next project ki?
Debojit Saha answers, Right now I'm very blank. Just networking and restoring myself. And also planning for my next album.
---
zazz asked, Hi Debo, You compose a title song for Big-Boss.Did you thing it increases TRP of this show?
Debojit Saha answers, Yes, I've composed the title track. But about TRP only the channel can comment.
---
desighee asked, DEBOJIT....U ALWAYS FALTER IN UR SINGING WHEN GOING HIGH PITCH..ABHIJIT SAWANT CAN SING RD BURMAN SONGS BETTER THAN U...
Debojit Saha answers, Then listen to Abhijeet Sawant.
---
Debojit Saha says, Thank you all for all the support. Continue to love me. Please pray for my unborn child that he/she is healthy. Thank you.