'Acting is the toughest job in the world.'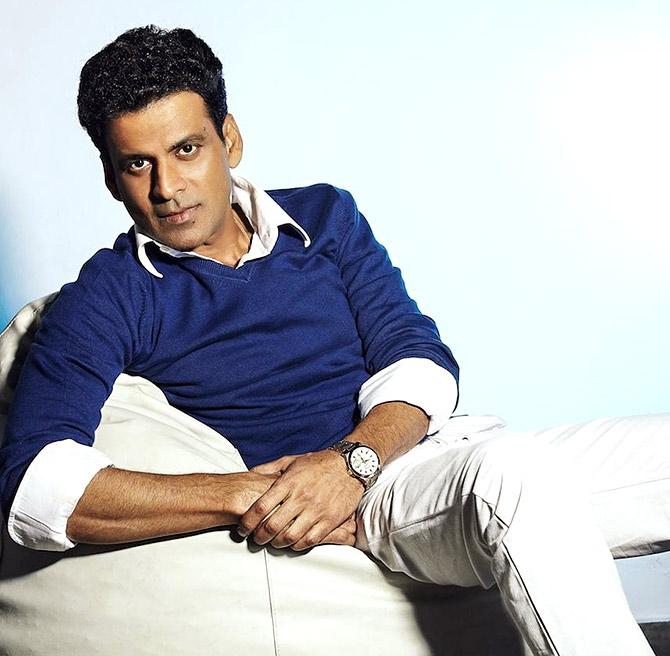 Manoj Bajpayee can't stop raving about his September release, Gali Guleiyan, which has already fetched him awards at international film festivals.
But he had fun in the full-on commercial movie Satyamev Jayate too, he tells Rediff.com's Patcy N.
Three releases this year: Aiyaary, Missing, Satyamev Jayate. All different films.
It has been my endeavour to work in different genres, look for a great story and great characters, not to restrict myself to one thing...
Satyamev Jayate is a commercial film.
It has powerful dialogues with punch, the songs and dances are good, the action is superb, it plays to the gallery.
My next film Gali Guleiyan, which releases on September 6, has gone to international film festivals and won so many awards -- not just for the film, but for me as well.
It's amazing when you work in two films and the approach is different in each.
The characters are completely different.
The director's vision is completely different.
(Satyamev Jayate Director) Milap Zaveri keeps saying, 'Punch do, punch do.'
On the other hand, Dipesh Jain from LA (the director of Gali Guleiyan) does not want to compromise at all.
So yes, the demands are different, but the effort is same.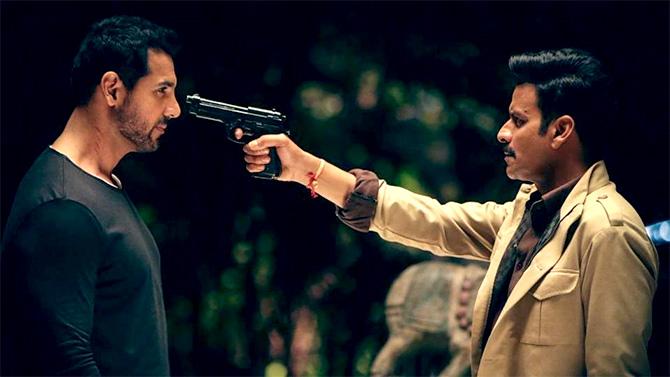 From Satya to now, how has film-making changed?
Satya was made with the same kind of discipline that we make films today.
Satya and Lagaan were made with a system which were completely in contrast with the commercial film system that existed then.
From Satya, things changed for the better; it kept evolving.
Satya has completed 20 years and I look better now.
It was a game-changer for the industry in every sense. That's why I feel proud that my name has been associated with it.
Bandit Queen and Shool also changed the game for the entire industry.
I feel happy and satisfied that I am doing the right thing.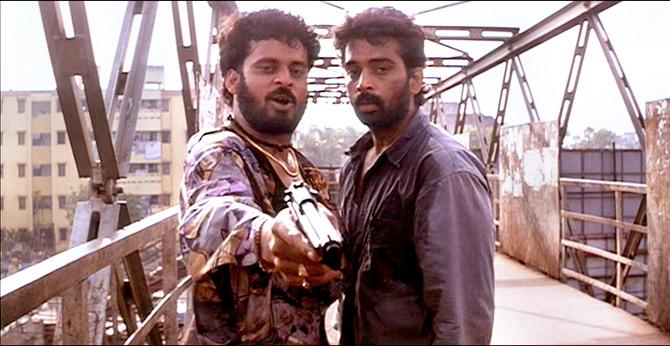 Do you miss those days?
No. But I miss that feeling of playing Bhikhu Mhatre -- I miss the adulation.
People still praise me my films and performance, but I miss that first feeling of achievement.
If a character like Bhikhu Mhatre is offered to you today, will you play it with the same gusto?
Definitely. The method may be different now; I would do it better now.
When a person grows, his style and perspective changes.
You have been in the industry for almost 25 years and done all sorts of roles. Is it difficult to reinvent yourself?
It was difficult then when I was doing theatre, and it is difficult now.
Acting is the toughest job in the world.
Sadly, it is taken as the easiest job in this country.
Koi bhi uthkar kehta hai, bada bankar acting karna ka (Anyone and everyone says I want to become an actor). People take it very easy here.
It's tough because it deals with human beings.
If there are five people here, everyone is the same on the surface.
But when you dig deep, everyone will be different.
An actor's job is to dig deep and be someone else.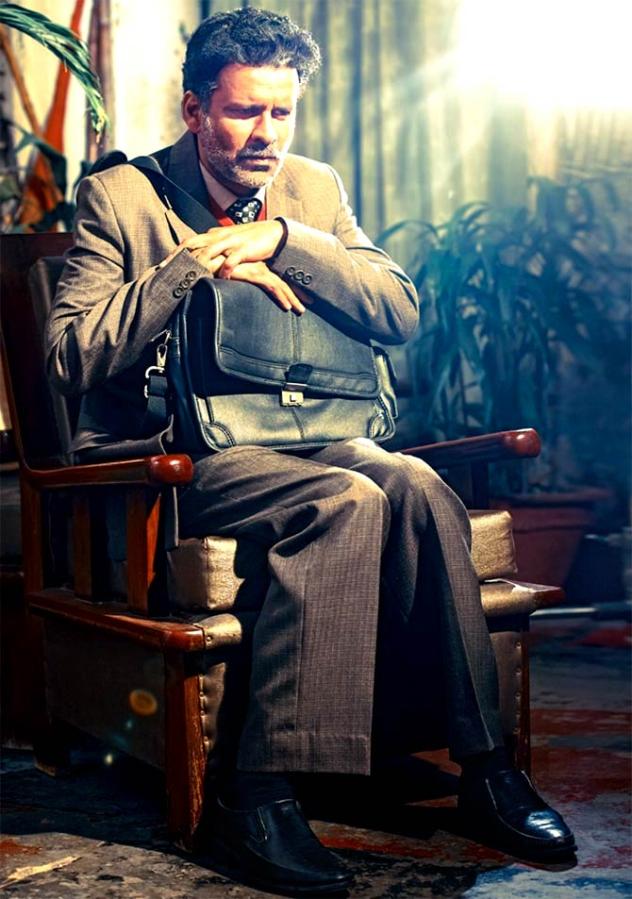 Do you get the same creative satisfaction from say, a Satyamev Jayate, as Satya, Shool or Aligarh?
You get creative satisfaction only from independent films.
In commercial films, you play to the gallery.
Your satisfaction comes if the audience claps, cheers and whistles.
In independent cinema, the result comes days after the film is over.
Suddenly, you will be getting calls, see something good written about yourself...
It is a slow burning effect; it's as good as reading a Premchand story. The effect lasts even after you have read it.
Don't actors have to do what the audiences demand? Even Naseeruddin Shah did Tridev.
He did that because he wanted to earn money. He has done many films to earn money because one did not get paid in parallel (parallel or art cinema) films in those days.
Today, we make money in independent films too. At least, I do. Not as much as I get from commercial films, but that is enough.
There are many avenues today to make money -- there is digital, television... even if you go to a function, you get money!
Making money has become easier than before.
When you can make money from other avenues, why compromise on your film?
So, if I have to do a commercial film, I will do Satyamev Jayate, which has some sense in it, some issue in to it...
Milap Zaveri said because he had written and directed sex comedies, actors were not ready to work with him.
He showed me the Maastizaade trailer 10 days after the shoot started.
I had no idea a film like this even existed.
What do you think about such films?
These films work, and that's why people make them.
Sex, violence and comedy is a winning combination.
People who make them want to be rich. That's why they make these films.
I don't do such films because I don't understand them.
Why I would watch such a film? Instead, I will watch a good porn film. What is the point in watching suggestive porn? (Laughs.)
Which recent films have you liked?
Raazi.
I loved Udta Punjab. I am huge fan of (Director) Abhishek Chaubey. He is an interesting film-maker.
I am a fan of Neeraj Pandey too.
They make middle-of-the-road cinema.
They tell their story and at the same time touch people's hearts too.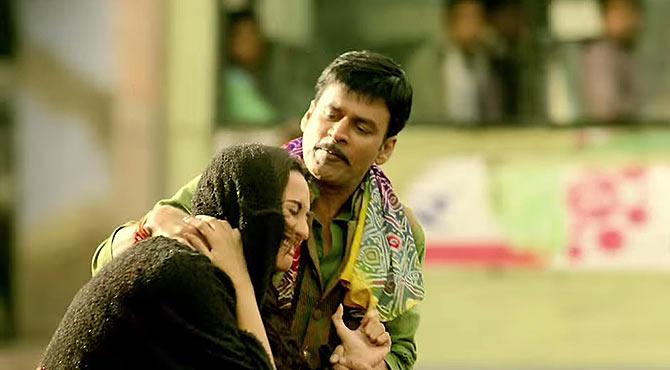 Which of your commercial films have you liked the most?
Tevar was quite good.
It was a great experience playing that character.
I just loved it.
I loved the quirkiness of that guy.
You never knew when he would be nice and when he would be a dreaded human being.
I did Satyamev Jayate also haste-khelte.
In Baaghi 2, I only had six days of work.
(Director) Ahmed Khan is an old friend. He had choreographed me in the song Sapne Mein Milti Hai (Satya)
This time, he really needed me.
What about Veer-Zaara?
Yashji (Chopra) asked me to do the film, so I did it.
He had loved me in Pinjar.
I feel good that I was directed by Yash Chopra, but it was a three scene role.
I don't even consider that among my films.
When you did good films, people praised you initially. Later, they wrote you off as 'Manoj Bajpayee is brilliant as usual'.
Hum log din raat ek kar ke kaam karte hain (we work hard day and night) and people say, 'He is brilliant as usual'.
It doesn't just happen.
To be brilliant, we have to consistently work hard.
It doesn't happen automatically on a switch.
You have to put your best foot forward all the time.
It's like saying, 'Sachin Tendulkar hai toh 100 maarega (Sachin is there, he will hit a century), but there are times when he cannot even make a half century. You can see on television how difficult it is for him.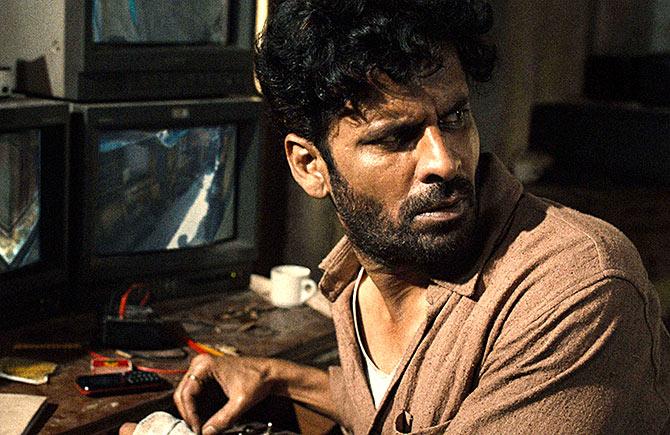 Which has been your toughest role so far?
My role in Gali Guleiyan is tougher than in Aligarh.
It is a difficult film because it deals with the complicated mind. That's why it has gotten so many international awards.
I say with pride that I don't think any other director has made a role like this in this country. Nor has any other actor done such a role.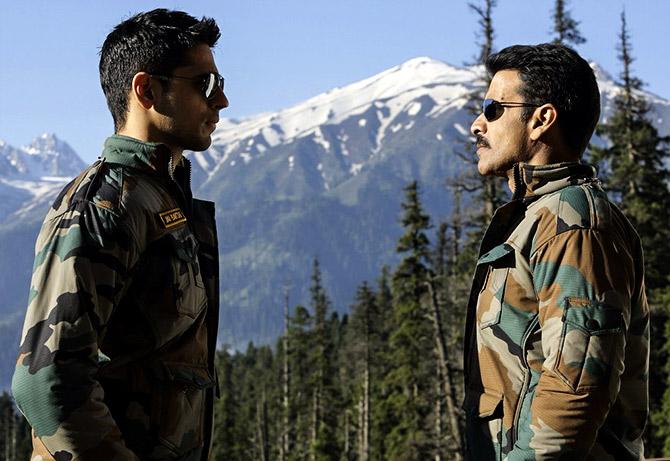 Aiyaary didn't do well.
Aiyaary was victimised.
It was a great film, but it suffered.
It had already announced its release date months ago and suddenly a big film (Padmaavat) decided to come on the same day.
Aiyaary got bullied.