'Sadashiv Amrapurkar was a unique actor in the history of cinema. Such actors don't create a void, they leave behind a legacy of cinema,' Govind Nihalani tells Patcy N.
One of late actor Sadashiv Amrapurkar's best performances was in his debut film Ardh Satya, directed by Govind Nihalani.
The performance earned him awards, and much recognition.
Nihalani pays rich tribute to the actor, calling him very sincere and committed to his work:
I introduced Sadashiv Amrapurkar in Ardh Satya. I was looking for a new actor to play Rama Shetty, when (playwright) Vijay Tendulkar told me about this Marathi actor called Sadashiv.
I called him and he came home to meet me.
I told him that I had not seen any of his plays, so I asked him to invite me for his next stage appearance. I was lucky, as his Marathi play Hands Up was being staged. It also featured Bhakti Barve.
Sadashiv played a madcap cop. It was hilarious play and his timing was impeccable. I saw what a good actor he was, and knew that he was capable of doing serious roles too.
I had liked his face for the character in my film -- I liked his eyes a lot, they were mysterious and focused.
Before the play ended, I made up my mind to cast him in Ardh Satya.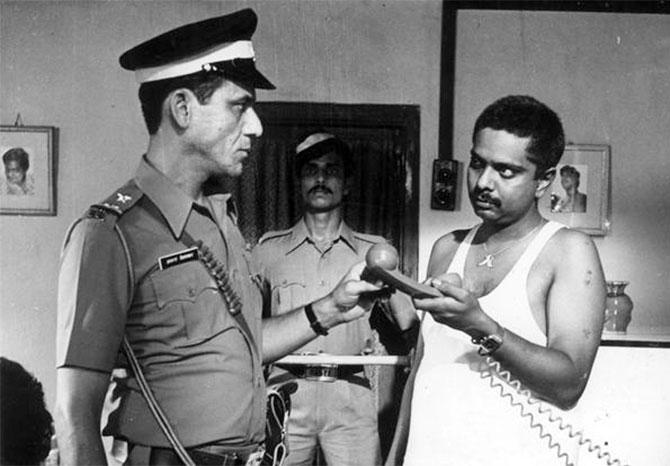 Om Puri and Sadashiv Amrapurkar in Ardh Satya
It was a right decision. The rest, of course, is history.
He proved himself in the role.
He had no airs, he was totally sincere and committed to his role. He understood his character and created a body language.
He was playing a Kannada speaking character, and we styled him accordingly. We cut his hair short, gave him lungi and kurta and he did the rest.
He added so much to the character and made it richer.
I was very happy to be his director. He knew exactly what I wanted.
He had good sense of humour, no tantrums, no mood swings. Whenever there was nothing to do on the sets, he would open a book and read.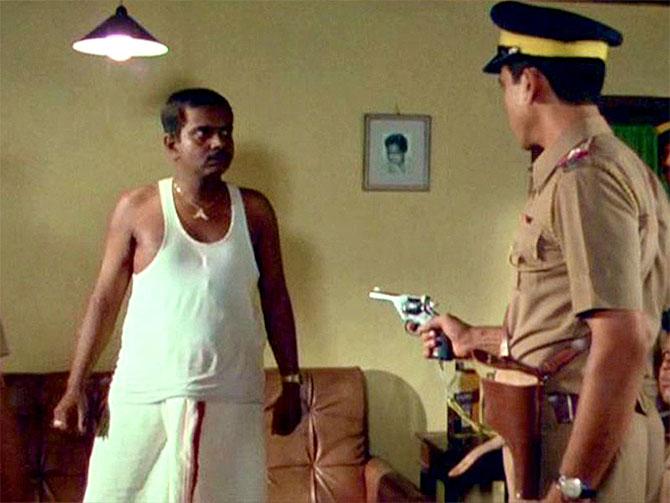 Sadashiv Amrapurkar and Om Puri in Ardh Satya
After Ardh Satya, I worked with him in Aaghat, where he played a corporate man. He had a lot of potential.
Unfortunately, actors can only choose from the roles offered to them, and he got very limited offers. But he picked the best.
I loved his role as Maharani in Mahesh Bhatt's Sadak. I have heard great things about his Bal Gangadhar Tilak role in Bharat Ek Khoj.
I had called him sometime ago, when a few people manhandled him (during Holi, Amrapurkar had objected to the wastage of water in a rain dance in the neighbouring society, as Maharashtra was facing water shortage). That was the last time I spoke to him.
I went to the hospital four-five days ago when there were rumours that he had passed away. He was in the ICU, totally sedated. He had pulmonary fibrosis, a lung infection that grew and caused his death.
Sadashiv was a unique actor in the history of cinema. Such actors don't create a void, they leave behind a legacy of cinema.