Rupali Ganguly started acting in her director father, Anil Ganguly's movies since the age of seven. She debuted in the Anil Kapoor-Amrita Singh-starrer, Saheb (1985).
Today, the actress has gained popularity for her role as Monisha in Star One's Sarabhai vs Sarabhai.
But Rupali is also getting noticed for her role in NDTV Imagine's Ek Packet Umeed. She spoke to Rajul Hegde about her show, and much more.
Tell us about your character, Sujata, in Ek Packet Umeed.
Sujata means sunshine. She is a chirpy, young girl, with no regrets. She is the face of Umeed Bhavan. She feels responsible for the women there and is loved by everyone.
Do you relate to your character?
I cannot relate fully to Sujata. But yes, I am also impulsive like her, which you may have seen on Bigg Boss. Even in real life, I'd rather fight than bitch about it. I find it easier.
Umeed is a different kind of show than what we see nowadays. Can you relate to the saas-bahu soaps?
I am an avid television watcher. I would watch Kahaani Ghar Ghar Ki and was very happy to play Parvati's daughter in it. I was doing Sarabhai Vs Sarabhai at the same time, playing a very different character from Kahaani. Whether you like it or not, saas bahu serials are a subject of coffee table conversations.
You were tagged as a 'cry baby' in Bigg Boss. Any comments?
I have been a cry baby since my childhood. Even teachers were scared of my crying.
Before Bigg Boss, I had consulted producers J D Majethia, Aatish Kapadia and choreographer Shaimak Davar about joining the show. They told me to go ahead. I think they wanted me to be more disciplined.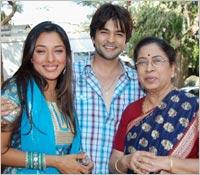 Did Bigg Boss help your career?
Bigg Boss made me famous, and I enjoyed the attention. When I went to Vaishno Devi temple after the show, I was given special security and women came and told me that they voted for me.
I got a lot of offers after that. But I was not mentally prepared for it.
Bigg Boss taught me to be a better person. But my mother will still vouch that I am the same devil.
Why didn't you take up reality shows after Bigg Boss?
I am waiting to participate in a dance show Jhalak Dikhla Jaa. But I don't have a partner.
There isn't anyone in your life?
I have. But he is not from this industry.
What is your equation with your Bigg Boss roommates, Kashmira Shah and Rakhi Sawant, now that the show is over?
A hundred Kashmiras is equal to one Rakhi Sawant! When we meet, we greet each other. But Rakhi is not important in my life.
We heard that Big Boss was scripted?
No, it was not.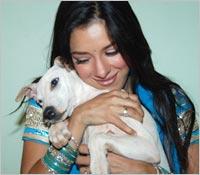 The second season of Bigg Boss is coming up. Whom do you want to see in the house?
JD, Ekta Kapoor Aatish Kapadia, Rani Mukerji, Salman Khan, Aishwarya Rai Bachchan, Amitabh Bachchan, Devan Bojwani, Bappi Lahiri, Yuvraj Singh and Vivek Oberoi.
Why did you take so long to come back on TV?
I took a break of ten months. I was missing my family and wanted to spend time with them. J D promised me that my first show would be with him. Then one day, Aatish and he called me and talked about shows they were producing like Baa Bahu Aur Baby, Jayantilal Joshi Ki Joint Family, Remote Control and Chalthi Da Naam Gaddi.
But I was not keen on doing those shows. Finally, they told me about Ek Packet Umeed. I agreed immediately because I liked the concept.
You are an animal lover. How many dogs do you have?
I pick up stray dogs and take care of them. I have five dogs. At one point, I had nine dogs! Even on the sets of Ek Packet Umeed, we have Rani and her puppies, Bunty and Babli.
You have always said you don't want to act in films.
I was never star struck and fascinated by glamour. It could be because I saw stars all the time, since my father was a filmmaker.
Whatever I am today is because of JD, Aatish Kapadia and Shailja Kejriwal (who was working for Star Plus and is now with NDTV Imagine). They believed in me and got me roles.
Will you work with Balaji Telefilms again?
I would love to work with them. Ekta Kapoor killed my character, Gayatri, in Kahaani Ghar Ghar Ki when I didn't want to age after the generation leap. She didn't replace me, which was very nice of her.